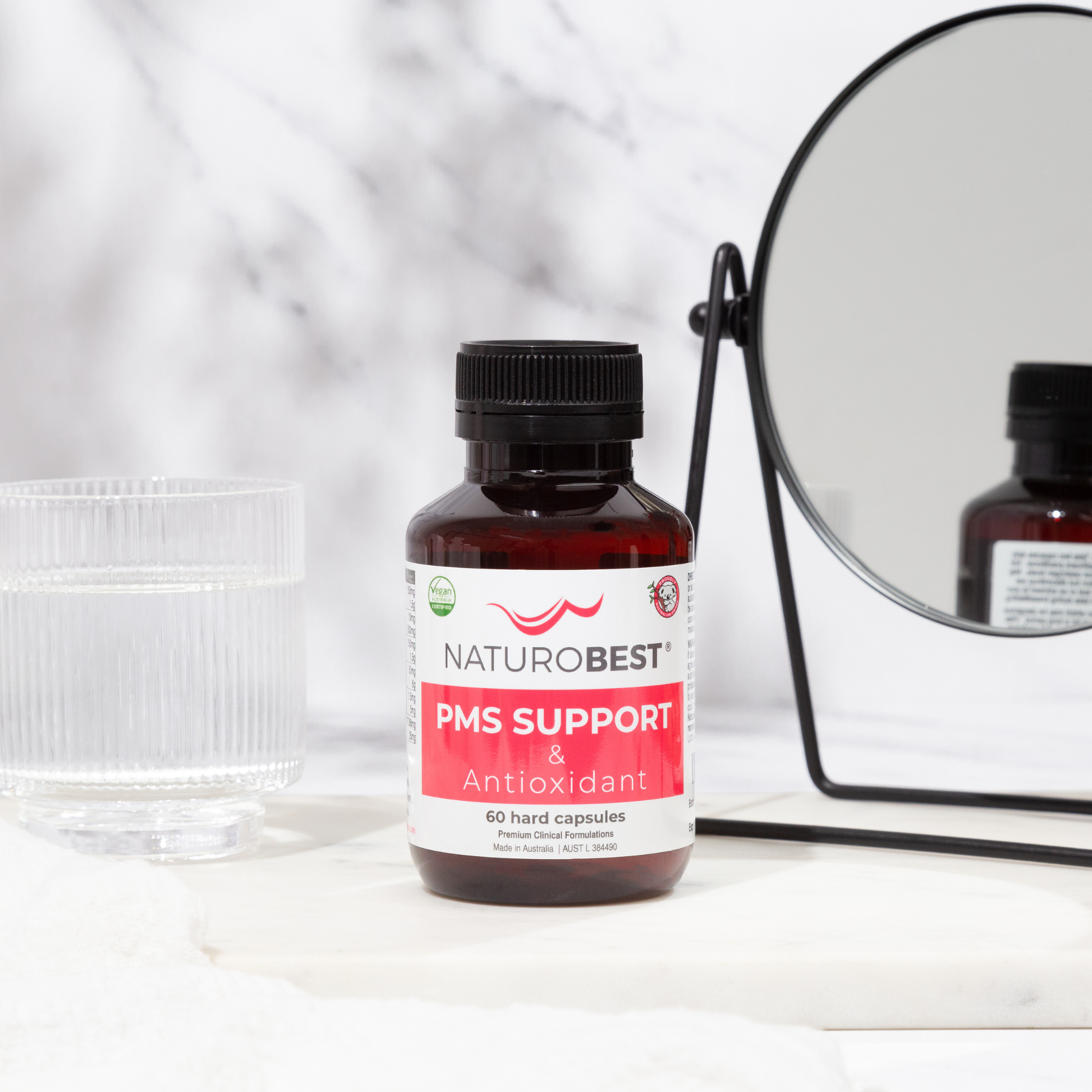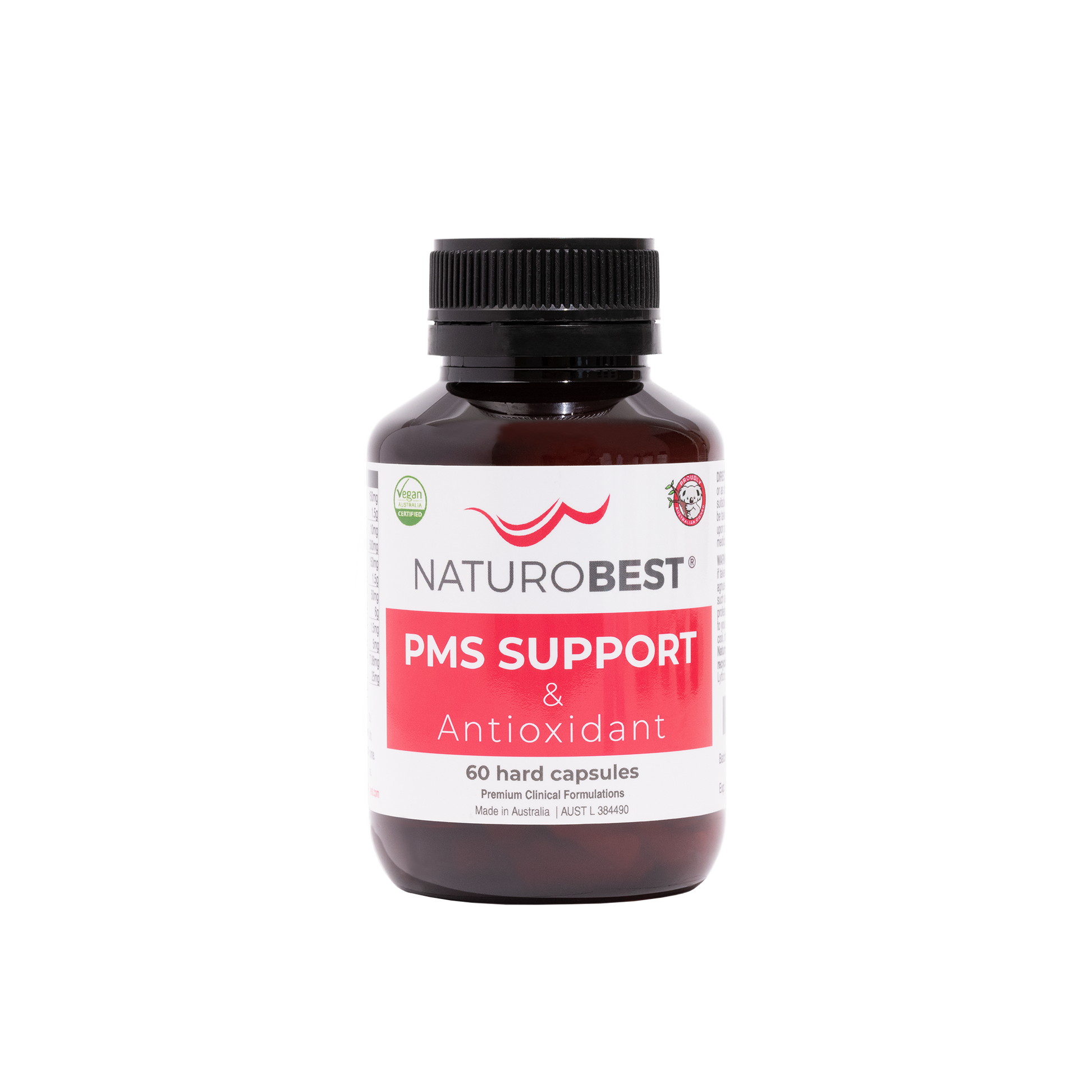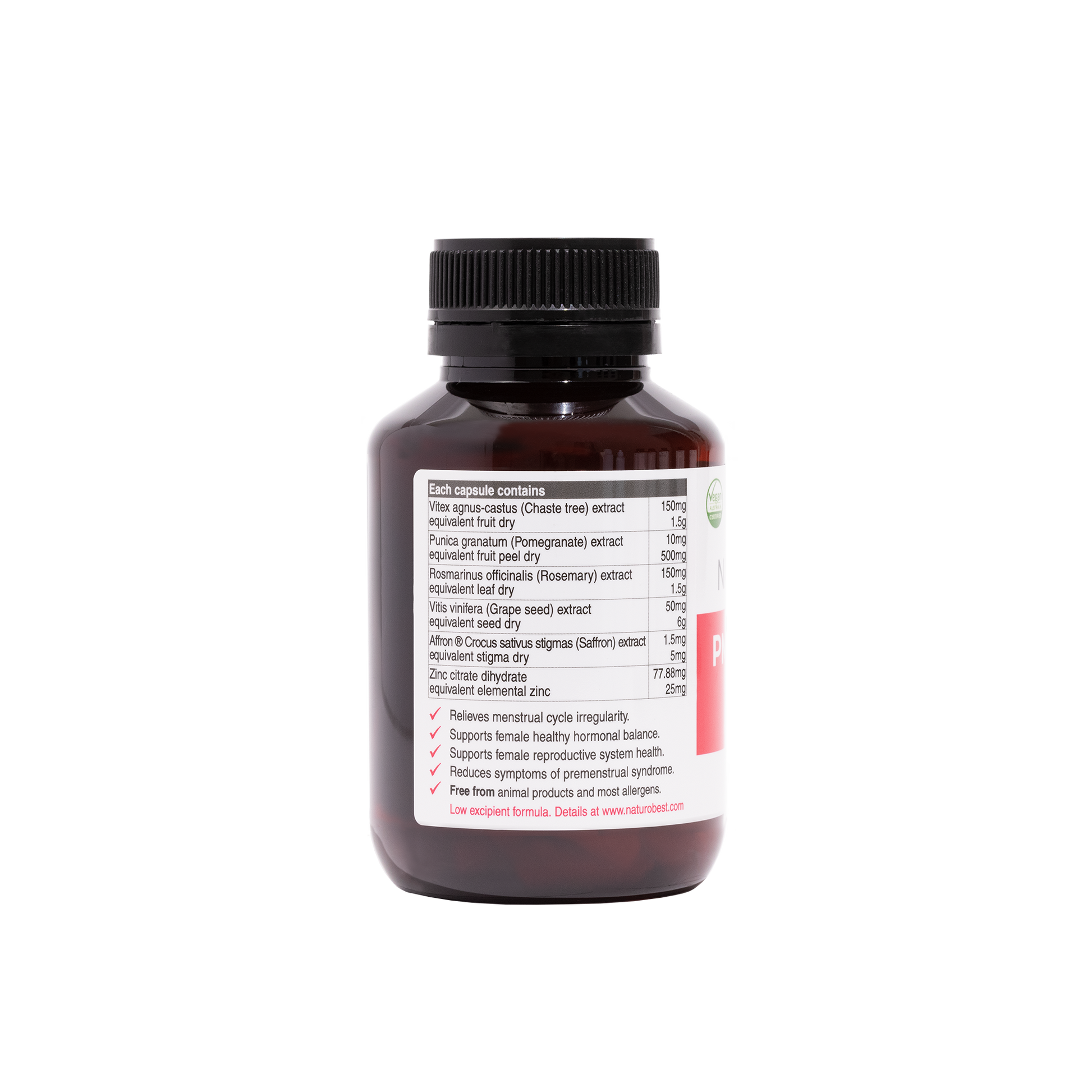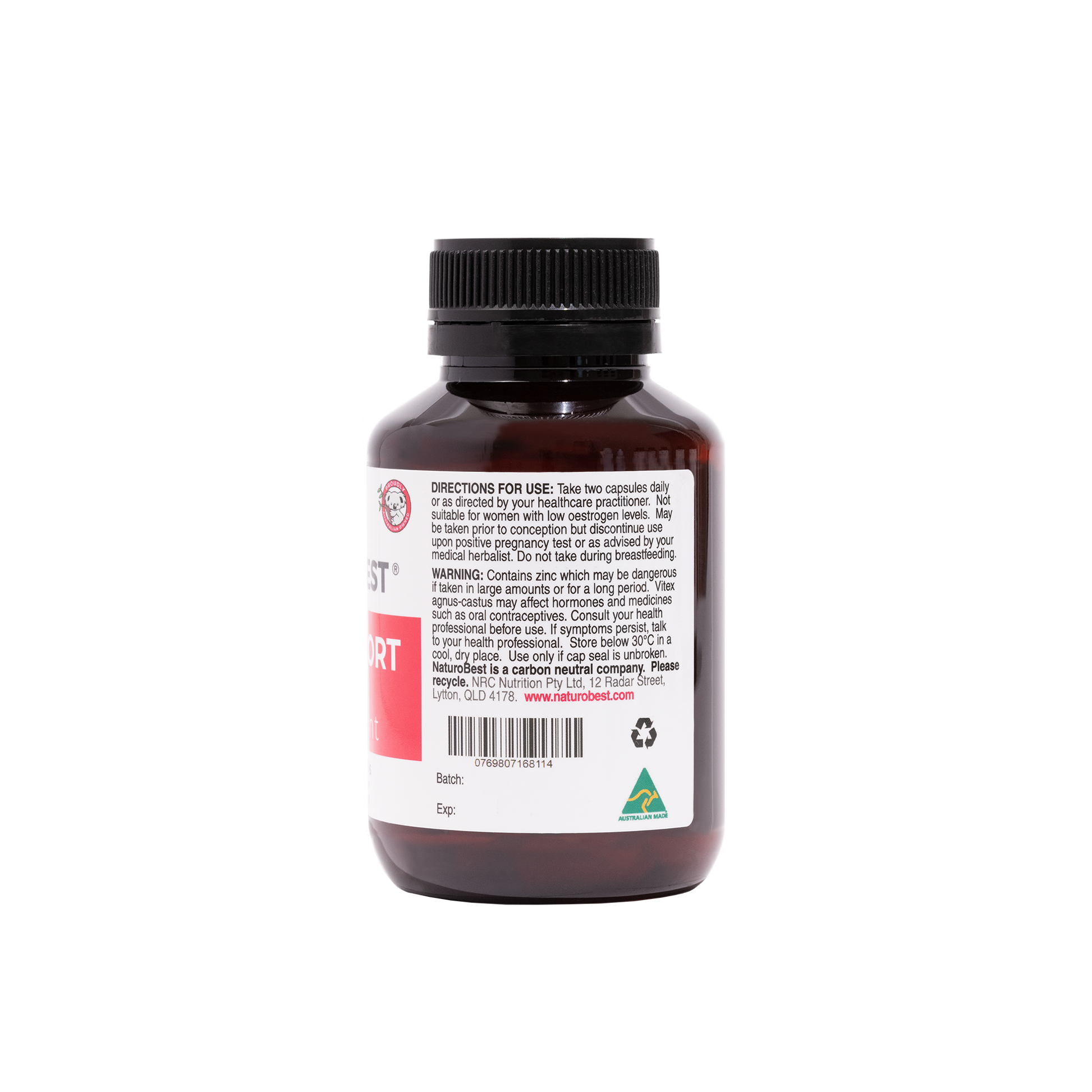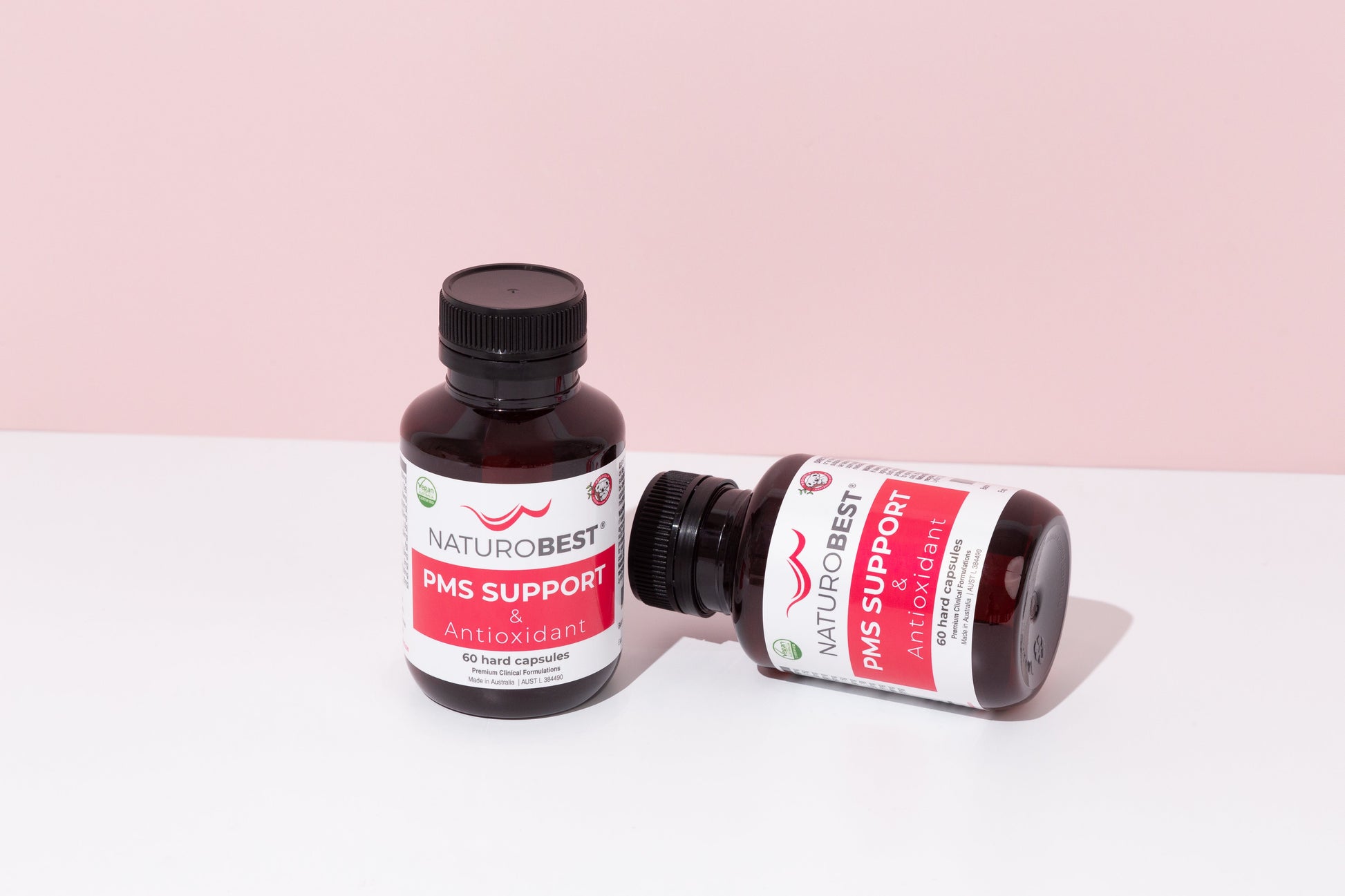 PMS Support & Antioxidant
Regular price
$32.48 AUD
excl GST
Sale price
$32.48 AUD
Regular price
NaturoBest's PMS Support & Antioxidant supports women with:
Premenstrual syndrome.
Menstrual cycle irregularity.
Supports healthy hormone balance.
Supports female reproductive system health.
For best results, take this formula in the morning and Stress & Sleep PM Formula and Calcium & Magnesium Plus K2 & D3 at night. It is also highly recommended to take Detox & Liver Support.
Always read the label and follow the directions for use.
EXPIRY: MAY 2025; AUST L: 384490
Approximately half of menstruating women worldwide suffer from premenstrual syndrome (PMS). Women will often turn to complementary medicines for relief from their symptoms.
Vitex agnus-castus (Chaste tree) is a herb that has been clinically trialled for PMS. When taken for three months, Vitex reduced irritability, headache, breast fullness and bloating.
The ingredients in NaturoBest's PMS Support & Antioxidant are traditionally used in Western herbal medicine to:
Reduce symptoms of premenstrual syndrome.

Support healthy hormone balance in women.

Regulate the menstrual cycle.

Support female reproductive system health.

Provide antioxidants.

Support immune system health.
Sometimes high oestrogen levels or "oestrogen dominance" is associated with PMS. The herbs in this formula support healthy hormone balance in women.
Ask your healthcare practitioner for a blood test for oestradiol on day 2 or 3 of your cycle. You could also check your zinc and copper levels. High oestrogen is associated with high copper levels. High dose zinc supplementation is a treatment often used by naturopaths to antagonise copper.
May be taken alongside Cycle & Skin Support and a preconception multivitamin such as Preconception Multi for Women or Calcium & Magnesium Plus K2 & D3 and Iron & Brain Support.
NaturoBest's PMS Support & Antioxidant is vegan-friendly, free from animal products, dairy, egg, fish/shellfish, gluten, lactose, msg, nuts, soy, oats and other grain derived ingredients, peanuts, sulphites, sucralose, wheat, yeast, magnesium stearate, stearic acid, titanium dioxide and other artificial colours, flavours and preservatives. Our PMS Support & Antioxidant is also GMO free and free from many other allergens, please contact us to find out more.
Daily dose of 2 capsules contains:
Ingredient
Quantity
Vitex agnus-castus (Chaste tree) extract
300mg
    equivalent fruit dry
3g
Punica granatum (Pomegranate) extract
20mg
    equivalent fruit peel dry
1g
Rosmarinus officinalis (Rosemary) extract
300mg
    equivalent leaf dry
3g
Vitis vinifera (Grape seed) extract
100mg
    equivalent seed dry
12g
Affron® Crocus sativus stigmas

(Saffron) extract

3mg
  equivalent stigma dry
10mg
Zinc citrate dihydrate
155.76mg
  equivalent elemental zinc
50mg
Other ingredients: calcium hydrogen phosphate dihydrate, ascorbyl palmitate, microcrystalline cellulose, colloidal anhydrous silica and maltodextrin.
Therapeutic dose for women with high oestrogen levels: Take two capsules daily with breakfast. Maintenance dose: Take one capsule daily with breakfast. May be taken prior to conception but discontinue use upon positive pregnancy test unless advised otherwise by your medical herbalist.
Contains zinc which may be dangerous if taken in large amounts or for a long period.  Vitex agnus-castus may affect hormones and medicines such as oral contraceptives.  Consult your health professional before use.  If symptoms persist, talk to your healthcare practitioner. Store below 30 degrees celcius in a cool, dry place. Use only if cap seal is unbroken.
PMS Support & Antioxidant
Regular price
$32.48 AUD
excl GST
Sale price
$32.48 AUD
Regular price
Amazing for PCOS, skin and menstrual health
I love this. My skin is clear, my periods are great and my overall PCOS is definitely doing so much better.
Really helped regulate my cycle
Once I stopped using hormonal birth control a few months ago, I had a couple tough cycles. Terrible PMS symptoms, late periods, it felt like a roller-coaster. Then I have this a try and it was like magic, one a day and my cycle was regular and predictable, PMS symptoms eased massively. Fantastic result, couldn't be happier!
Fantastic Marcela, great to hear! :) This formula is perfect for women coming off the pill to help regulate their cycle again.
The only products that actually helped
I've been taking the PMS support along with the other products in the "PMS support" pack for nearly 3 months and have definitely noticed a HUGE improvement in my moods and general PMS symptoms. I used Naturobest vitamins for both my pregnancies/post and swear by them. I did try other products for my PMS before coming back to Naturobest because nothing else was helping.
Amazing for hormone imbalance!
My naturopath put me on this one because I had elevated oestrogen levels. After 6 months of taking 2 capsules daily, my oestrogen went from 2500 on day 3 of my cycle to 350! I'm now only taking 1 capsule daily as I love the fact I no longer suffer bloating and sore boobs before my period and my period is really light and not painful anymore since taking these.
Fantastic for PMS
I've been taking this for almost 2 months now after experiencing some irregular periods and possible early perimenopause. My last cycle was bang on time and I didn't have any of the usual irritability and angst that usually occurs in the days before my period starts. Ive also been taking the Stress and Sleep formula with great results. Thanks Naturobest for having such a fantastic range of high quality products