Birth Stories
Birth Story of NaturoBest Baby Ruthie Sara!
by Nikki Warren on Aug 10, 2023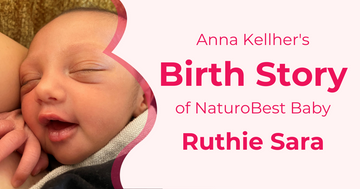 My husband and I had been trying for a baby for a couple of years before conceiving Ruth. During this time I went to see a Chinese medicine clinic for some acupuncture. They introduced me to NaturoBest. The immediate thing I loved about this prenatal brand was that they did not make me feel sick like other vitamin tablets.
I had hyperemesis with Ruth's pregnancy and there were some concerns about her growth related to this. For this reason, I had an induction at 38+4 weeks. Turns out my placenta was simply gorgeous. Well nourished despite not eating much and just taking my prenatals when I could. As a side note, there was a velementous cord insertion. This means the umbilical cord was attached to the membranes rather than directly to the placenta. This is correlated with slow growth. But Ruthie was perfectly healthy. 
I had been niggling for a week or so and had a balloon catheter put in on the Thursday night. I had my waters broken at 7am the next morning and started a syntocinon drip at 0730. My body was already primed to go into labour and things moved very fast. I was very much in established labour by 1000. Though, at 1100 I told the midwife I didn't think I could possibly be in labour but could we not increase the syntocinon as I felt it was getting too much for my baby. She said no worries, and I got up to go to the toilet. In retrospect, I was in transition. 
Without thinking after a small wee, I felt to see if I could feel my baby's head. I definitely could (less hair than I thought) and no cervix. She was still sitting relatively high, so I convinced myself I had ages to go.
At this point I found myself taking off the TENS machine opting for some time in the shower. I was only up to level 3on the TENS so I planned to come back to it later. 
I was in the shower for about 20 seconds when the midwife asked if I would consent to a fetal scalp electrode as it was difficult to monitor baby with the abdominal CTG (probably because the last 3 contractions had shot her down low in my pelvis).
I was feeling a lot of pressure in my bottom but still convinced I had lots of time to go. 
We went over to the bed to attach the scalp electrode where the midwife confirmed I was fully dilated. Between the bathroom and waking to the bed, I had started to involuntarily push. 
I noticed Ruth's heart rate was dropping more if I "added grunt" to my body's pushing so I was just horse breathing through them draped over the top of the bed kneeling. 
Within that hour, I noticed Ruth's heart rate was dipping lower and staying lower for longer. I said to the midwife, "I need to push this baby out don't I?" She smiled and nodded.
I gave that pushing everything I had, but my pelvic floor just hadn't had enough time to soften and open. So, it was quite difficult to get Ruth's head to come around the corner of the sacrum- plus she kind of had her head sitting on the side. Ruthie wasn't enjoying this so we decided to call a very peaceful emergency code. Yes, I birthed in stirrups and yes I had the thing I didn't want - an episiotomy. But this was really the most peaceful birth. Ruthie came easily once the epis was cut. It was actually a relief!
She was born completely pink and totally calm. I made her cry so we could say goodbye to all the paediatric students who had come in ready for a neonatal resus, but I think she would have stayed staring lovingly at me and looking ready for milk if I hadn't.
I had a postpartum haemorrhage of almost 1.5 litres after the placenta was out. This was another efficiently and calmly managed emergency call. At one stage I found myself holding my baby in one had and my placenta in the other as I discussed with the student midwife how we could clamp and cut with all the people in the room. I heard someone say they were about to take me to theatre for safety but then the bleeding stopped. 
We spent the most peaceful few hours in bed then the whole night in the birth suite as they didn't have room in postnatal - yay for us! 
My episiotomy site has recovered beautifully, Ruth has stacked on any weight she missed out on inside, my iron levels are great (had an infusion in pregnancy) and we are totally in love. 
I don't mean to say every part of learning to be a mum had been totally easy. There have been some really hard days and nights. But do think coming in to pregnancy well nourished and topped up on my nutrients really helped us postpartum despite the few hiccups on the way from conception to now. 
Ruth Sara 
2830g
Length- 48cm 
HC- 34cm
Labour length 2hrs 17mins