Birth Stories
Rosannah Blackwood's Birth Story of NaturoBest Baby's Twin Girls
by Nikki Warren on Oct 30, 2023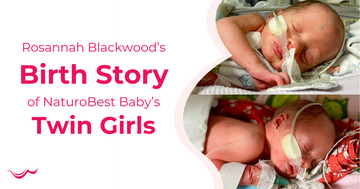 Second pregnancy, MCMA twins 2023:
At 7 weeks, we had a routine dating scan. I was excited and nervous, having had a miscarriage makes pregnancy an anxiety producing state for me. At first we didn't get a good view but then it was clear - two heartbeats. It was very obvious to me that those little babies were sharing an amniotic sac, making this an exceptionally rare and exceptionally high risk pregnancy. I knew that we would be delivering our twins early, if we even made to that point. I had the whole duration of our pregnancy to deal with the idea of a premature delivery but it was still something that I struggled with right up to the very day of our C-section. Knowing that we were taking our babies out into the cold harsh world 7 weeks too early was a decision that cut my heart.
The actual day of delivery was as calm and easy as it could have been. The whole team were supportive, understanding and professional. Harley was by my side through the whole thing, only leaving to see our girls once he felt sure I was safe. 
Both girls cried out as they entered the world and that was the most surreal and special moment. They were born to the same song as their big brother, whilst Harley and I cried tears of joy. 
The knot in their cord was loose but there nonetheless and we are so glad that they're here safely.