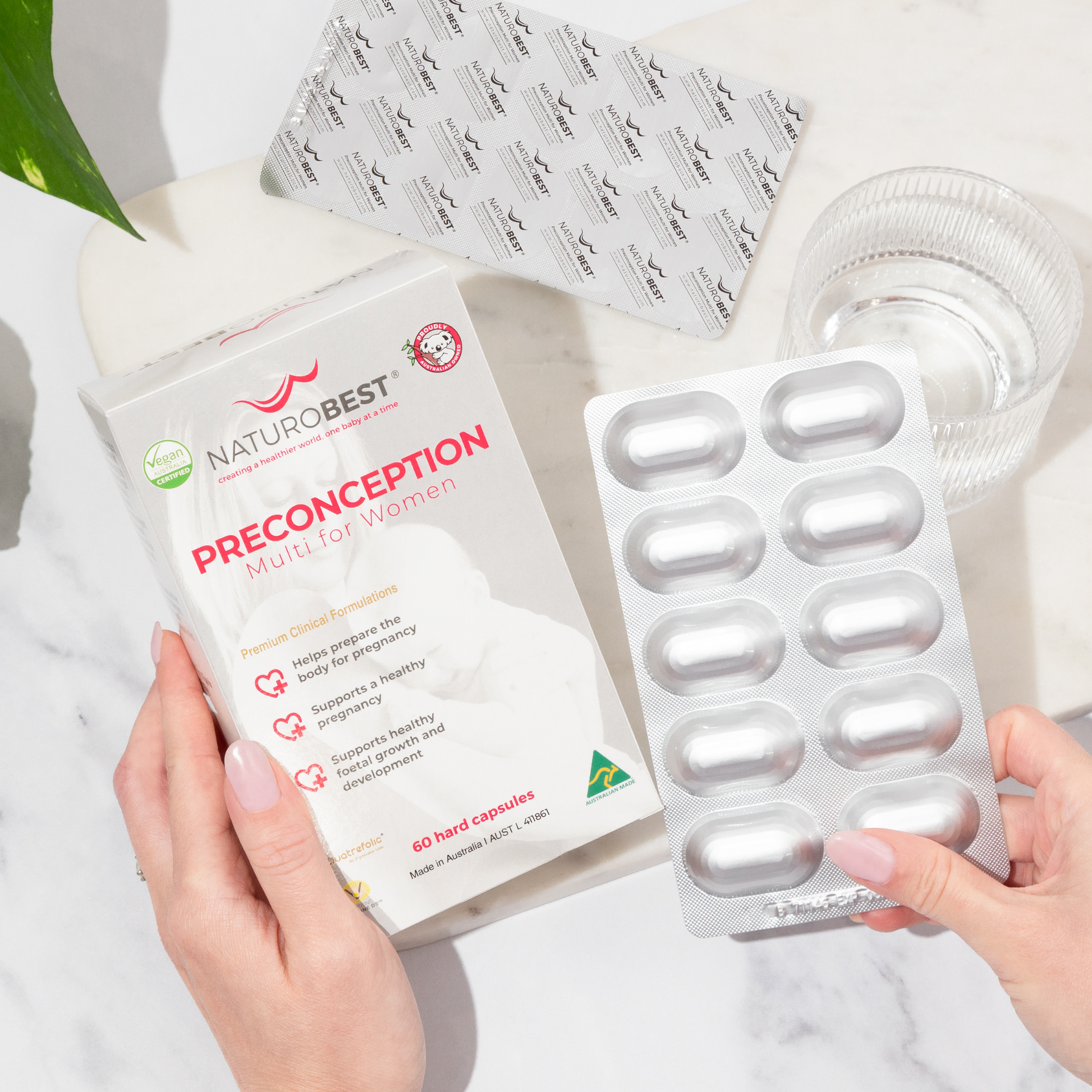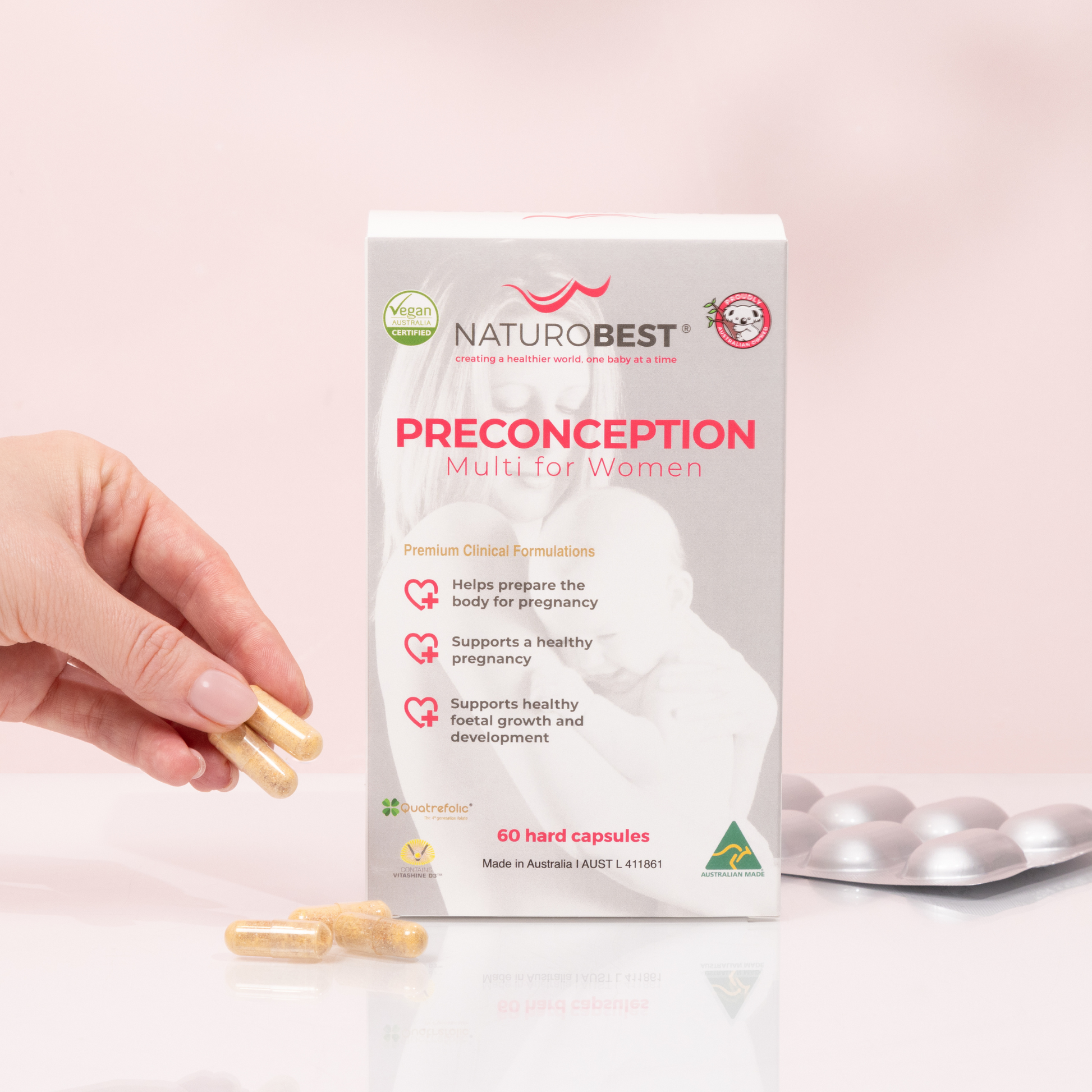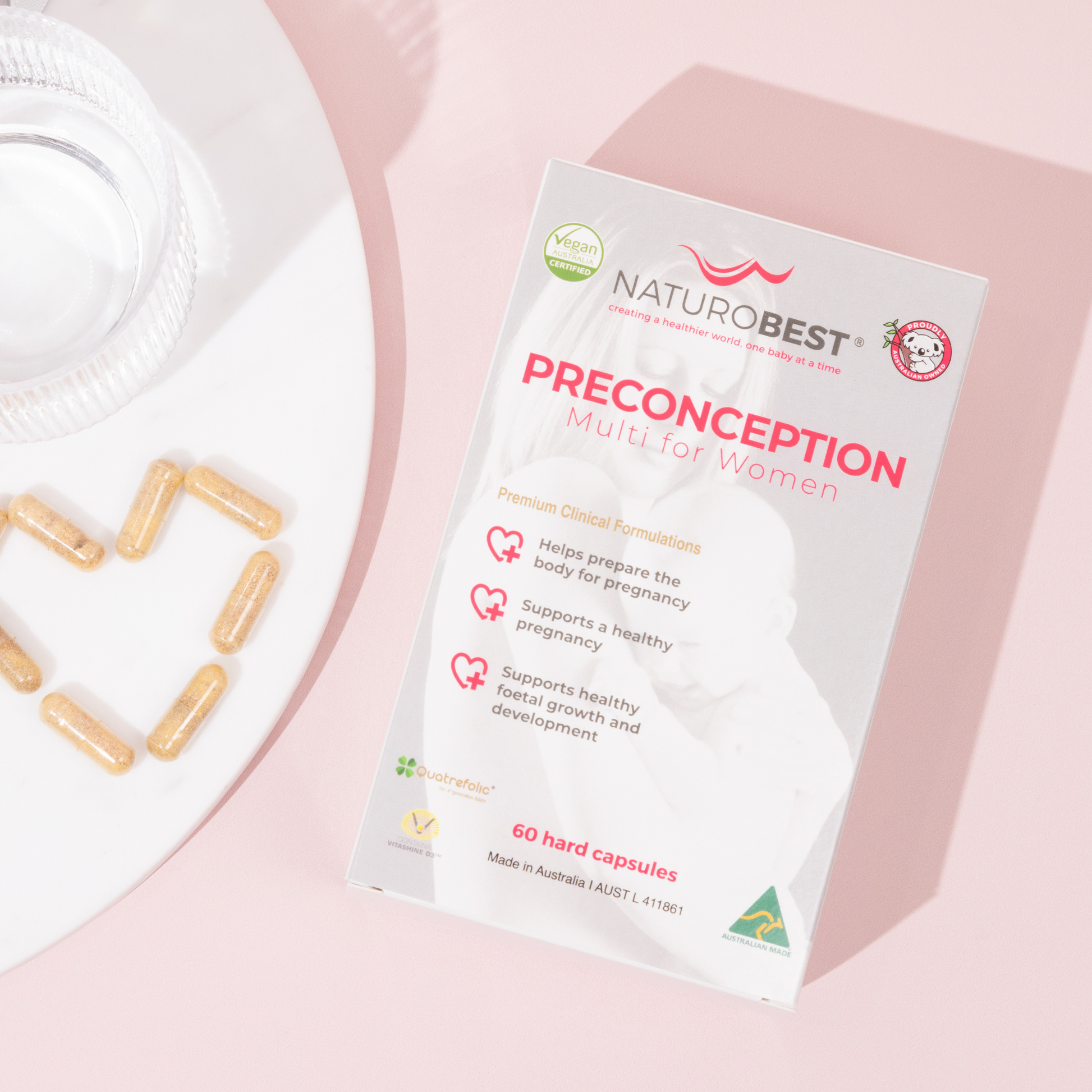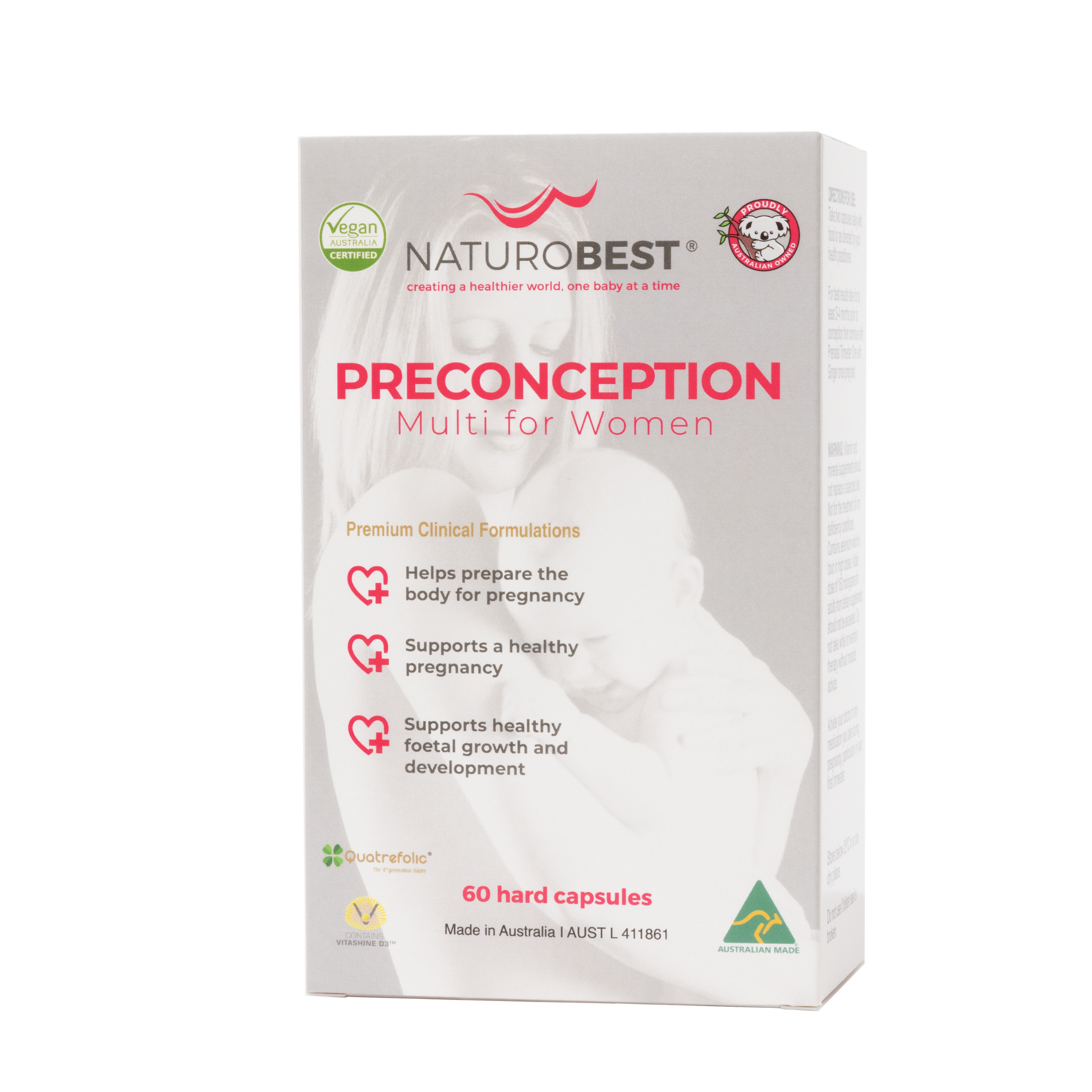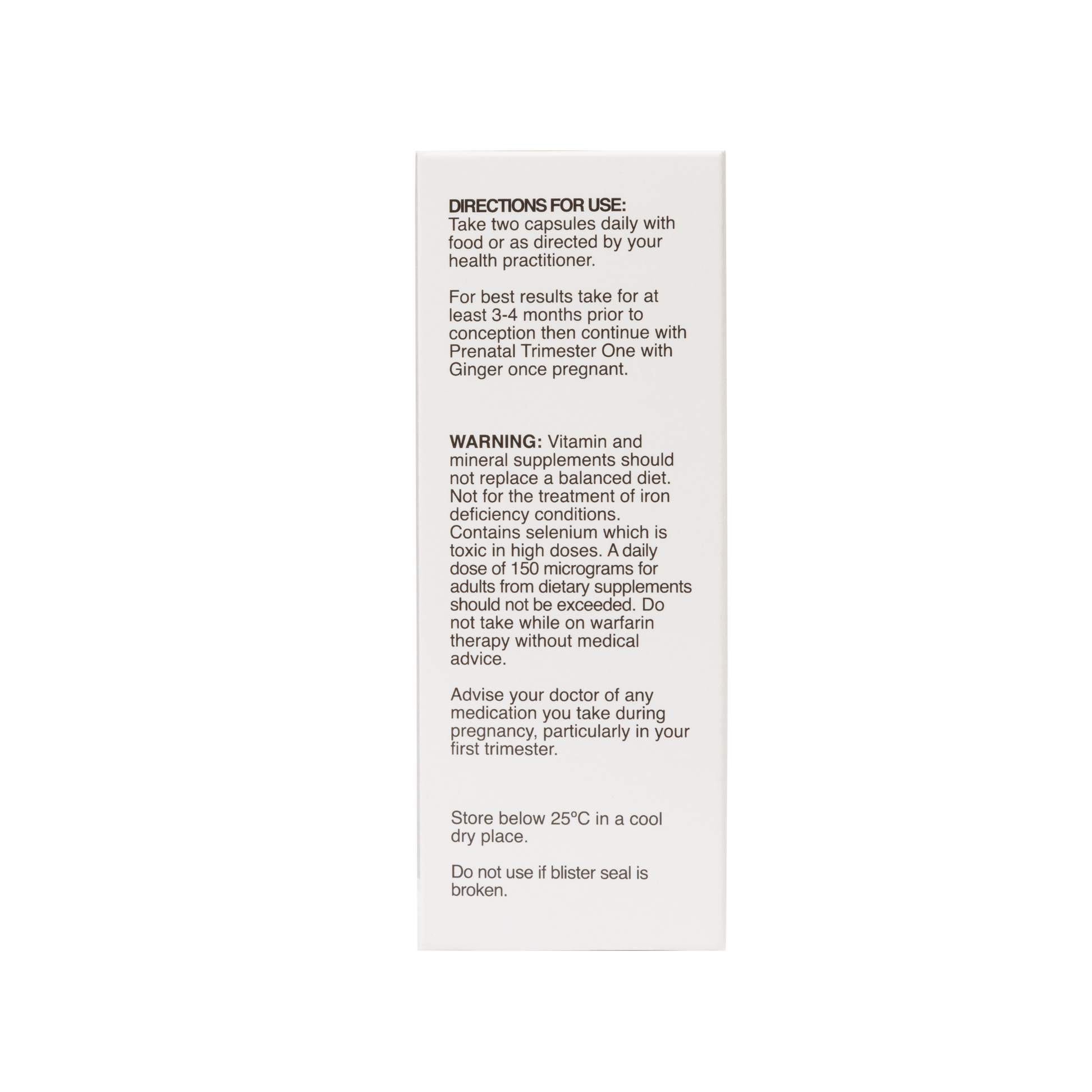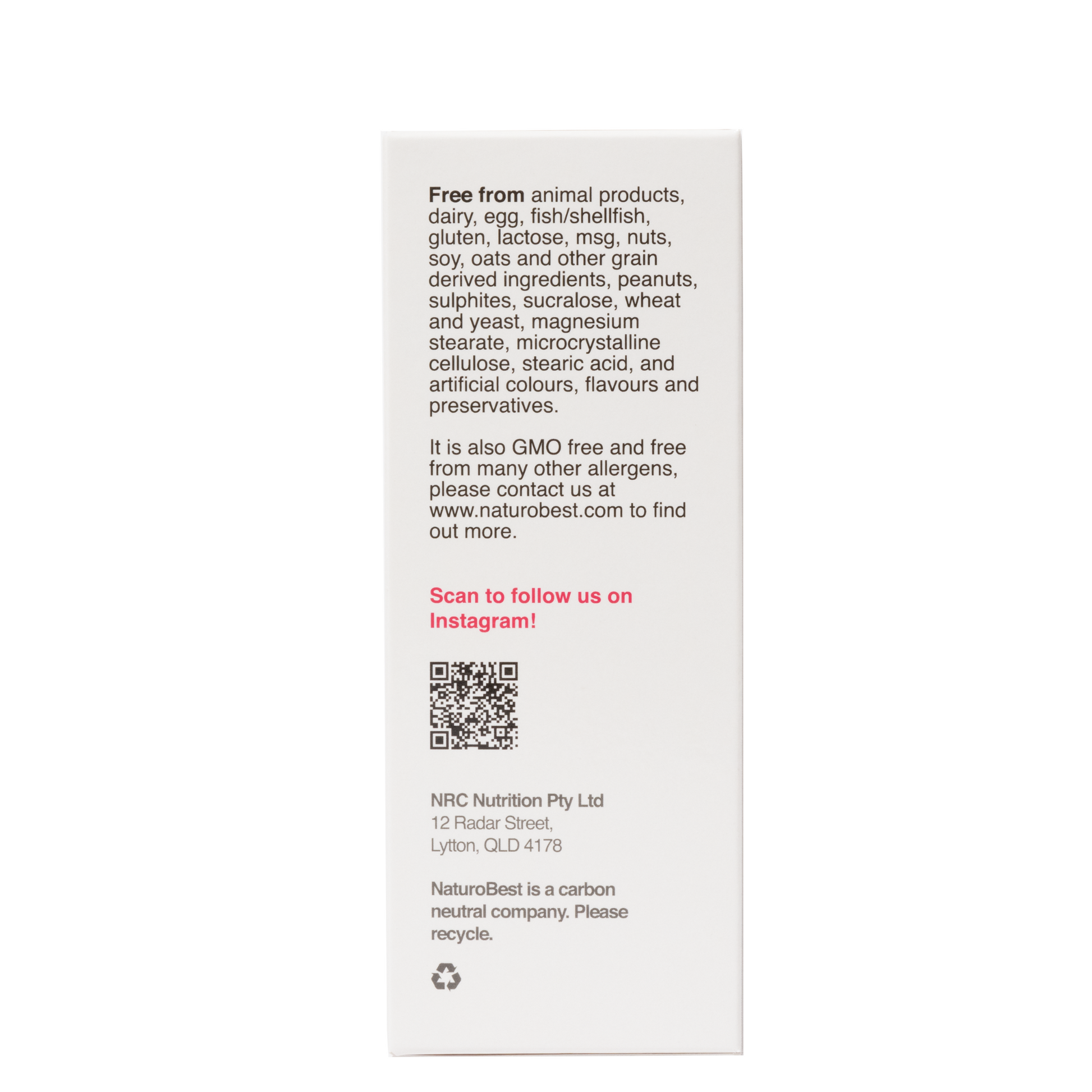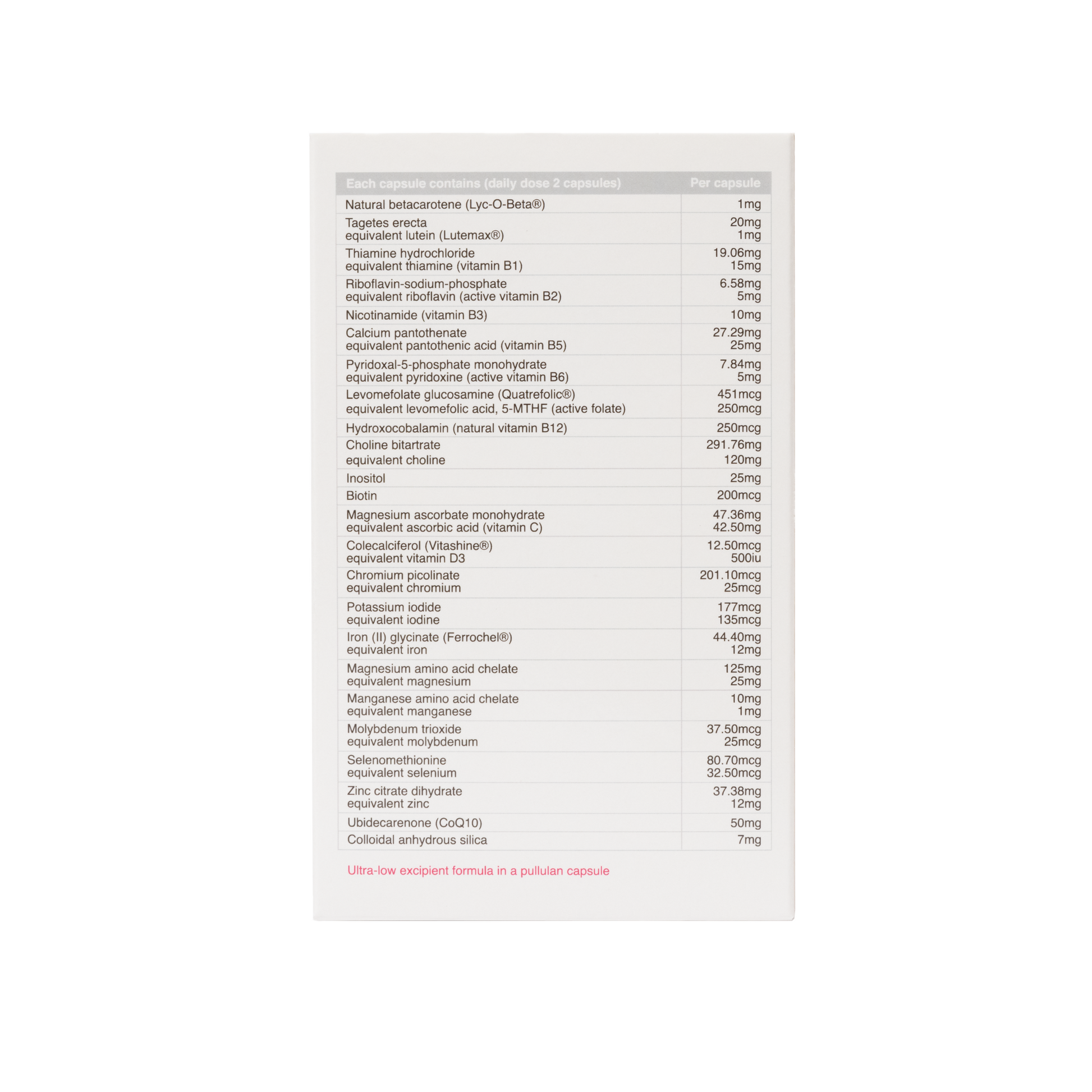 Preconception Multi For Women | Best Pre-Pregnancy Vitamins
Regular price
$45.45 AUD
excl GST
Sale price
$45.45 AUD
Regular price
Recently reformulated!
Just as important as what is in the formula, is what isn't. We have recently reformulated our preconception vitamins with the aim to be the cleanest preconception vitamins in the world with only two added excipients, calcium hydrogen phosphate and medium chain triglycerides in a pullulan capsule. This ensures our products are suitable for most people, in particular, those with pine allergies (commonly found in asthmatics) who may react to microcrystalline cellulose and Vcaps.
Preconception Multi for Women is a multivitamin, multimineral and antioxidant that has been specially formulated to help enhance preconception health.
Not only do these pre-pregnancy vitamins prepare the body for pregnancy, but they also support:
Healthy foetal development

Thyroid function and energy levels

Glucose and carbohydrate metabolism

Skin and immune system
Taking these preconception vitamins for 3-4 months prior to trying to conceive, supports a healthy conception, increases your chances of success and helps to ensure a smooth pregnancy.
Scroll down for customer reviews!
Always read the label and follow the directions for use.
EXPIRY: JULY 2025; AUST L: 411861
NaturoBest Preconception Multi for Women is a premium multivitamin, multimineral, and antioxidant. This vegan-friendly pre-pregnancy vitamin is designed to enhance preconception health and prepare the body for a healthy conception and pregnancy.
NaturoBest's product is Australia's first preconception multi with Quatrefolic®, the 4th generation active folate and also folinic acid, ideal for those who have genetic difficulties with metabolising folic acid. Preconception Multi for Women also contains 24mg of elemental iron bisglycinate as the patented Ferrochel® in a daily dose.
Prenatal vitamins do vital work during pregnancy, but your baby's nutritional requirements commence prior to conception. Even before you try to get pregnant, it is recommended to begin taking daily preconception vitamins for women to support your reproductive system health and prepare your body to give your foetus the nutrition it needs from day one.
Preconception Multi for Women is a vegan-friendly pre-pregnancy vitamin that has been clinically formulated to help support the growth and development of your baby for a healthy pregnancy. By taking preconception vitamins from 3-4 months prior, your body will be primed to conceive a healthy embryo when the time comes, which will grow into a healthy baby with a well-balanced diet and the help of prenatal vitamins throughout the pregnancy.
Your baby will rely on you for all the nourishment it needs to develop, so maintaining your health and building up your body's nutrient stores is a vital part of pregnancy preparation. Just like you, we want the best for you and your baby's future, so invest in long-term health for both of you by routinely taking specially formulated pre-pregnancy vitamins.
NaturoBest Preconception Multi for Women pre-pregnancy vitamins provide only active forms of vitamins B2, B6, B12, and folate, and are free from copper. It is an ultra-low excipient formula in a vegan capsule rather than a tablet (which are full of excipients such as binders, fillers, disintegrants, film coatings and colourings in the film coating).
For the best results, you should start taking these preconception vitamins for women at least 3 months prior to conception. You can then move on to Prenatal Trimester One with Ginger as soon as you find out you're pregnant.
NaturoBest preconception multivitamins are vegan-friendly and completely free from animal products, soy, dairy, egg, fish/shellfish, gluten, lactose, MSG, nuts, oats and other grain-derived ingredients, peanuts, sulphites, sucralose, wheat, yeast, magnesium stearate, stearic acid, microcrystalline cellulose, pine, titanium dioxide and other artificial colours, flavours, and preservatives. It is also GMO-free and free from many other allergens. Please contact us to learn more if you have a specific allergy not addressed above.
Daily dose (2 capsules) contains:
| | |
| --- | --- |
| Ingredient | Quantity |
| Natural betacarotene (Lyc-O-Beta®) | 10mg |
| equivalent betacarotene | 2mg |
| Tagetes erecta flower extract equiv to fresh (Lutemax®) | 40mg |
| equivalent lutein | 2mg |
| Thiamine hydrochloride | 38.12mg |
| equivalent thiamine (vitamin B1) | 30mg |
| Riboflavin sodium phosphate | 13.16mg |
| equivalent riboflavin (active vitamin B2) | 10mg |
| Nicotinamide (vitamin B3) | 20mg |
| Calcium pantothenate | 54.58mg |
| equivalent pantothenic acid (vitamin B5) | 50mg |
| Pyridoxal-5-phosphate | 15.68mg |
| equivalent pyridoxine (active vitamin B6) | 10mg |
| Levomefolate glucosamine (Quatrefolic®) | 902mcg |
| equivalent levomefolic acid, active folate | 500mcg |
| Hydroxocobalamin (natural vitamin B12) | 500mcg |
| Choline bitartrate | 583.52mg |
| equivalent choline | 240mg |
| Inositol | 50mg |
| Biotin | 400mcg |
| Magnesium ascorbate monohydrate | 94.72mg |
| equivalent ascorbic acid (vitamin C) | 85mg |
| equivalent magnesium | 5.86mg |
| Colecalciferol (equivalent vitamin D3 1000iu) | 25mcg |
| Chromium picolinate | 402.20mcg |
| equivalent chromium | 50mcg |
| Potassium iodide | 354mcg |
| equivalent iodine | 270mcg |
| Ferrochel® Iron (II) glycinate | 88.8mg |
| equivalent iron | 24mg |
| Magnesium amino acid chelate | 250mg |
| equivalent magnesium | 50mg |
| TOTAL ELEMENTAL MAGNESIUM PER DAILY DOSE | 55.86mg |
| Manganese amino acid chelate | 20mg |
| equivalent manganese | 2mg |
| Molybdenum trioxide | 75mcg |
| equivalent molybdenum | 50mcg |
| Selenomethionine | 161.40mcg |
| equivalent selenium | 65mcg |
| Collodial anhydrous silica | 14mg |
| Zinc citrate dihydrate | 74.76mg |
| equivalent zinc | 24mg |
| Ubidecarenone (CoQ10) | 100mg |
Other ingredients:
calcium hydrogen phosphate, medium chain triglycerides in a pullulan capsule.
Take two capsules daily with food or as directed by your healthcare practitioner.
Take one capsule with breakfast and one capsule with lunch.
It's advisable to begin taking preconception vitamins for women at least 3 months before you try to conceive to allow them time to do their work and create the best conditions for healthy conception.
Once you become pregnant, we recommend switching to Prenatal Trimester One with Ginger as soon as possible.
Vitamin supplements should not replace a balanced diet.
Contains selenium which is toxic in high doses.  A daily dose of 150 micrograms for adults of selenium from dietary supplements should not be exceeded.
Not for the treatment of iron deficiency conditions.
Do not take while on warfarin therapy without medical advice.
Store below 25 degrees celcius in a cool, dry place.
Preconception Multi For Women | Best Pre-Pregnancy Vitamins
Regular price
$45.45 AUD
excl GST
Sale price
$45.45 AUD
Regular price
Preconception Multi
Love this almost all encompassing prenatal vitamin. This brand was recommended by my acupuncturist and nutritionist while undergoing ivf.
fantastic preconception
Love that it has all the nutrients needed
Must try
Preconception multi vitamin for woman is the best product I believe on the market, highly recommend to give it a try....
Perfect prenatal
Taken this supplement for a few months. Just got a positive pregnancy test, seems like a miracle as I have had hormone issues! This pre natal has really assisted me on my journey.
Naturopath knows best
Top quality in comparison to commercialised brands with no heart burn