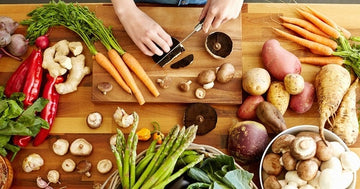 National Nutrition Week October 11 to October 17
This week is National Nutrition Week. Which is a good reminder how important a nutrient balanced diet is for both men and women. 
Tryfor5 is an annual campaign powered by Nutrition Australia. It is encouraging Australians to increase their vegetable consumption to the recommended five serves per day. Launching each October during National Nutrition Week. Which is where awareness is raised around the role of food on our health.
Despite the latest studies and recurring healthy eating messages only 4% of Australian's are eating enough vegetables each day. The average person eats only half as much as they should, which is the inspiration behind Tryfor5. If you are thinking about or actively trying to conceive, nutrition is an important component of your preconception plan.
The Relationship between Nutrition and Fertility
About one in 6 Australian couples of reproductive age experiences fertility problems. There are many causes of infertility. For about 2 in 5 couples it will be due to a sperm problem and in another 2 in 5 couples, there will be a problem with the woman's reproductive system.
While couples can't control all of the causes of infertility, they can control their eating habits.
Research has shown that nutrition and a healthy body weight are essential. It is important for both partners and can have a significant impact on the ability to conceive. Further, an organic diet improves your chances of conceiving and reduces your risk of miscarriage.
The "Fertility Diet" study, published by a team of Harvard researchers in 2007. Found women with ovulatory infertility who followed this eating pattern had a 66 percent lower risk of ovulatory infertility. It also found a 27 percent reduced risk of infertility from other causes than women who didn't follow the diet closely.
Women following the "fertility diet" consumed:
• Less trans fat and more mono-unsaturated fat (from foods such as avocados and olive oil)
• Less animal protein and more vegetable protein
• More high-fibre, low-glycaemic carbohydrate-rich foods (including whole grains)
• More vegetarian sources of iron and fewer meat sources
• Preconception multivitamins 
• High-fat dairy instead of low-fat dairy. Most likely due to the vitamin A content found in high-fat dairy which is beneficial for fertility.
Overall, eating more vegetables as well as a wider variety of vegetables will help you meet your nutrient needs. Ensure you eat more healthy mono-unsaturated fats and less saturated and trans fats. Make at least half your grains whole and get enough calcium-rich foods (including dairy if you tolerate it).
Check out the list of recipe ideas below for some fresh ideas and recipes. To help boost your diet and Try for 5!
The key to increasing your vegetable intake is variety. If there are components of the diet that you do not like, swap them out for something you prefer more. Another tip is to look for ways to add extras in such as nuts, legumes, dark leafy greens and olive oil. We love this recipe from the Tryfor5 website:
Roast Vegetable Salad with Haloumi
Recipe by Cobram Estate
Ingredients
Salad
1 small sweet potato, peeled, sliced into thin wedges
250g kent pumpkin, peeled, seeded, diced
1 small red capsicum, thickly sliced into strips
2 red onions, cut into thin wedges
½ medium eggplant, diced
1 zucchini, sliced into thick rounds
2 Cobram Estate Robust Extra Virgin Olive Oil
1 Tbsp thyme leaves
Sea-salt flakes and freshly ground black pepper, to season
200g baby carrots, trimmed, peeled, halved lengthways
1 bunch asparagus, trimmed
2 cups baby spinach leaves
1 x quantity of Balsamic Dressing
extra 2 Tbsp Cobram Estate Robust Extra Virgin Olive Oil
200g block haloumi, thickly sliced
micro herbs, to serve
Dressing
½ cup Cobram Estate Robust Extra Virgin Olive Oil
2 Tbsp water
¼ cup balsamic vinegar
Salt and pepper, to season
Fill ingredients into a jar, shake and pour
Method
Preheat oven to 180C. Line 3 oven trays with baking paper. Arrange sweet potato, pumpkin, capsicum, onion, eggplant and zucchini in a single layer on prepared trays.
Drizzle with oil. Scatter with thyme and season. Bake for 25 minutes.
Remove from oven and add carrots and asparagus and cook for a further 15 minutes or until all vegetables are tender. Set aside for 15 minutes to cool.
Transfer vegetables to a large bowl and add spinach and ¼ cup of the dressing. Toss well to coat.
Drizzle haloumi with the extra olive oil. Heat a large non-stick frying pan over high heat. Once hot, cook haloumi for about 1 minute each side or until golden. Transfer to a chopping board and cut haloumi in half on the diagonal.
Arrange vegetable mixture and haloumi on a serving platter. Drizzle with 2 tablespoons of the remaining dressing. Scatter with micro herbs and serve with remaining dressing on the side to add as you desire.
For more comprehensive dietary advice, ensure you see a naturopath or nutritionist. For the best chance of a healthy conception and baby, we recommend following a 4-month preconception plan.