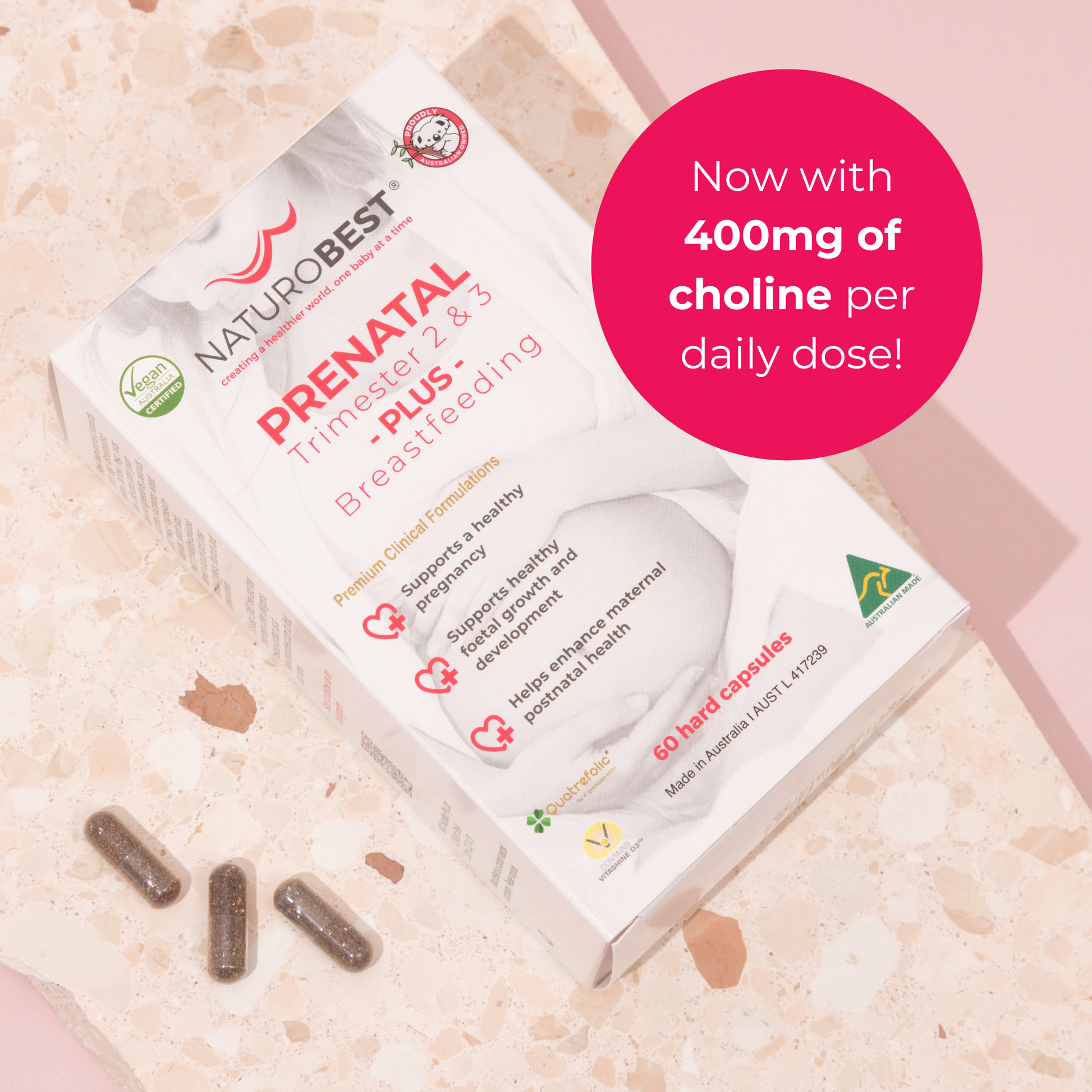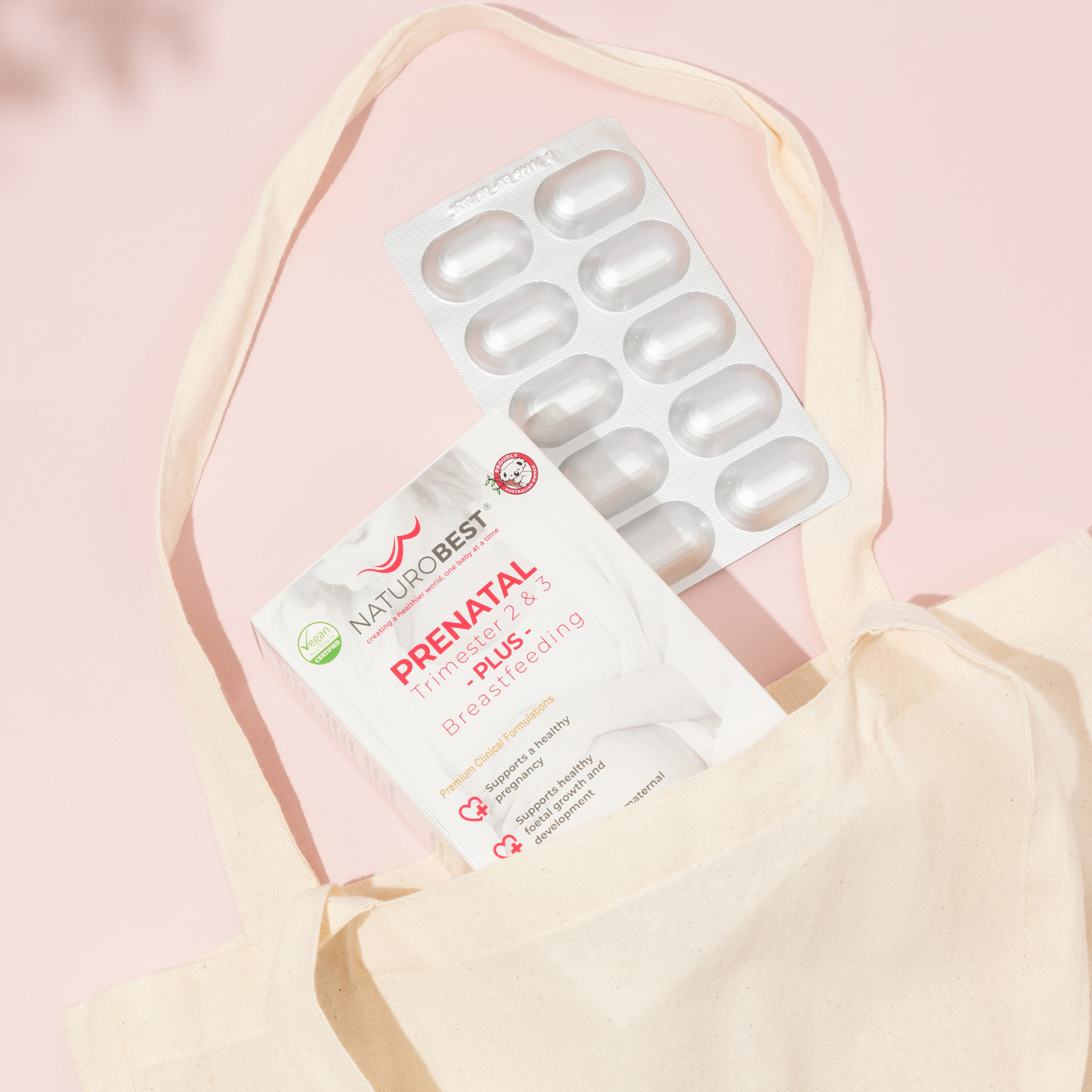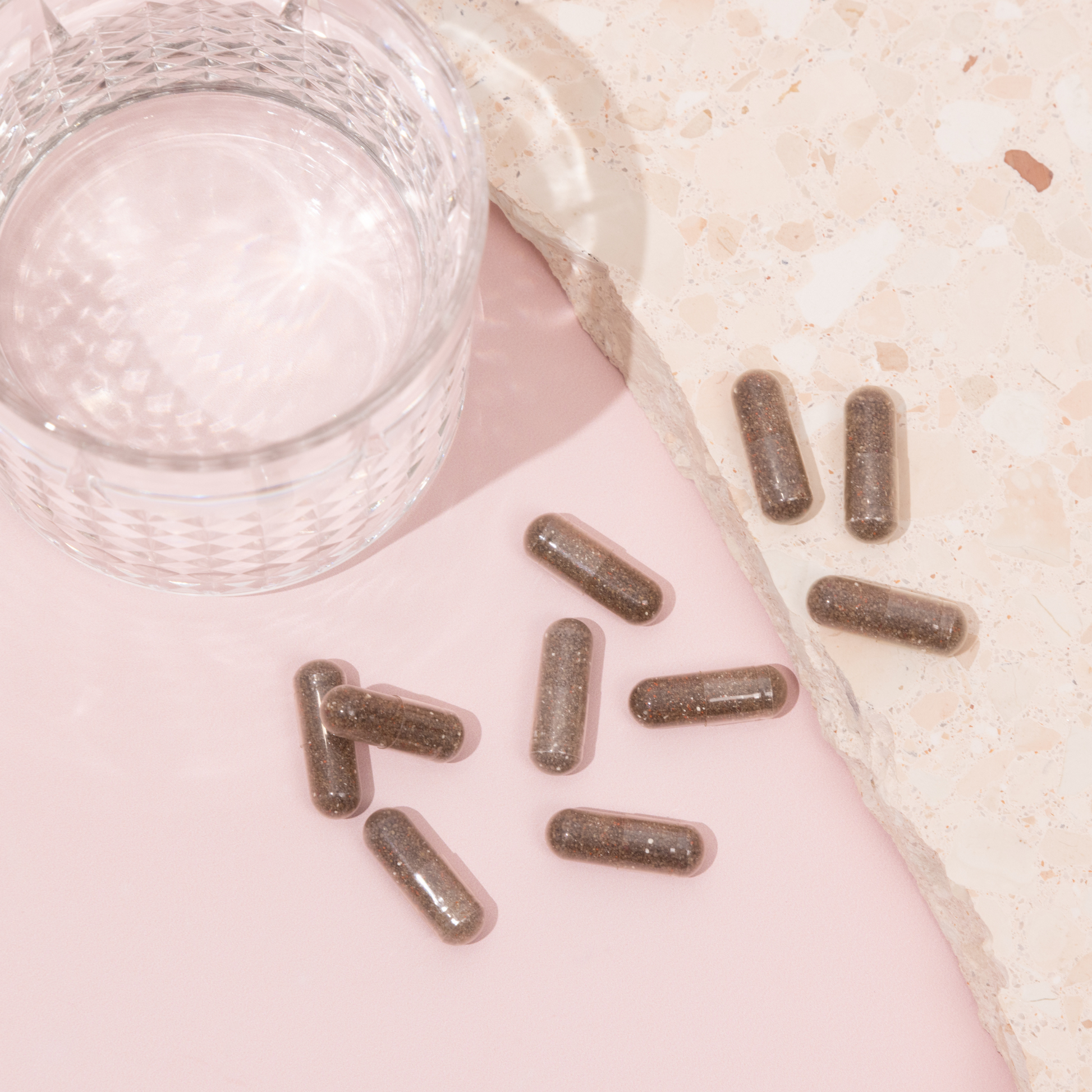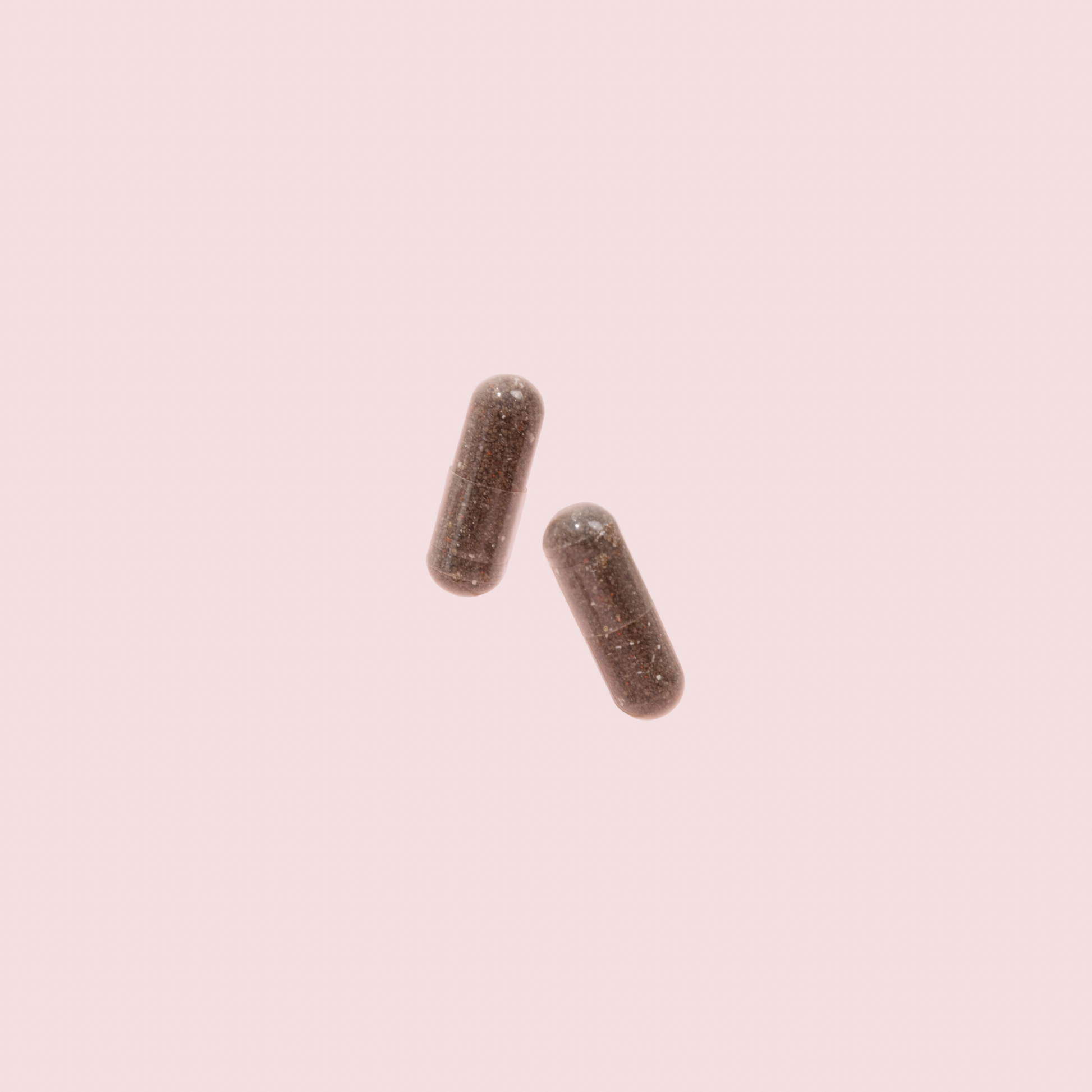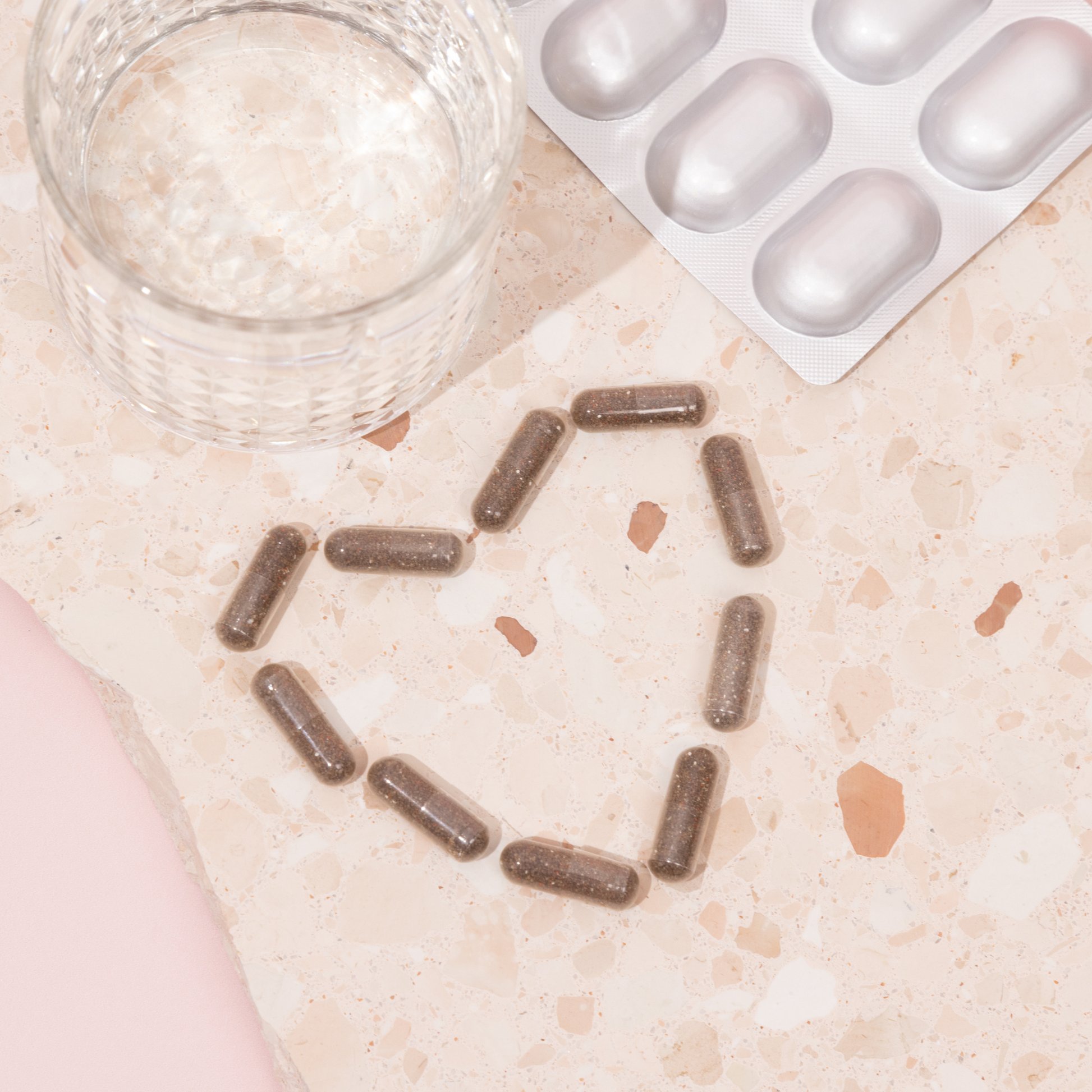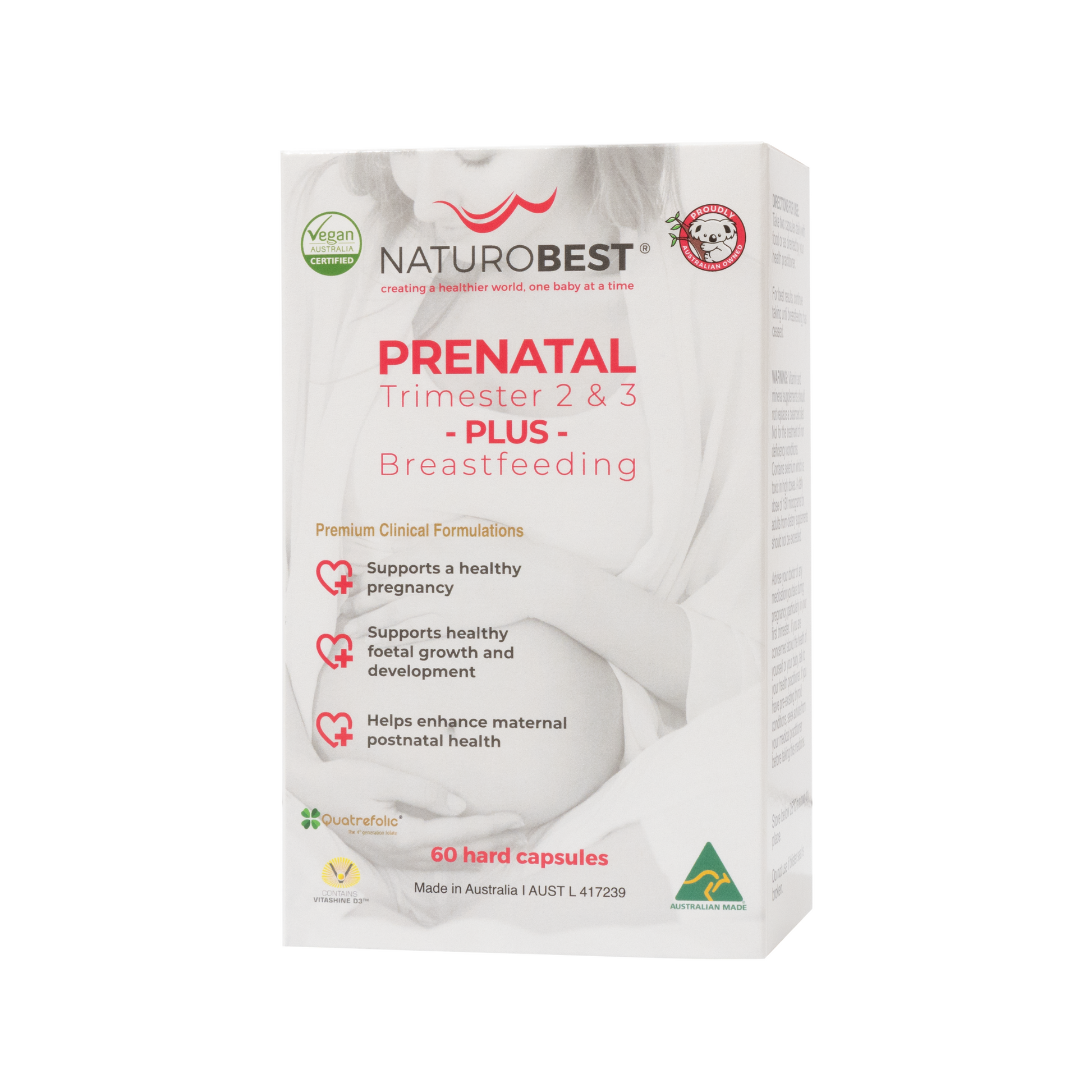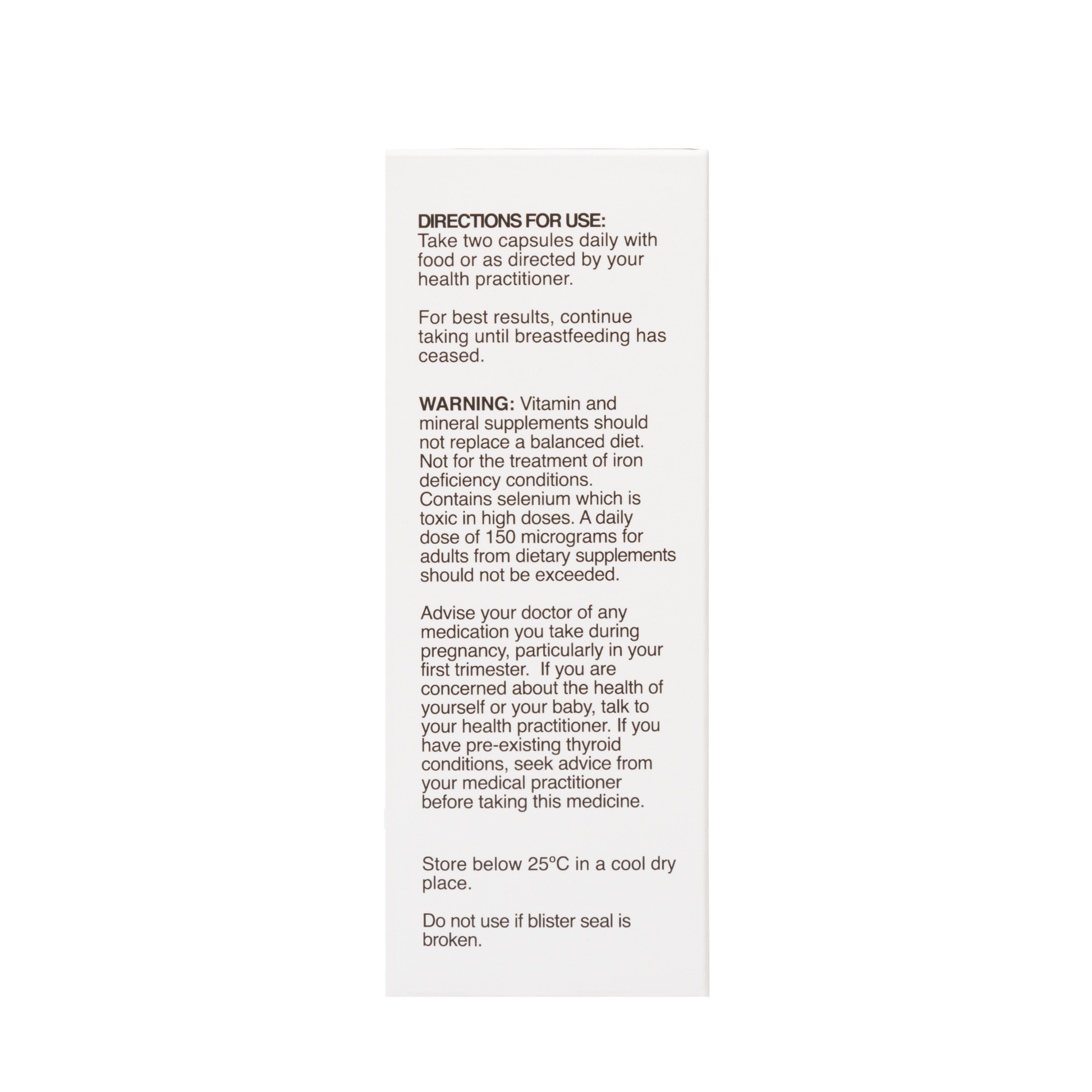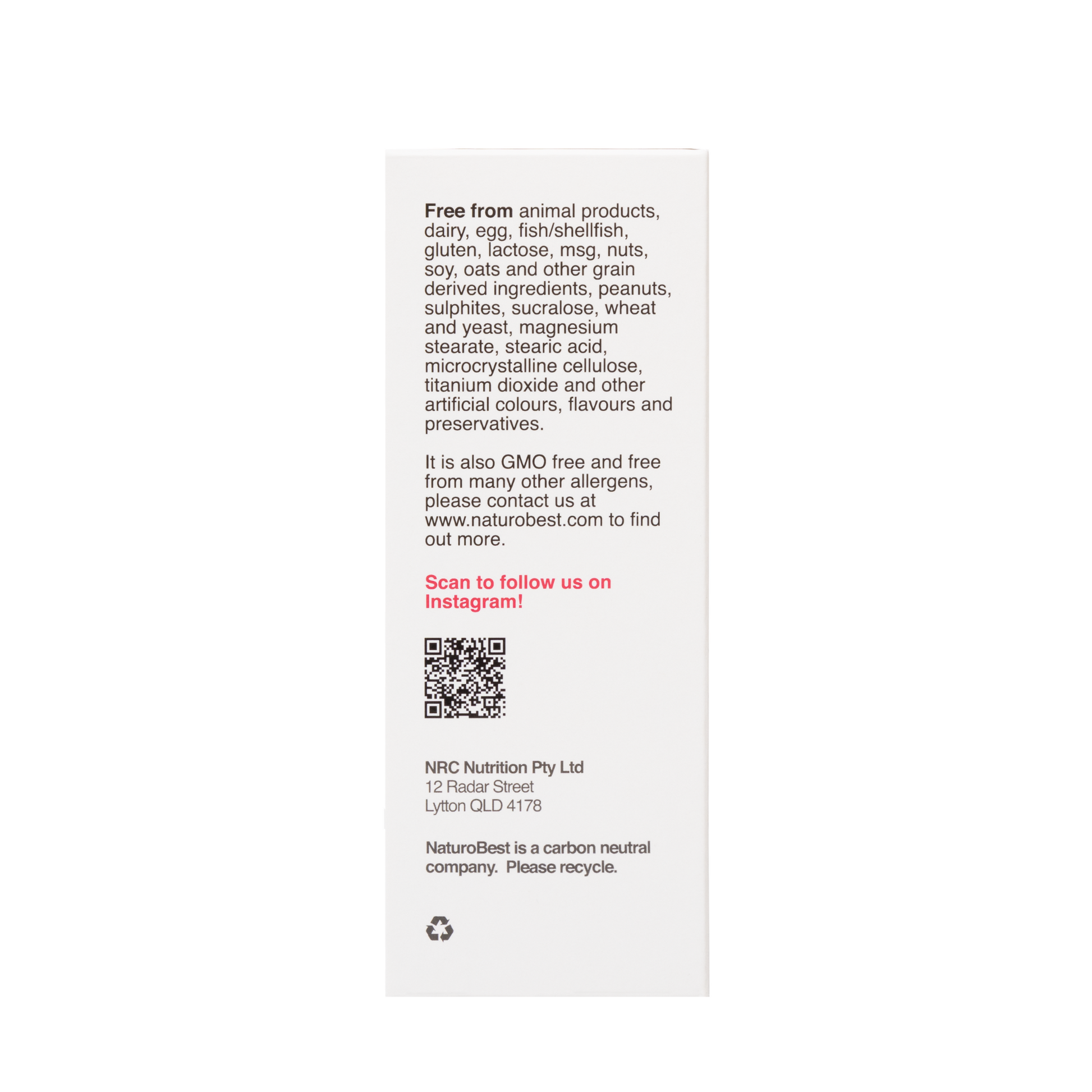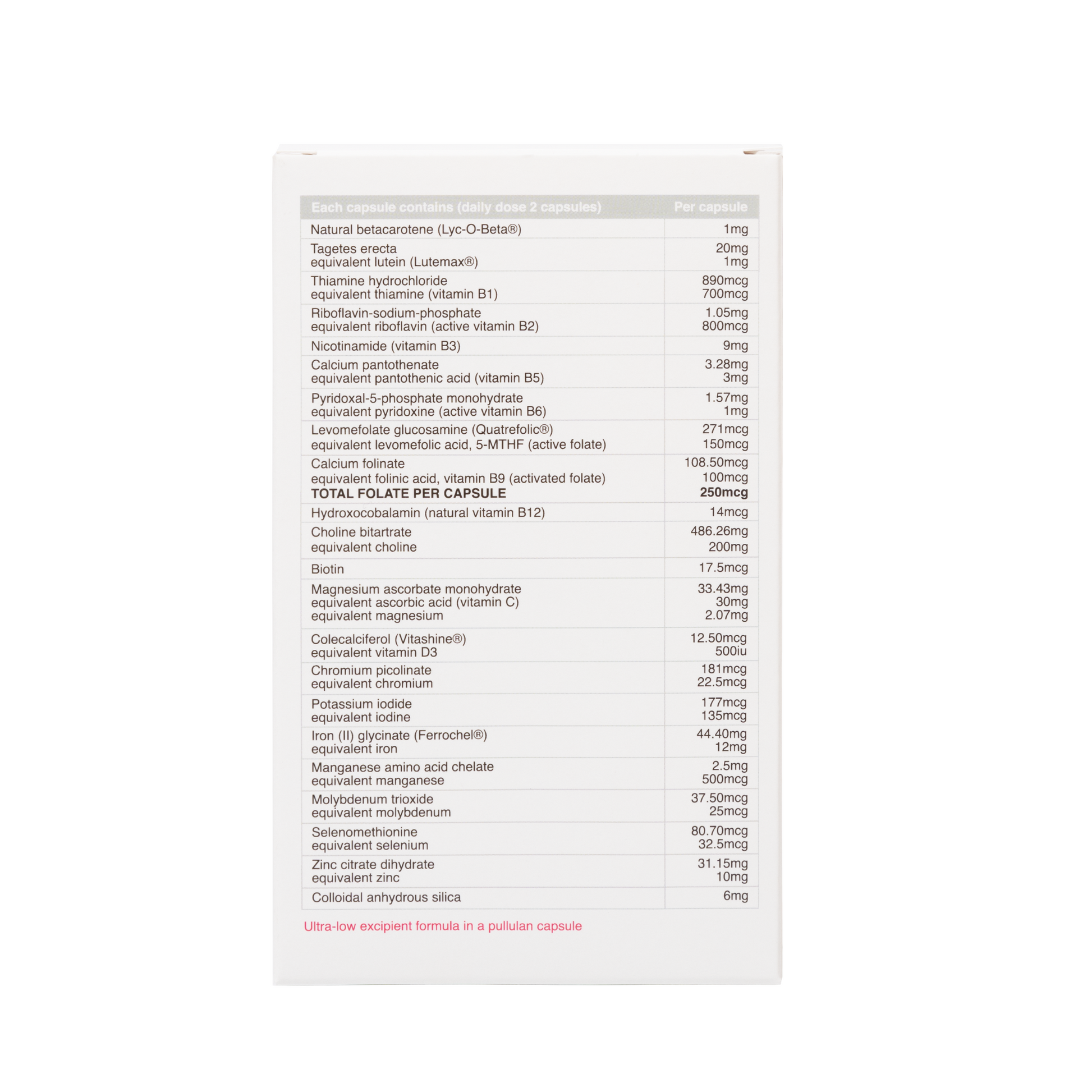 Prenatal Trimester 2 & 3 Plus Breastfeeding | Pregnancy & Breastfeeding Vitamins
Regular price
$45.45 AUD
excl GST
Sale price
$45.45 AUD
Regular price
Recently reformulated, Now with 400mg of Choline!
Just as important as what is in the formula, is what isn't. We have recently reformulated our preconception and prenatal vitamins with the aim to be the cleanest prenatal vitamins in the world with only two added excipients, calcium hydrogen phosphate and medium chain triglycerides in a pullulan capsule. This ensures our products are suitable for most people, in particular, those with pine allergies (commonly found in asthmatics) who may react to microcrystalline cellulose and Vcaps.
As your baby grows and develops, so too does your demand for nutrients. The need for iron in particular increases in the second and third trimesters, and this is the stage of pregnancy when you're more likely to tolerate iron supplementation. Our vegan-friendly prenatal and breastfeeding vitamins are designed to support prenatal health by supplying required amounts of vitamins and minerals to contribute to a smooth and successful pregnancy.
Prenatal Trimester 2 & 3 Plus Breastfeeding is a specially formulated pregnancy and breastfeeding vitamin designed to be taken twice a day to enhance prenatal health during pregnancy and maternal health during breastfeeding.
This pregnancy and breastfeeding vitamin is a step up from the Prenatal Trimester One with Ginger formula, providing even more of the key nutrients required in the last half of pregnancy and breastfeeding, including iodine, choline, zinc, vitamin D, and activated B vitamins.
It also contains 24mg in a daily dose of bioavailable elemental iron bisglycinate as Ferrochel® . Iron bisglycinate is a well absorbed and well tolerated form of iron.
This formula does not contain copper. During pregnancy, copper levels rise naturally, so copper supplementation is not usually necessary.
This careful selection of vitamins, minerals, and antioxidants supports foetal development and placenta growth while maintaining good maternal health. It also helps to enhance postnatal health when you continue to take the pregnancy and breastfeeding vitamin every day following the birth, until your baby is no longer breastfeeding.
Scroll down for customer reviews!
Always read the label and follow the directions for use.
EXPIRY: AUG 2025; AUST L: 417239
NaturoBest's Prenatal Trimester 2 & 3 Plus Breastfeeding vitamins are Australia's first prenatal and breastfeeding vitamin with Quatrefolic®, the fourth-generation active folate and folinic acid, ideal for people who have genetic difficulties with folic acid metabolism.
This formula also contains 24mg of elemental iron bisglycinate as Ferrochel® in a daily dose.
Just like preconception vitamins, prenatal vitamins are invaluable in giving your baby the best start in life. Prenatal Trimester 2 & 3 Plus Breastfeeding vitamins from NaturoBest contains vitamins and minerals required to sustain a healthy pregnancy after the first trimester. It also helps beyond birth by helping to ensure you're able to keep up with the demands of motherhood and breastfeeding.
Clinically formulated by an experienced fertility naturopath, this daily prenatal and breastfeeding vitamin has been designed specifically to meet the increased demand for nutrients in the second half of pregnancy and breastfeeding. The low-excipient formula makes them the best vitamins while pregnant and breastfeeding and are suitable for vegans and vegetarians.
Prenatal Trimester 2 & 3 Plus Breastfeeding vitamins assist with the unique requirements of the second and third trimesters and continue to support the nutritional needs of mother and child throughout breastfeeding. These pregnancy and breastfeeding vitamins help to maintain optimal levels of nutrients and antioxidants to encourage healthy development during pregnancy and for the first years of your baby's life while breastfeeding.
However long you choose to continue breastfeeding, you should continue to take these breastfeeding vitamins until you cease breastfeeding your baby for best results. By taking this premium pregnancy multivitamin from the start of your second trimester, you'll be helping your baby to grow and help support your health throughout pregnancy.
Each pack contains 60 capsules, intended to last 30 days when taken twice daily. The formula is free from genetically modified organisms (GMOs), as well as animal products, dairy, egg, fish/shellfish, soy, gluten, lactose, MSG, nuts, oats and grain derived ingredients, peanuts, sulphites, sucralose, wheat, yeast, magnesium stearate, stearic acid, microcrystalline cellulose, pine, titanium dioxide and artificial colours, flavours, and preservatives. Please contact us for more information if your specific allergy is not addressed above.
Daily dose (2 capsules) contains:
| | |
| --- | --- |
| Ingredient | Quantity |
| Natural betacarotene (Lyc-O-Beta®) | 10mg |
| equivalent betacarotene | 2mg |
| Tagetes erecta flower extract equiv to fresh (Lutemax®) | 40mg |
| equivalent lutein | 2mg |
| Thiamine hydrochloride | 1.78mg |
| equivalent thiamine (vitamin B1) | 1.4mg |
| Riboflavin sodium phosphate | 2.10mg |
| equivalent riboflavin (active vitamin B2) | 1.6mg |
| Nicotinamide (vitamin B3) | 18mg |
| Calcium pantothenate | 6.56mg |
| equivalent pantothenic acid (vitamin B5) | 6mg |
| Pyridoxal-5-phosphate | 3.14mg |
| equivalent pyridoxine (active vitamin B6) | 2mg |
| Levomefolate glucosamine (Quatrefolic®) | 542mcg |
| equivalent levomefolic acid (active folate) | 300mcg |
| Calcium folinate | 217mcg |
| equivalent folinic acid (activated folate) | 200mcg |
| TOTAL FOLATE PER DAILY DOSE | 500mcg |
| Hydroxocobalamin (natural vitamin B12) | 28mcg |
| Choline bitartrate | 972.52mg |
| equivalent choline | 400mg |
| Biotin | 35mcg |
| Magnesium ascorbate monohydrate | 66.86mg |
| equivalent ascorbic acid (vitamin C) | 60mg |
| equivalent magnesium | 4.14mg |
| Colecalciferol (equivalent vitamin D3 1000iu) | 25mcg |
| Chromium picolinate | 362mcg |
| equivalent chromium | 45mcg |
| Potassium iodide | 354mcg |
| equivalent iodine | 270mcg |
| Ferrochel® Iron (II) glycinate | 88.80mg |
| equivalent iron | 24mg |
| Manganese amino acid chelate | 5mg |
| equivalent manganese | 1mg |
| Molybdenum trioxide | 75mcg |
| equivalent molybdenum | 50mcg |
| Selenomethionine | 161.40mcg |
| equivalent selenium | 65mcg |
| Collodial anhydrous silica | 12mg |
| Zinc citrate dihydrate | 62.30mg |
| equivalent zinc | 20mg |
Other ingredients: calcium hydrogen phosphate, medium chain triglycerides in a pullulan capsule.
Take two capsules every day with food, or as directed by your healthcare practitioner.
It's recommended to take one capsule with breakfast and then one capsule with lunch.
If you have been taking Prenatal Trimester One with Ginger during the first 14-16 weeks of your pregnancy (or whenever morning sickness has subsided), continue on with Prenatal Trimester 2 & 3 Plus Breastfeeding for the remainder of your pregnancy and while breastfeeding.
Continue taking this pregnancy and breastfeeding vitamin until your baby is fully weaned from breastfeeding. It's advisable to continue taking this pregnancy and breastfeeding multivitamin after the birth of your baby for the duration of your breastfeeding period, so your baby receives the nutrients they need from your breast milk.
If you fall pregnant again while breastfeeding, you can switch back to taking Prenatal Trimester One with Ginger capsules.
If you are planning another pregnancy while breastfeeding, you can take either Preconception Multi for Women or Prenatal Trimester 2 & 3 Plus Breastfeeding.
Vitamin supplements should not replace a balanced diet.
Not for the treatment of iron deficiency conditions.
Contains selenium which is toxic in high doses.  A daily dose of 150 micrograms for adults of selenium from dietary supplements should not be exceeded.
Do not take while on warfarin therapy without medical advice.
Store below 25 degrees celsius in a cool, dry place.
Prenatal Trimester 2 & 3 Plus Breastfeeding | Pregnancy & Breastfeeding Vitamins
Regular price
$45.45 AUD
excl GST
Sale price
$45.45 AUD
Regular price
Loved the original formula. However with the updated version the smell as soon as you take it out of the packet is hard to stomach making them even harder to swallow. Wish they would bring back to old formular
Hi Anna, choline does have a distinctive smell which pregnant women may be sensitive to.
With our next batch coming in a couple of weeks, they put less MCT oil in it and the choline smell is less potent. They should arrive by the 12th December :)
Prenatal Trimester 2 & 3 Plus Breastfeeding | Pregnancy & Breastfeeding Vitamins
Loved taking Naturobest pre conception and 2nd and 3rd trimester
After 2.5 years of trying to conceive with unexplained infertility, I made some lifestyle changes including seeing a nutritionist, Jessica Giljam-Brown for a supplement review. One of the supplements she prescribed was the Naturobest preconception multi. To my amazement and delight, we finally conceived a month or two after starting the supplements!! I continued to take them through my first trimester, and then transitioned to the Naturobest trimester 2 and 3 after 12 weeks. I am now 20 weeks, and have had an easy pregnancy throughout. I feel healthy and energised. I will certainly be taking Naturobest supplements again in future pregnancies and when trying to conceive.
Great supplement
I found this brand of pregnancy supplements great. I took them throughout pregnancy and whilst still breastfeeding. They were very easily absorbed and did not make me feel nauseous. Very gentle on the stomach.
Great product
Has supported me through pregnancy and breastfeeding. Would recommend to others!