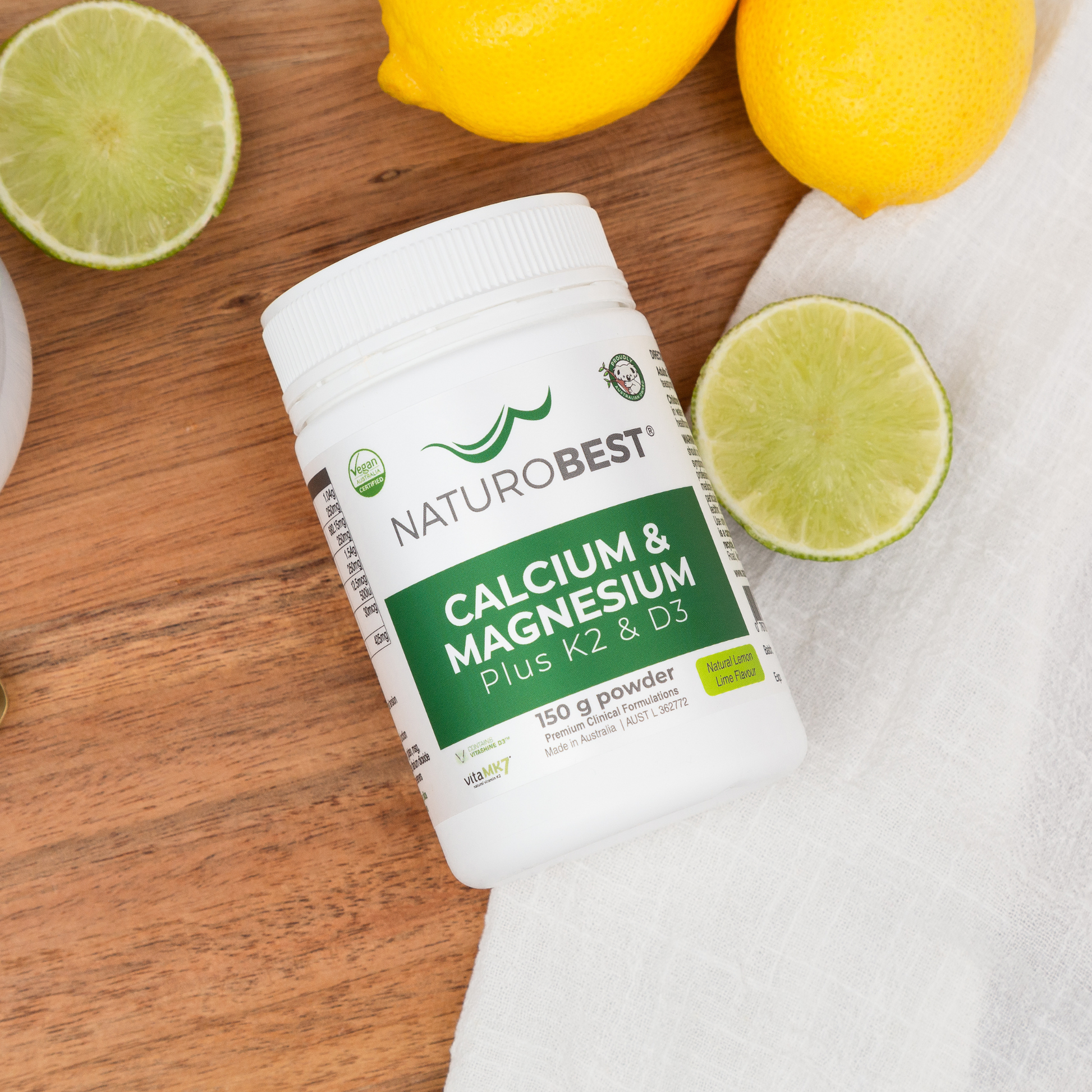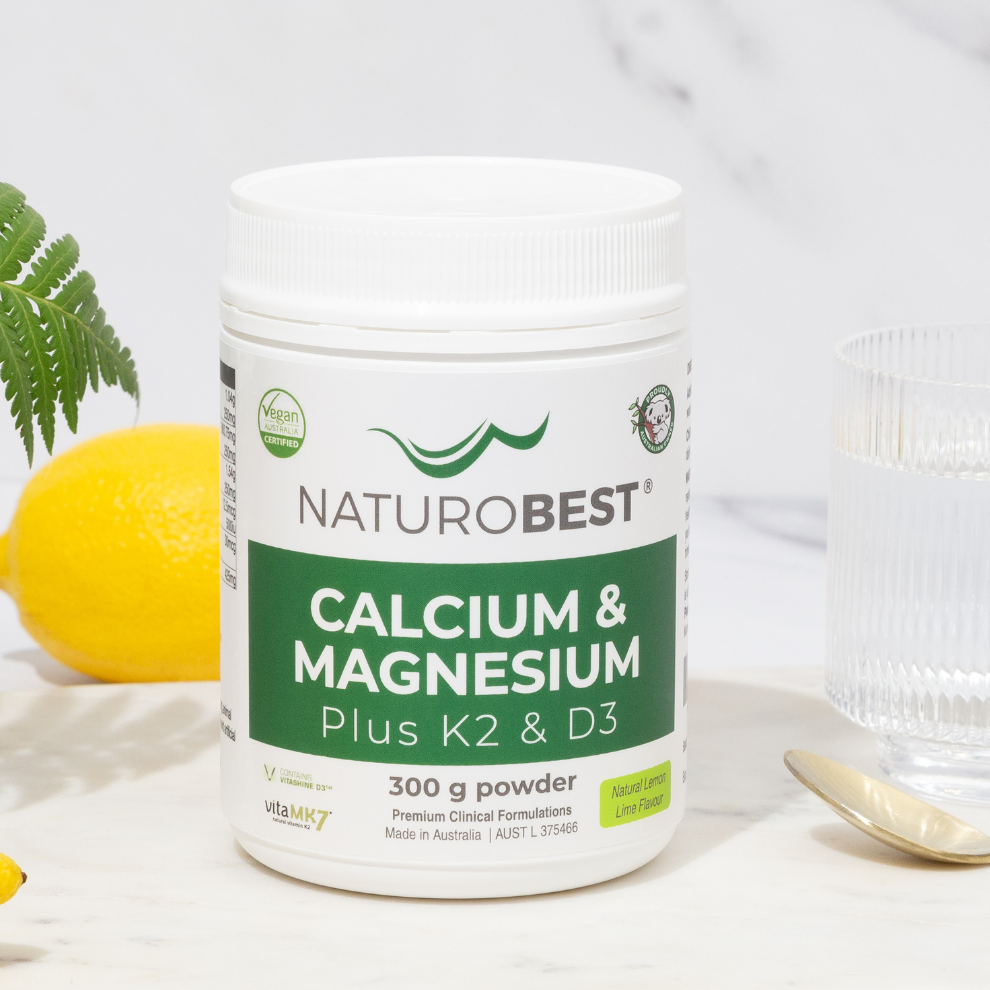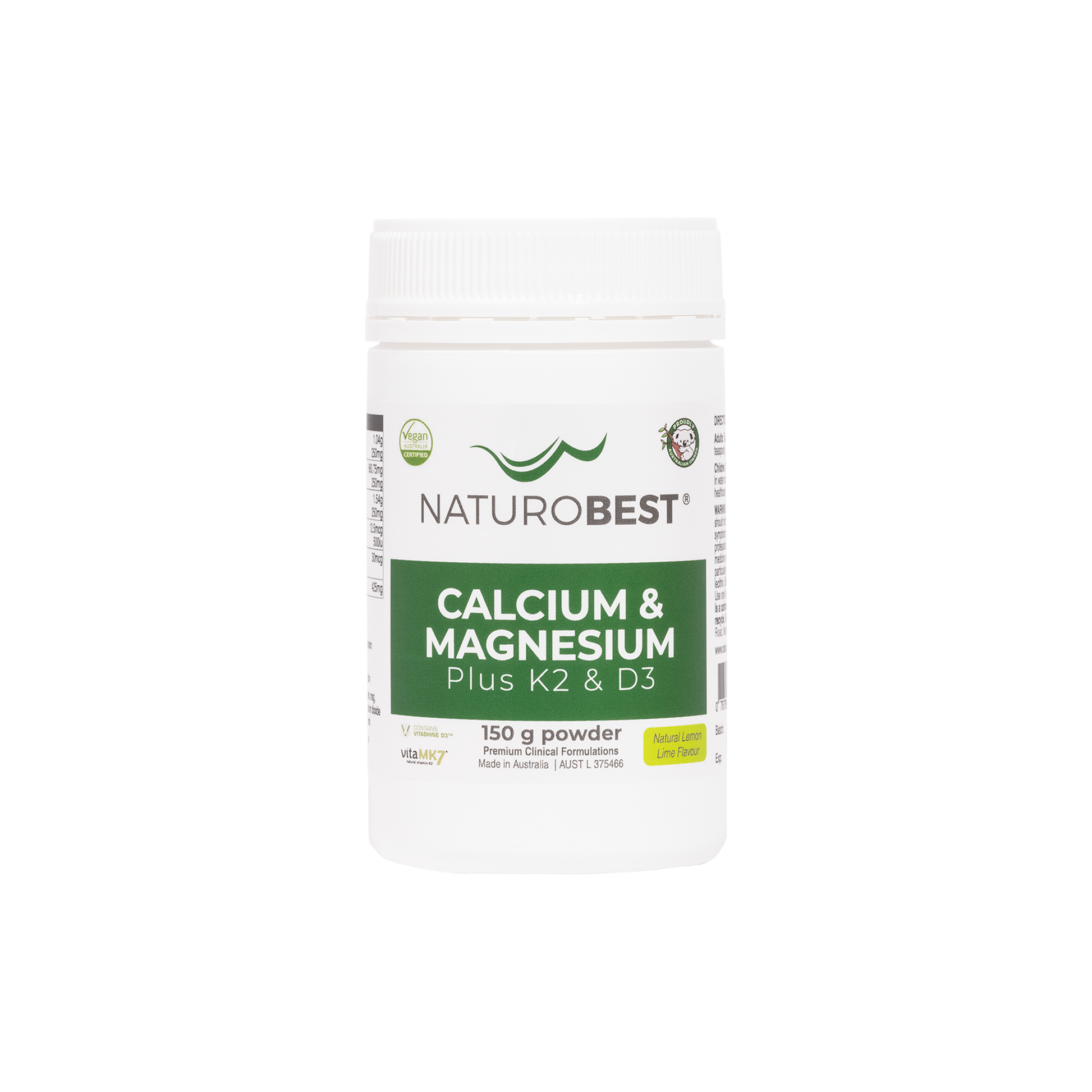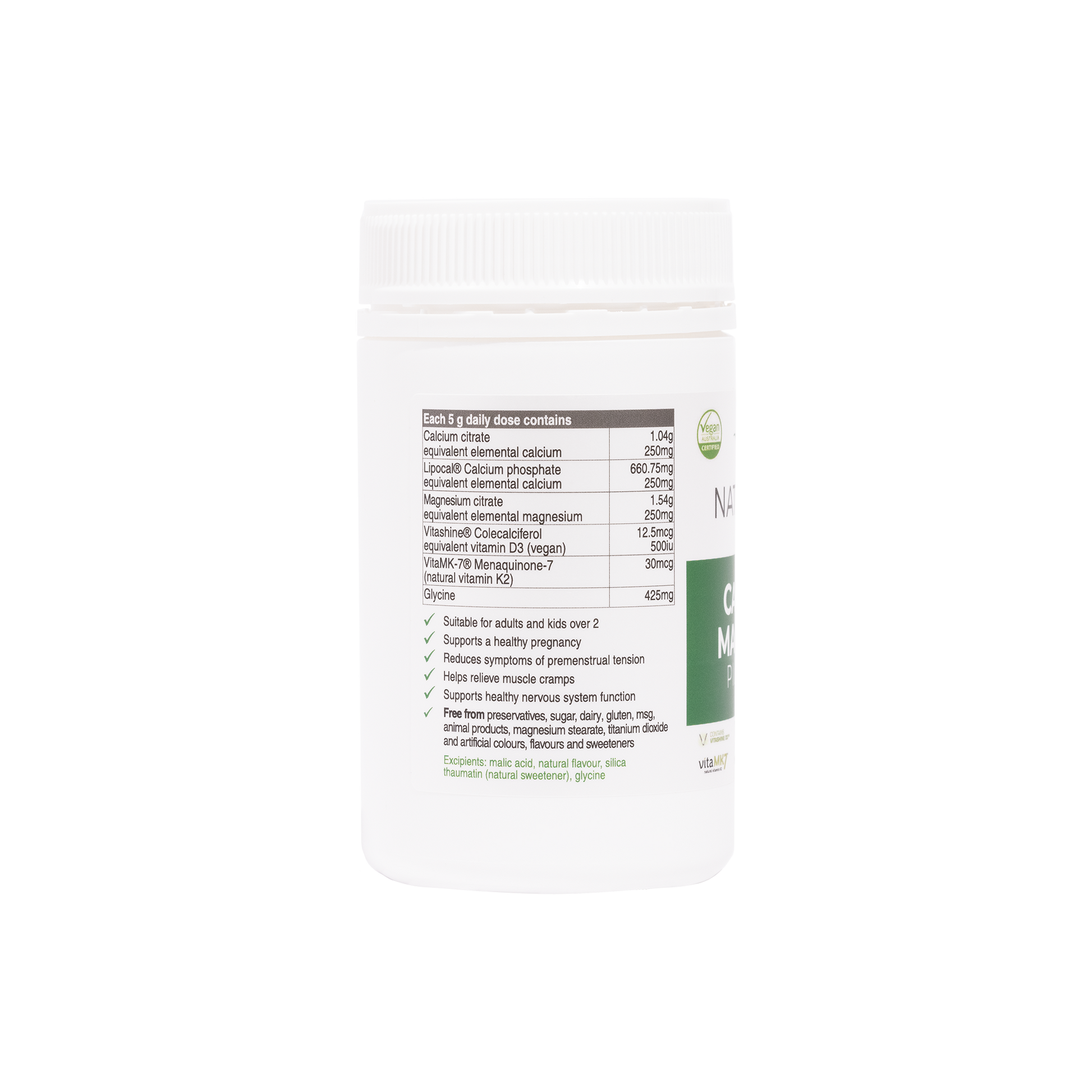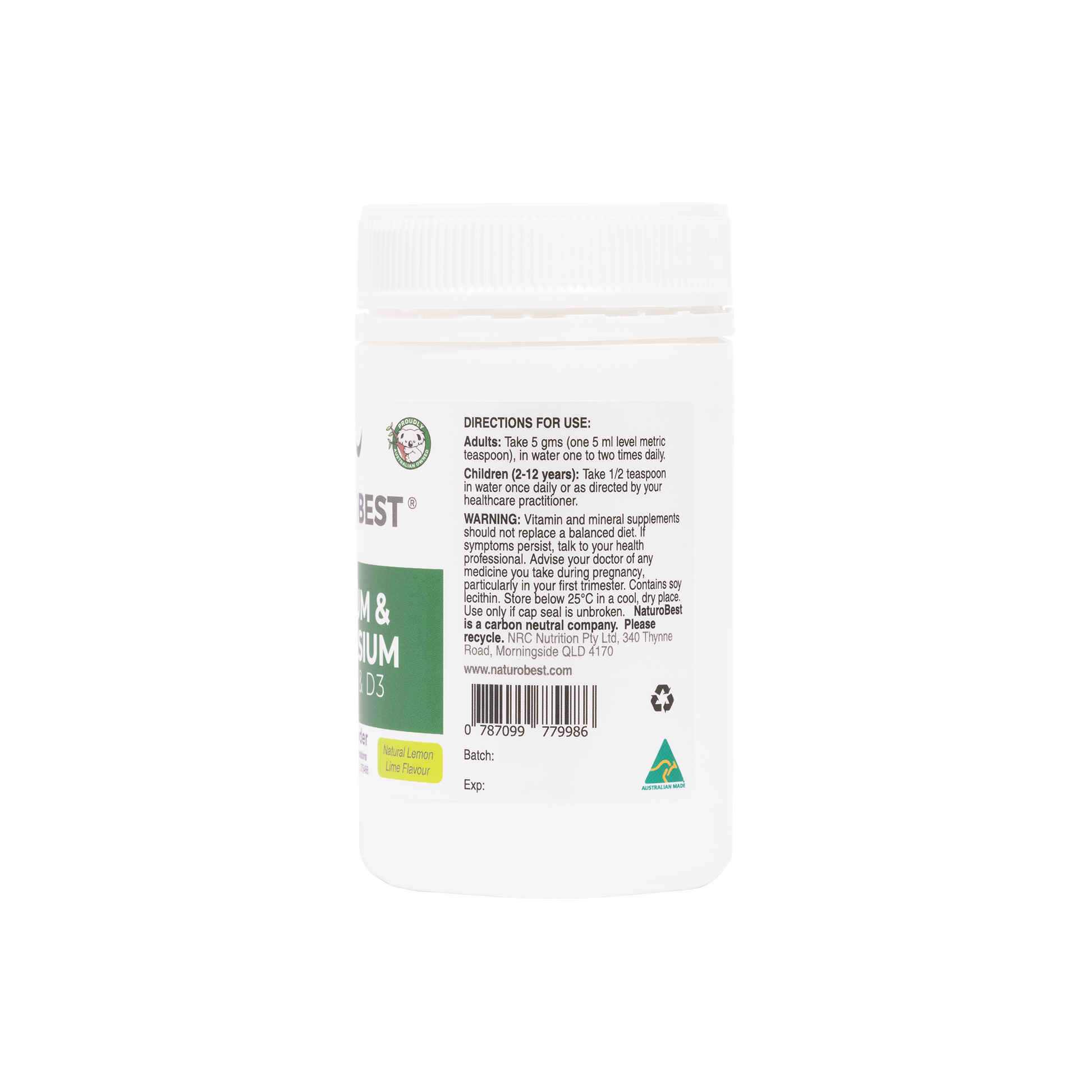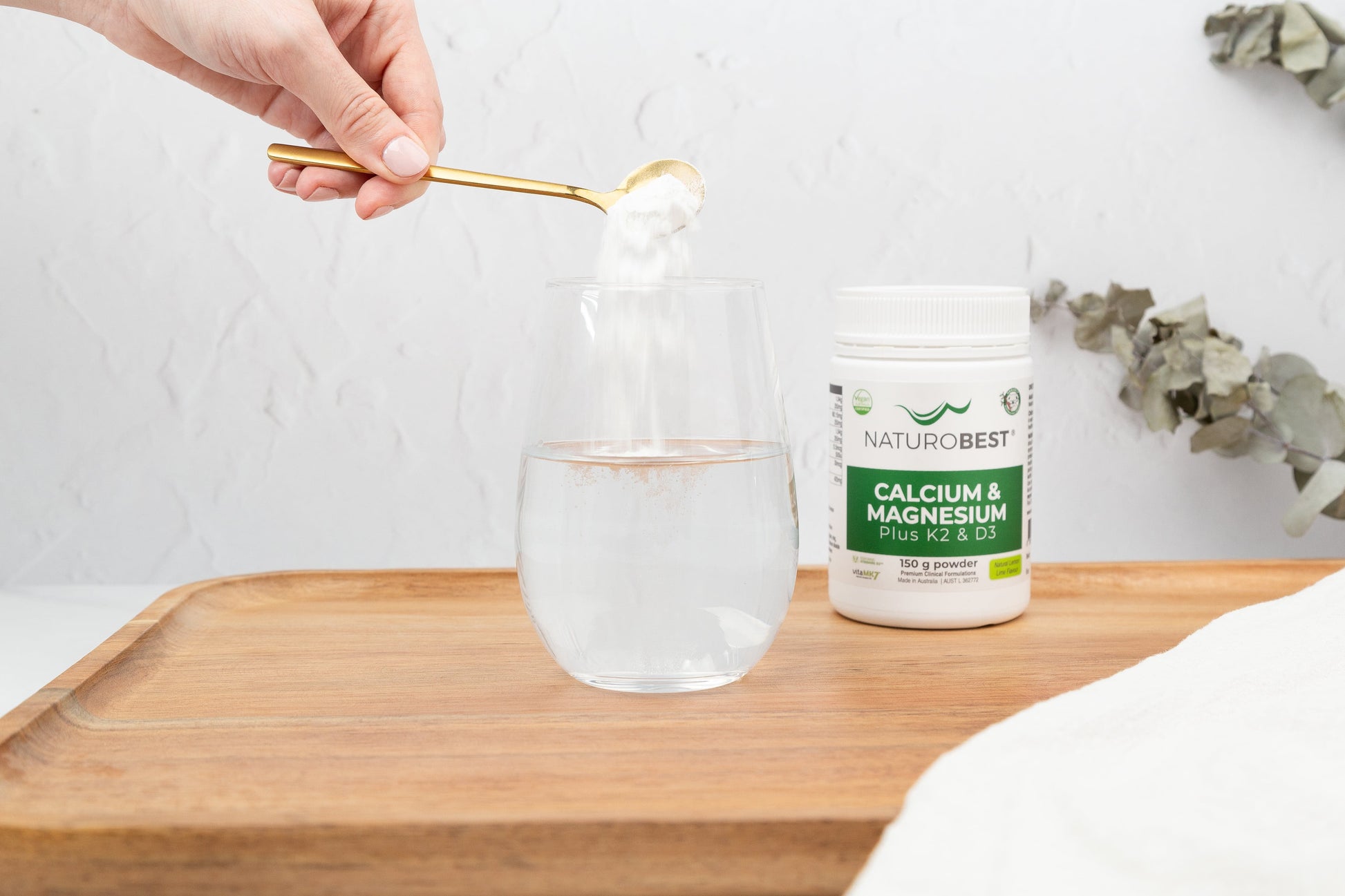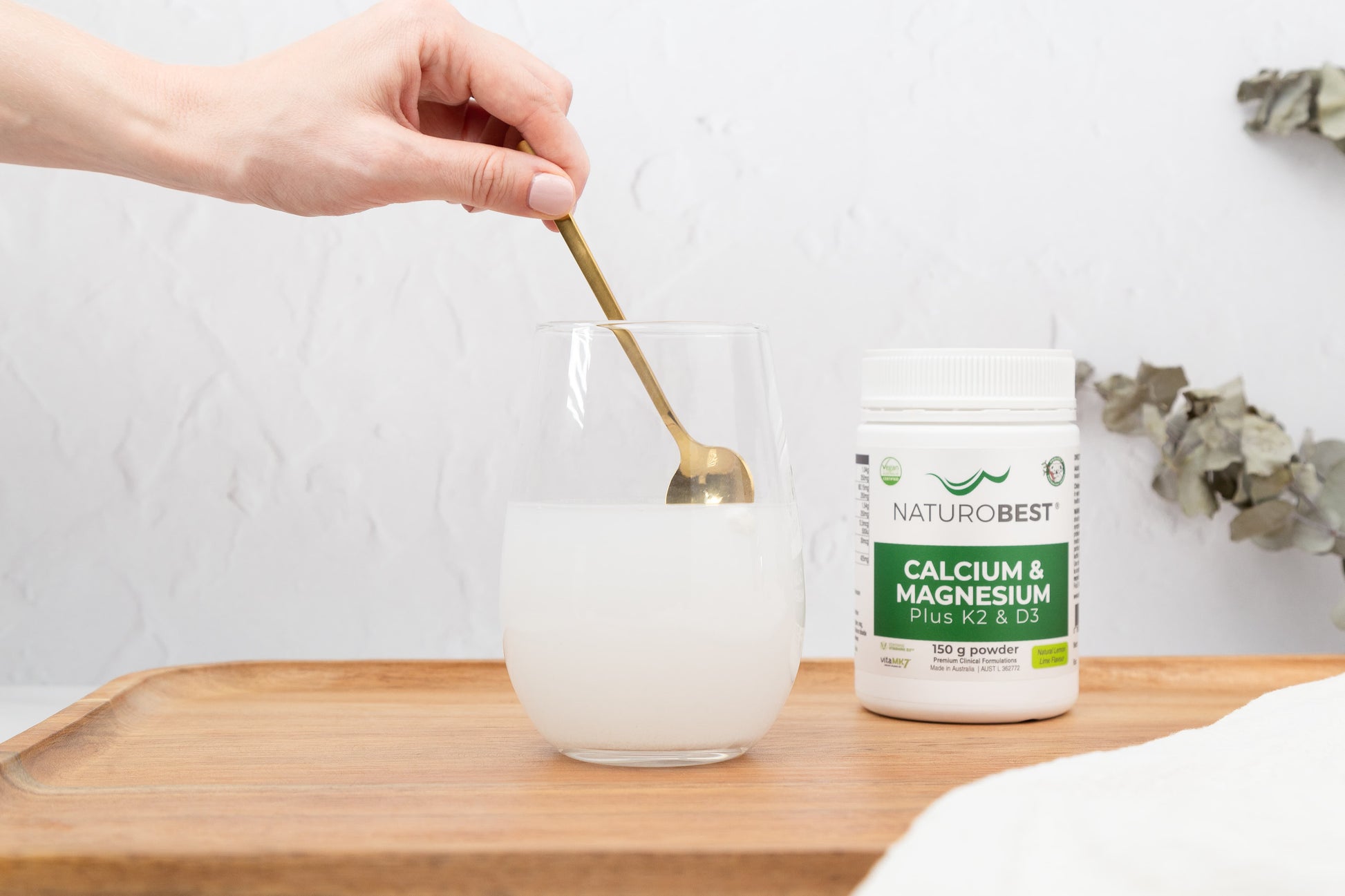 Calcium & Magnesium Plus K2 & D3
Regular price
$34.78 AUD
excl GST
Sale price
$34.78 AUD
Regular price
Rich in calcium and magnesium, NaturoBest's vegan-friendly calcium and magnesium supplement offers an array of benefits.
Calcium & Magnesium Plus K2 & D3 is a high potency calcium and magnesium powder that has been specially formulated to:
Support a healthy pregnancy.

Maintain healthy nervous system function.

Reduce symptoms of premenstrual tension.

Decrease muscle cramps.

Support healthy muscle contraction function.

Assist healthy bone development.

Help promote bone mineralisation and strength.

Maintain healthy teeth.

Support calcium absorption in bones. A diet deficient in calcium can lead to osteoporosis in later life.
Scroll down for reviews!
EXPIRY: NOV 2026; AUST L: 375466
NaturoBest's high potency calcium and magnesium powder with vitamins K2 & D3 is designed for all life stages from kids over 2 years, teenagers, young adults, pregnancy, breastfeeding, menopause through to mature age adults.
73% of females and 51% of males over the age of 2 have a calcium-deficient diet. Many people are intolerant to dairy and veganism is on the rise. A diet deficient in calcium can lead to osteoporosis later in life.
The problem with most calcium and magnesium supplements is the number of capsules you would have to swallow to get a therapeutic dose of calcium AND magnesium.
Therapeutic levels of well-absorbed calcium and magnesium with Vitashine®, vegan-friendly vitamin D3 and natural vitamin K2 as VitaMK7® to assist calcium absorption.
This formula has been designed to dissolve well in water with pleasant-tasting Lipocal®, well-absorbed calcium phosphate and calcium citrate, magnesium citrate, Vitashine®, vegan-friendly vitamin D3 and natural vitamin K2 as VitaMK7.
May be taken alongside a prenatal vitamin such as Prenatal Trimester One with Ginger.
NaturoBest's calcium and magnesium powder is vegan-friendly, free from animal products, dairy, egg, fish/shellfish, gluten, lactose, msg, nuts, oats and other grain derived ingredients, peanuts, sulphites, sucralose, wheat, yeast, magnesium stearate, stearic acid, titanium dioxide and other artificial colours, flavours and preservatives. Our calcium and magnesium powder is also GMO-free and free from many other allergens, please contact us to find out more.
Each 5 gram (1 tsp) contains:
Ingredient
Quantity
Calcium citrate
1037.35mg
equivalent calcium
250mg
Lipocal® Calcium phosphate
660.75mg
equivalent calcium
250mg
TOTAL ELEMENTAL CALCIUM
500mg
Magnesium citrate
1543.20mg
equivalent magnesium
250mg
Vitashine® Vegan colecalciferol
12.5mcg
equivalent vitamin D3
500iu
VitaMK-7® Menaquinone-7
natural vitamin K2
30mcg
Glycine
425mg
Other ingredients: malic acid, silica, glycine, natural lemon/lime flavour and thaumatin (African mango extract, natural sweetener).
Therapeutic adult dose:
1 teaspoon in water twice daily.
Maintenance adult dose:
1 teaspoon in water daily.
Therapeutic dose kids 2-12 years:
1/2 teaspoon in water twice daily.
Maintenance dose kids 2-12 years:
1/2 teaspoon in water daily.
Vitamin supplements should not replace a balanced diet. If symptoms persist, talk to your healthcare practitioner.
Store below 25 degrees celcius in a cool, dry place. Use only if cap seal is unbroken.
Efficacy of product
Excellent product, helping to boost my calcium levels
Disappointed that it contains soy lecithin
Firstly, I love your products and have used them from pre-conception to breastfeeding for my first and now with my next pregnancy. I got this one on a recommendation and was excited to start taking. A few days in my husband read the label and asked me if I had too (which I had not at this point, but had read the info on your website). I was really disappointed to see soy lecithin listed under the warning section on the packaging. This is something we avoid in our diet and skip all the products in the health food store that include it too. It's not listed on your website under the warning section or ingredients to let consumers know it's in it. Unfortunately I won't be continuing to use this product.
Hi Raegan, sorry to hear that. Soy lecithin is contained in the Lipocal as an emulsifier, so it is only a tiny amount in there and we are not required to list that on the ingredient list as it is not an extra added excipient. Although there is no soy protein in soy lecithin, therefore not usually a problem for people with soy allergies, we decided to include it on the label for information purposes.
Delicious and great for pregnancy
I am 16 weeks pregnant and started using this a few weeks ago alongside my Naturobest prenatal supplements.
As soon as I started using this supplement the heartburn that was starting to show its face disappeared as the magnesium likely neutralised my stomach acid.
The taste is great and helped me stomach liquid while I was experiencing nausea, also reminds me to drink fluid and stay hydrated.
Love your products 💖
Fabulous! Thanks for the feedback Talieta :)
The Best Supplement on the market
I absolutely love this supplement. It tastes delicious and it works like a charm. You get the best sleep and it eradicates the calf muscle cramps at night. I highly recommend this supplement, as your body needs Vitamin D3 to absorb Calicum and your body needs Vitamin K2 to absorb magnesium. I am ordering now for my Brother, co-worker and I.
Good product strong flavours
I found the flavour very strong and will look for no flavouring next time.