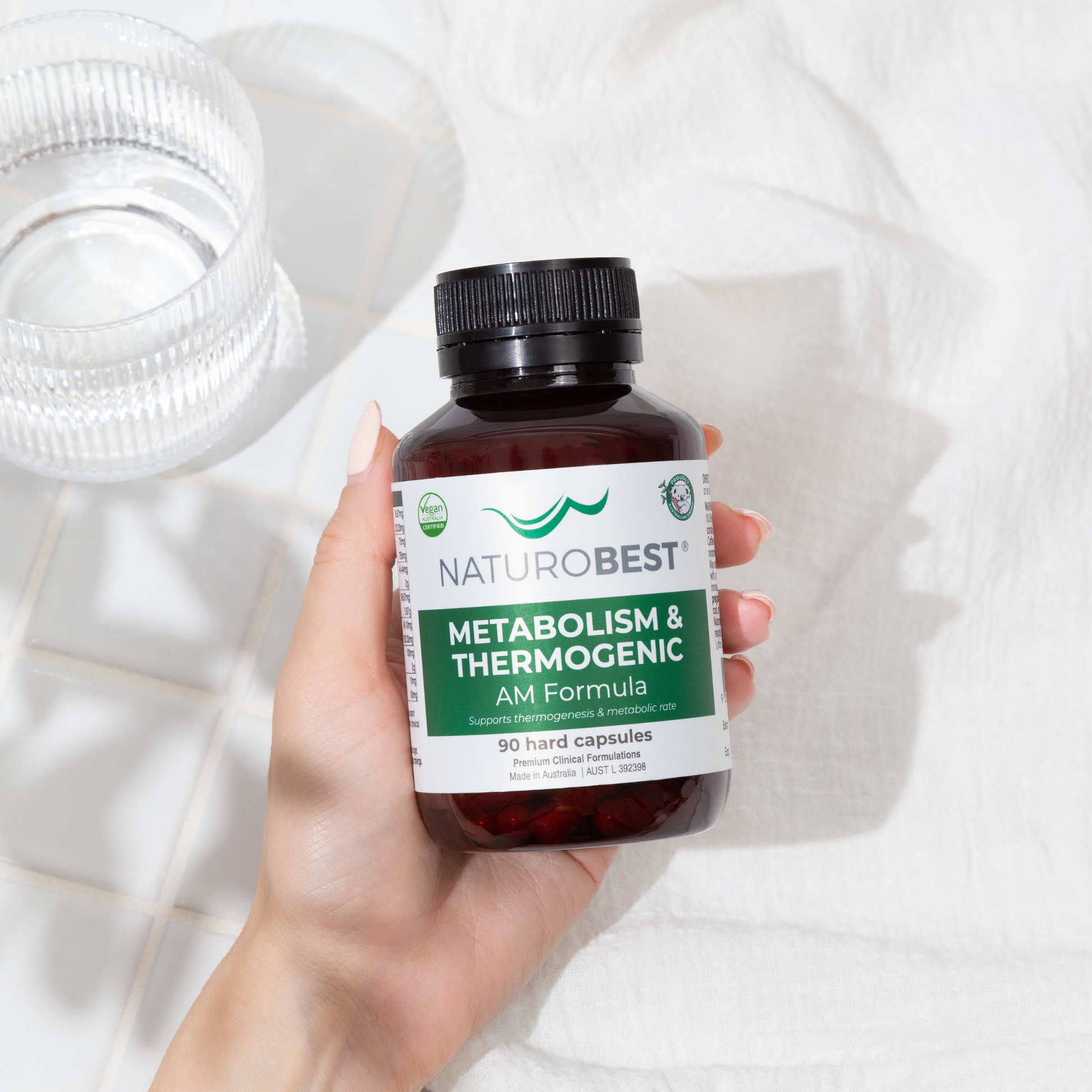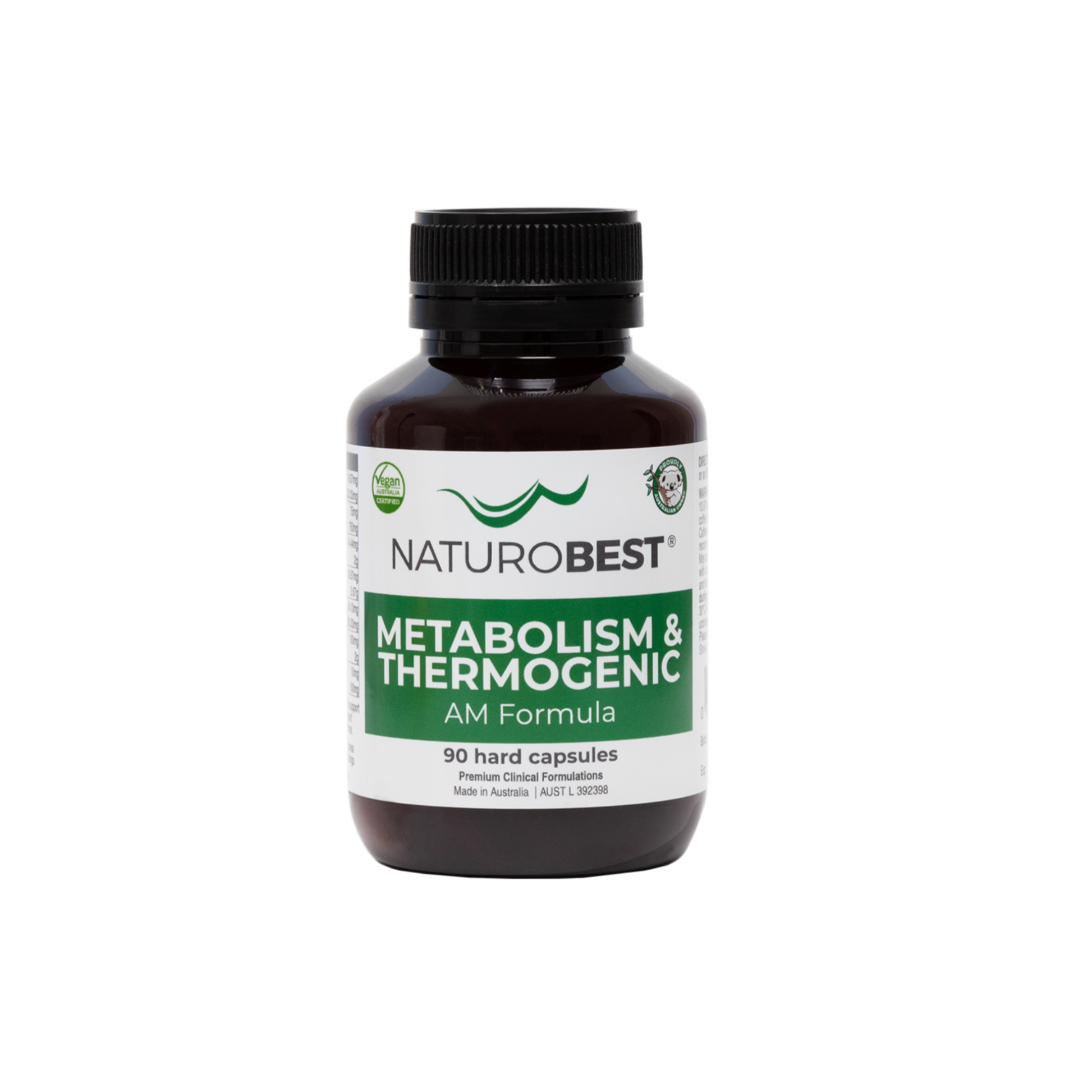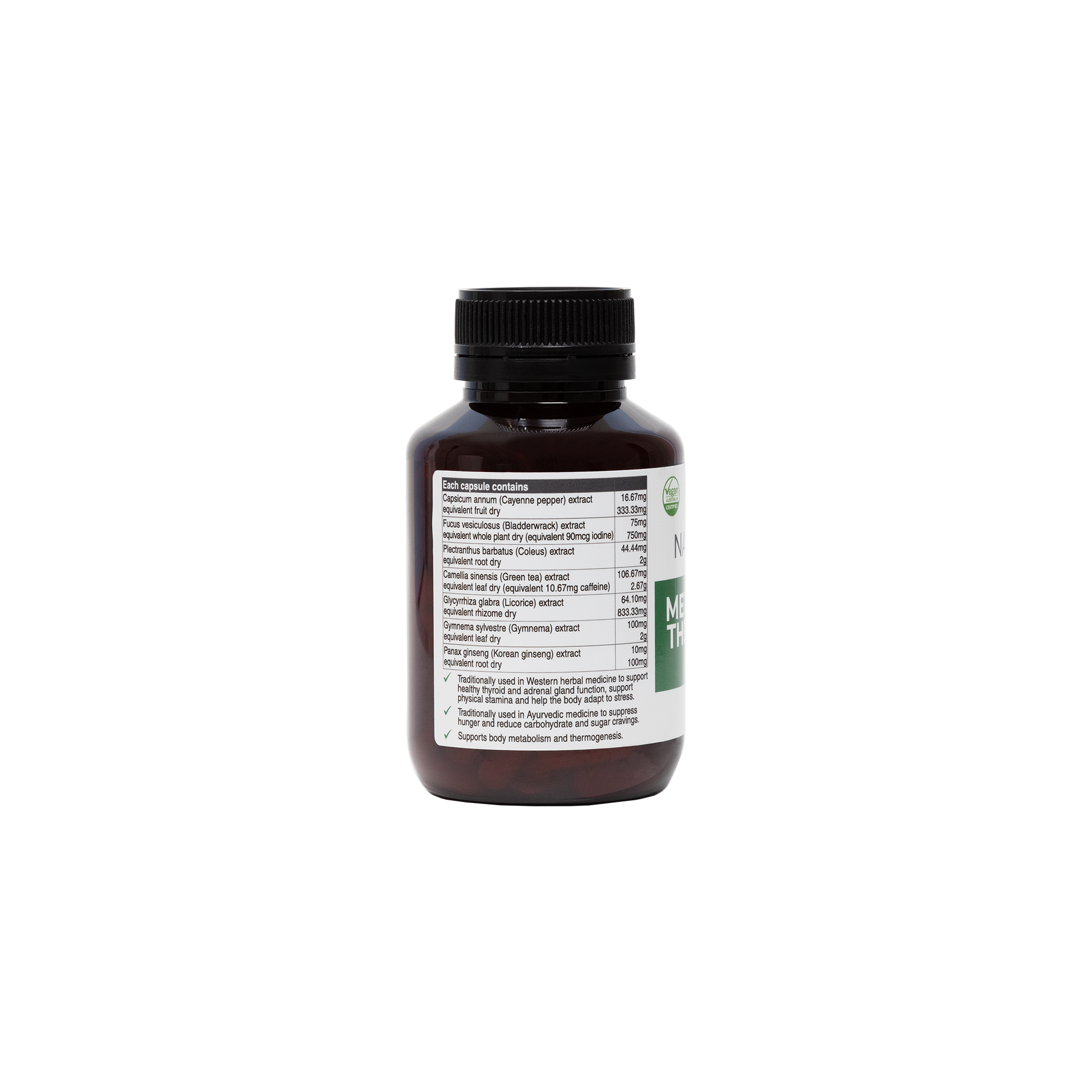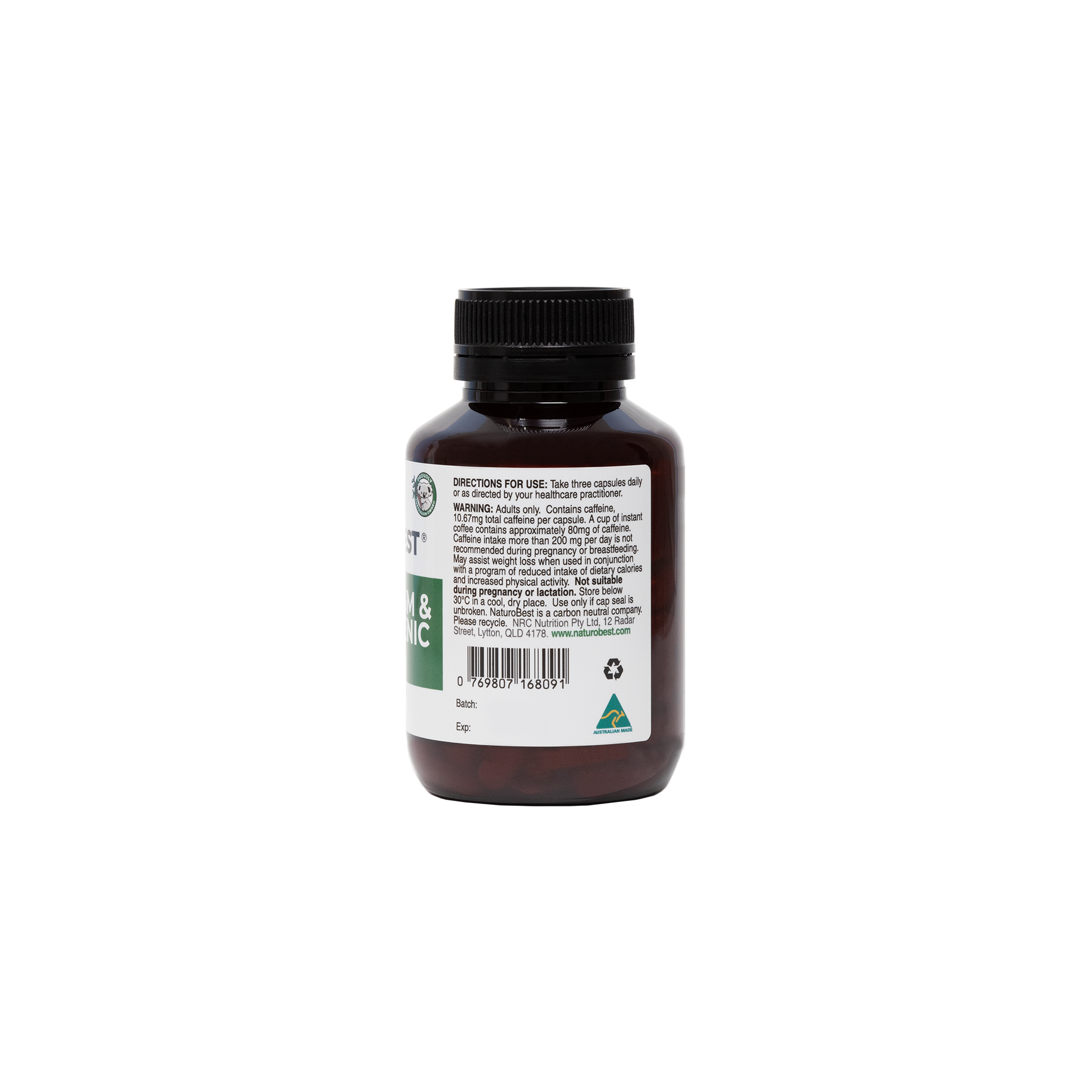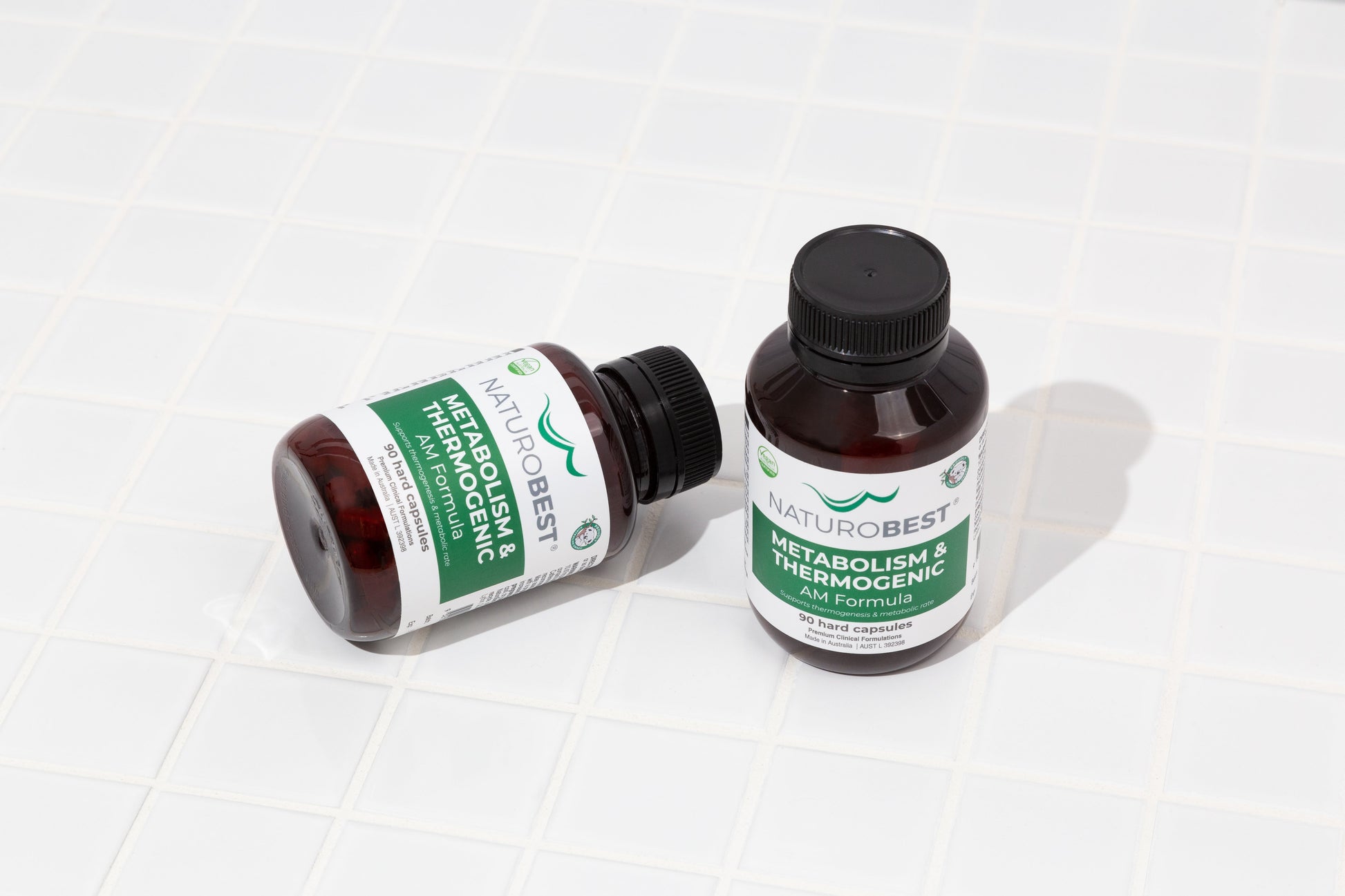 Metabolism & Thermogenic AM Formula
Regular price
$47.59 AUD
excl GST
Sale price
$47.59 AUD
Regular price
New!
Traditionally used in Western herbal medicine to support healthy thyroid and adrenal gland function, support physical stamina and help the body adapt to stress.
Traditionally used in Ayurvedic medicine to suppress hunger, reduce carbohydrate cravings and help manage sugar cravings.
Supports body metabolism and thermogenesis.
Scroll down for reviews!
Always read the label and follow the directions for use.
EXPIRY: AUG 2025; AUST L: 392398
NaturoBest's Metabolism & Thermogenic Support is formulated using herbs to support metabolism and thermogenesis to assist weight loss when used in conjunction with a healthy diet and exercise.  A National Health Survey completed by The Australian Bureau of Statistics found that 67% of Australian adults are overweight or obese, this accounts for approximately 13 million people.  This has increased year after year and if the current trend continues, more than 18 million Australians will be overweight or obese by 2030.
Metabolism includes all the processes that go on inside our body for it to function normally and maintain energy and balance.  This includes reactions inside the body that break down the nutrients obtained from food and utilise them to build and repair the body, as well as providing energy for us to function.  The amount of energy, or kilojoules, your body burns is affected by how efficiently the metabolism works.  The metabolic rate is influenced by a range of factors including hormones, age, gender, muscle tissue and physical activity.  Healthy thyroid function also plays a key role in our metabolism, it secretes hormones that regulate many metabolic processes, including the rate our body burns kilojoules.
A healthy metabolism is dependent on the process of thermogenesis. This metabolic process generates heat and is a direct response to the food you have eaten. The heat that your body burns is measured in kilojoules and the greater the thermogenic effect, the higher the number of kilojoules expended.
NaturoBest's Metabolism & Thermogenic Support contains cayenne to support metabolic rate and thermogenesis.  This comprehensive formulation includes gymnema which has traditionally been used in Ayurvedic herbal medicine to suppress appetite and assist in the management of carbohydrate and sugar cravings. Bladderwrack has a long history of use in Western herbal medicine to support healthy thyroid gland function and health.  Also included are the adrenal tonics Korean ginseng and licorice to help give you that boost in physical stamina you may need to exercise.
This formula is free from animal products, soy, dairy, egg, fish/shellfish, gluten, lactose, MSG, nuts, oats and other grain derived ingredients, peanuts, sulphites, sucralose, wheat, yeast, magnesium stearate, stearic acid, and artificial colours, flavours, and preservatives. It is also GMO-free and free from many other allergens; please contact us to learn more if you have a specific allergy not addressed above.
Daily dose of 3 capsules contains:
Ingredient
Quantity
Capsicum annum (Cayenne pepper) extract
50mg
equivalent fruit dry
1g
Fucus versiculosis (Bladderwrack) whole plant extract
225mg
equivalent whole plant dry
2.25g
Plectranthus barbatus (Coleus) root extract
133.32mg
equivalent root dry
6g
Camellia sensensis (Green tea) leaf extract
320mg
equivalent leaf dry
8g
Glycyrrhiza glabra

(Licorice) rhizome extract

192.30mg
equivalent rhizome dry
2.5g
Gymnema sylvestre

(Gymnema) leaf extract

300mg
equivalent leaf dry
6g
Panax ginseng

(Korean ginseng) root extract

30mg
equivalent root dry
300mg
Other ingredients: calcium hydrogen phosphate dihydrate, ascorbyl palmitate, microcrystalline cellulose and colloidal anhydrous silica.
Take 3 capsules daily with food or as directed by your healthcare practitioner.
Adults only. Contains caffeine, 10.67mg per capsule. A cup of instant coffee contains approximately 80mg of caffeine. Caffeine intake more than 200ng per day is not recommended during pregnancy or breastfeeding. May assist weight loss when used in conjunction with a program of reduced dietary calories and increased physical activity. Not suitable during pregnancy or lactation. Store below 30 degrees celcius in a cool, dry place. Do not use if cap seal is unbroken.
Metabolism & Thermogenic AM Formula
Regular price
$47.59 AUD
excl GST
Sale price
$47.59 AUD
Regular price
More energy + less sugar cravings
I usually have a big sweet tooth but I find when I'm taking these that I don't get that 2pm chocolate craving! I also feel like I have more energy which has made it easier to get through the day without snacking! Love the way this makes me feel!
Fantastic product!
These are high quality supplements and I'd highly recommend these.
A great new addition to support my weight loss goals
As a big sweet tooth, I love that this product can help to manage sugar cravings and supports my health goals by supporting my metabolism.
Love this product!
I've been taking this product since January and I absolutely love it! I feel so energised and it's really helped with my afternoon sugar cravings and so far I've lost 10kgs!
Fantastic so far!
I really struggle with sugar cravings and these have been amazing! I take 2 with breakfast and at morning tea time when I usually feel like a sweet treat, I haven't felt like it at all and am satisfied with nuts instead.
Then I take one with lunch and i'm finding I don't have that after lunch crash - I've got the motivation to easily get through the afternoon without turning to chocolate.