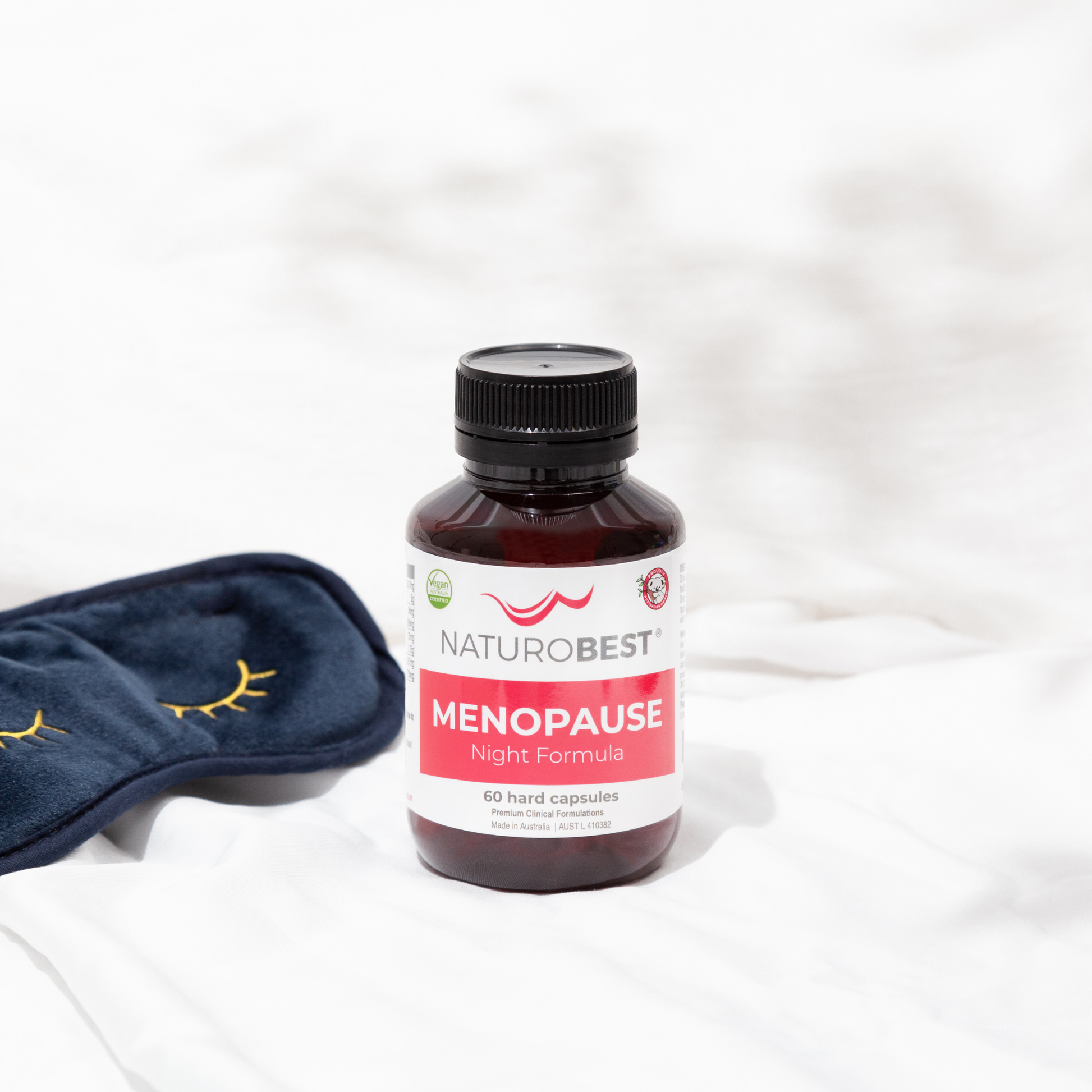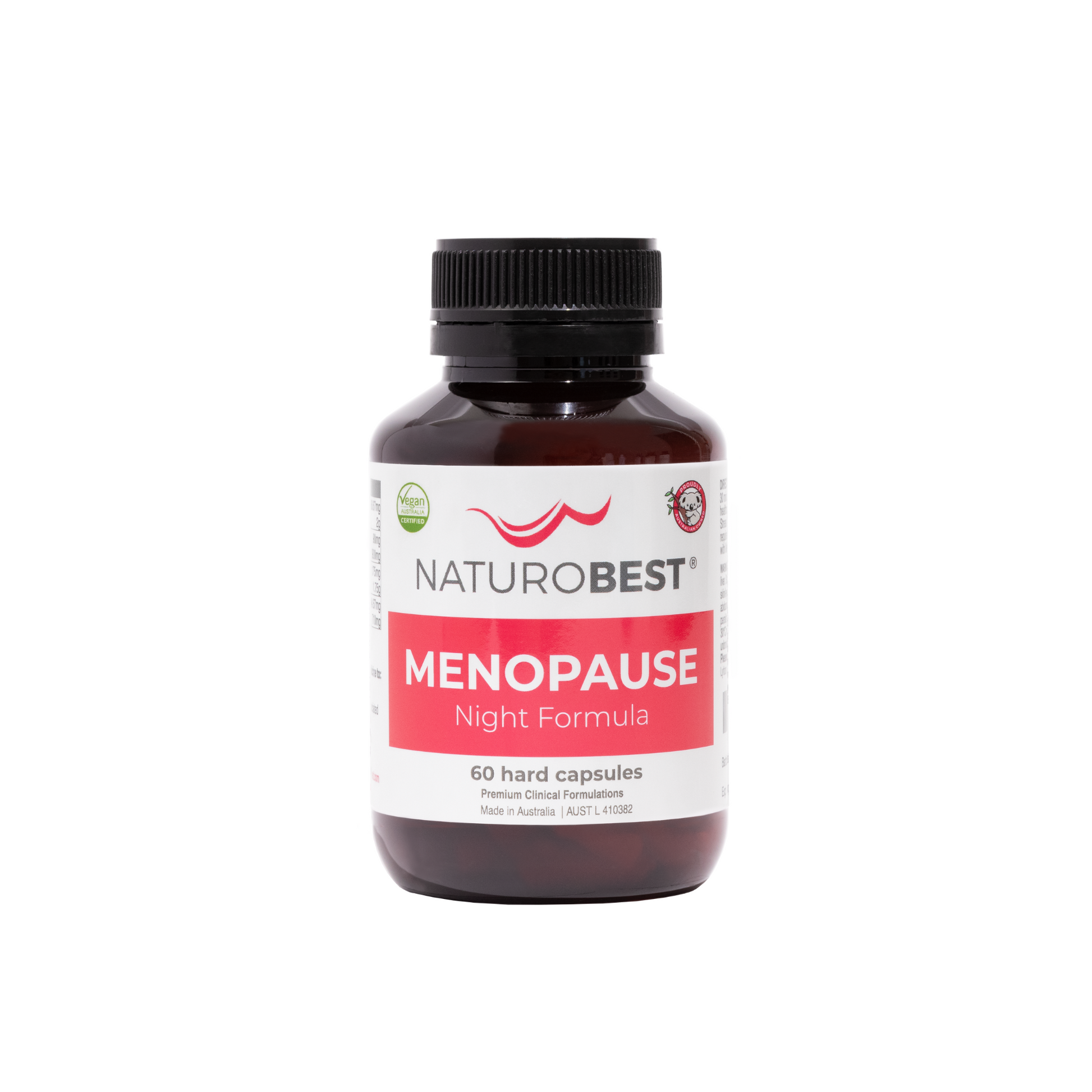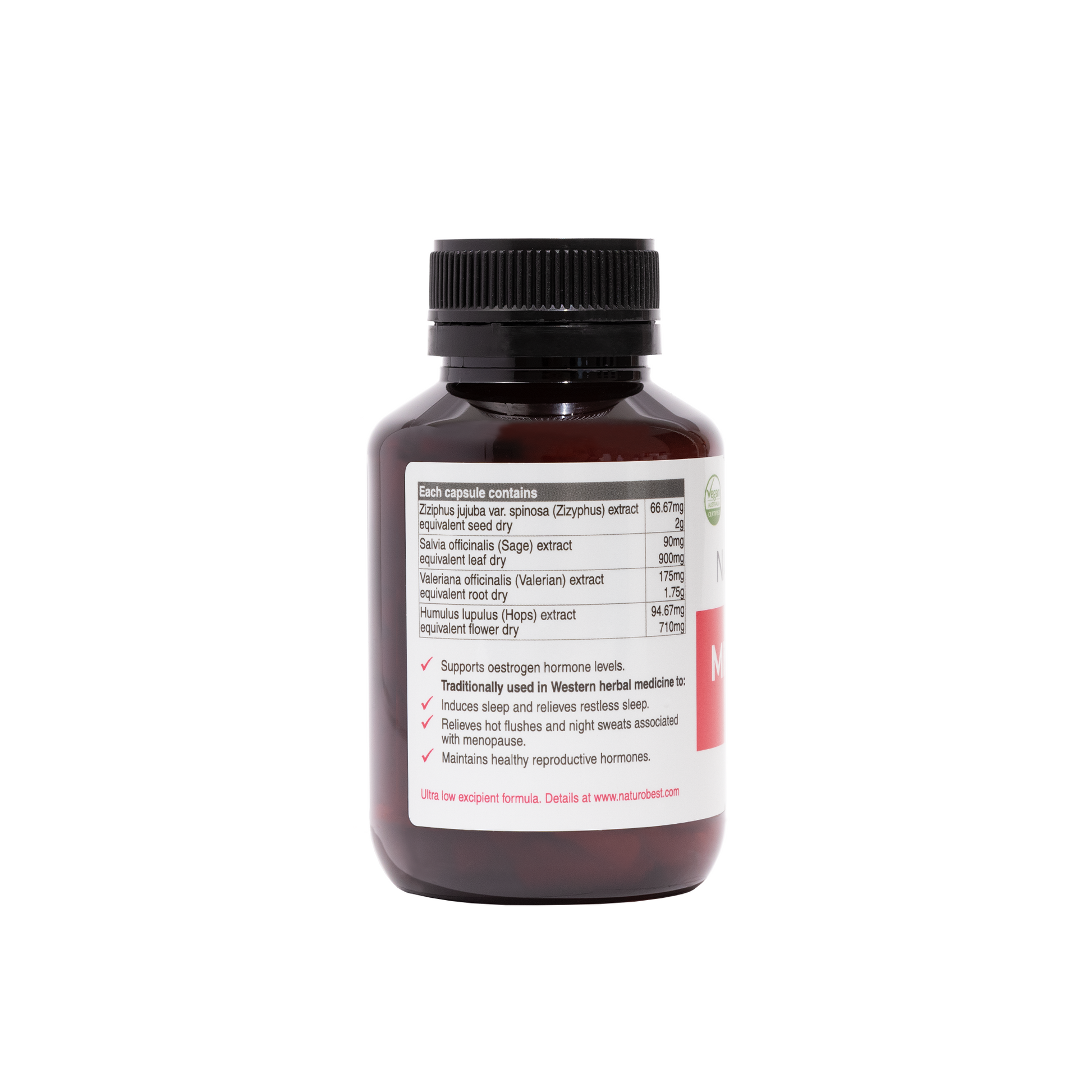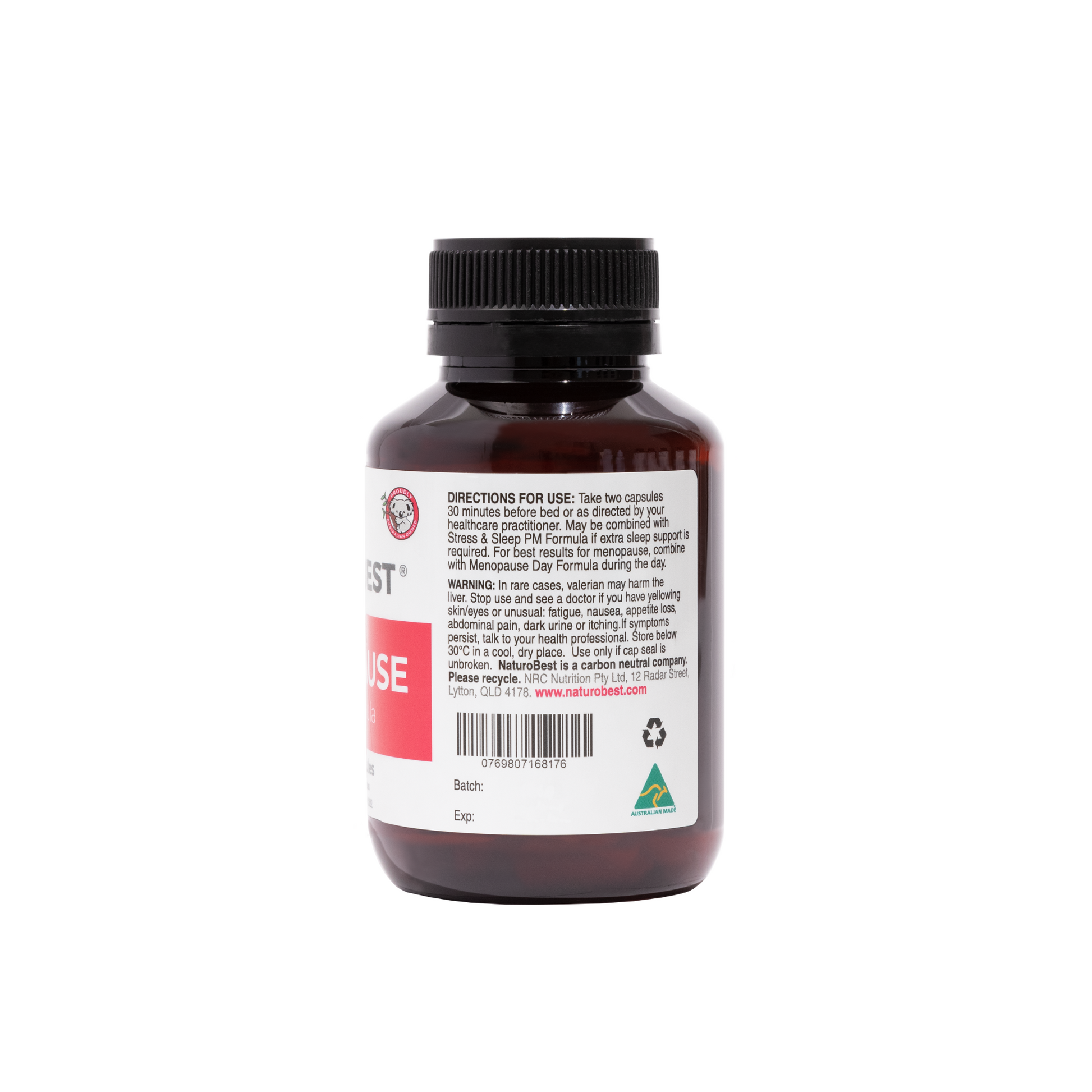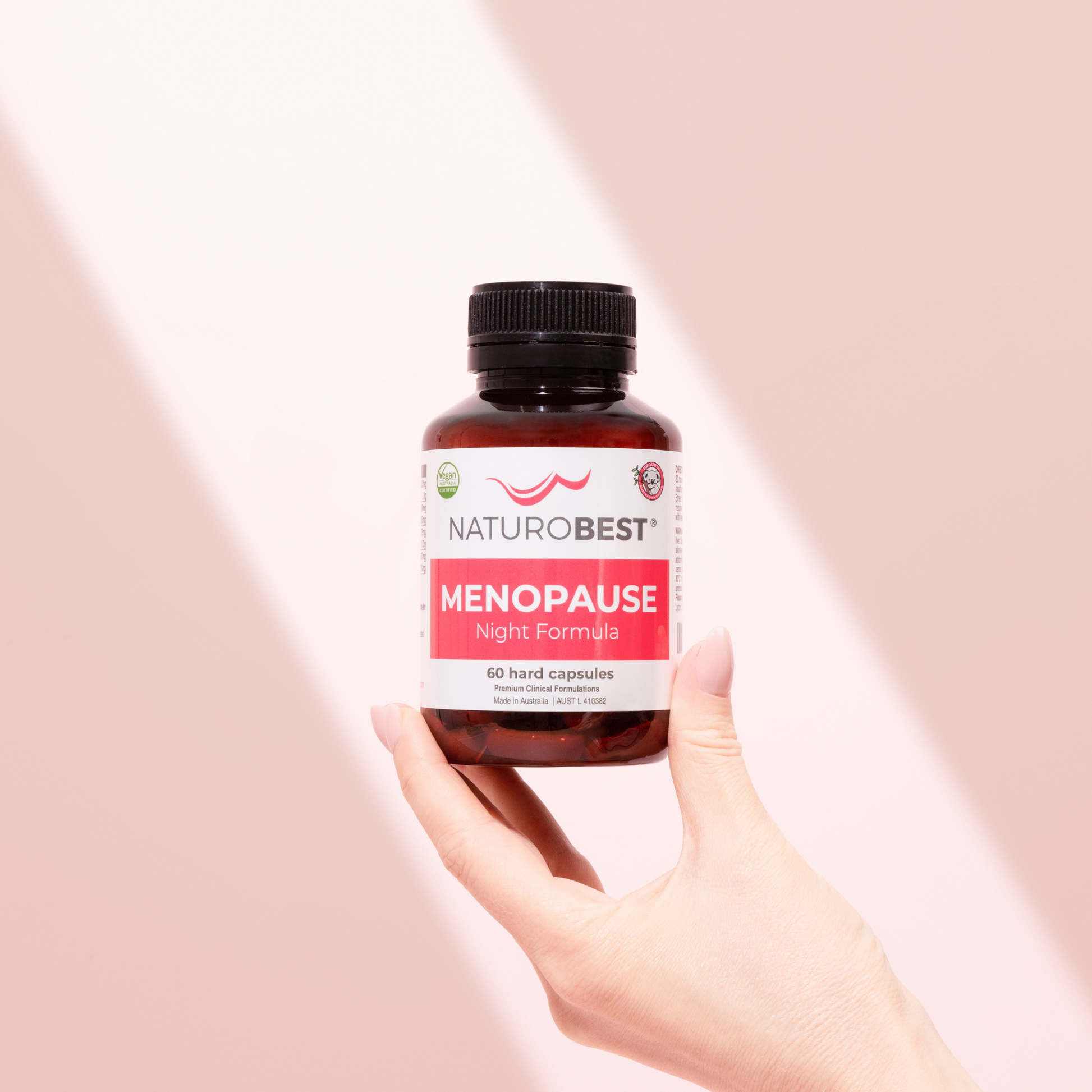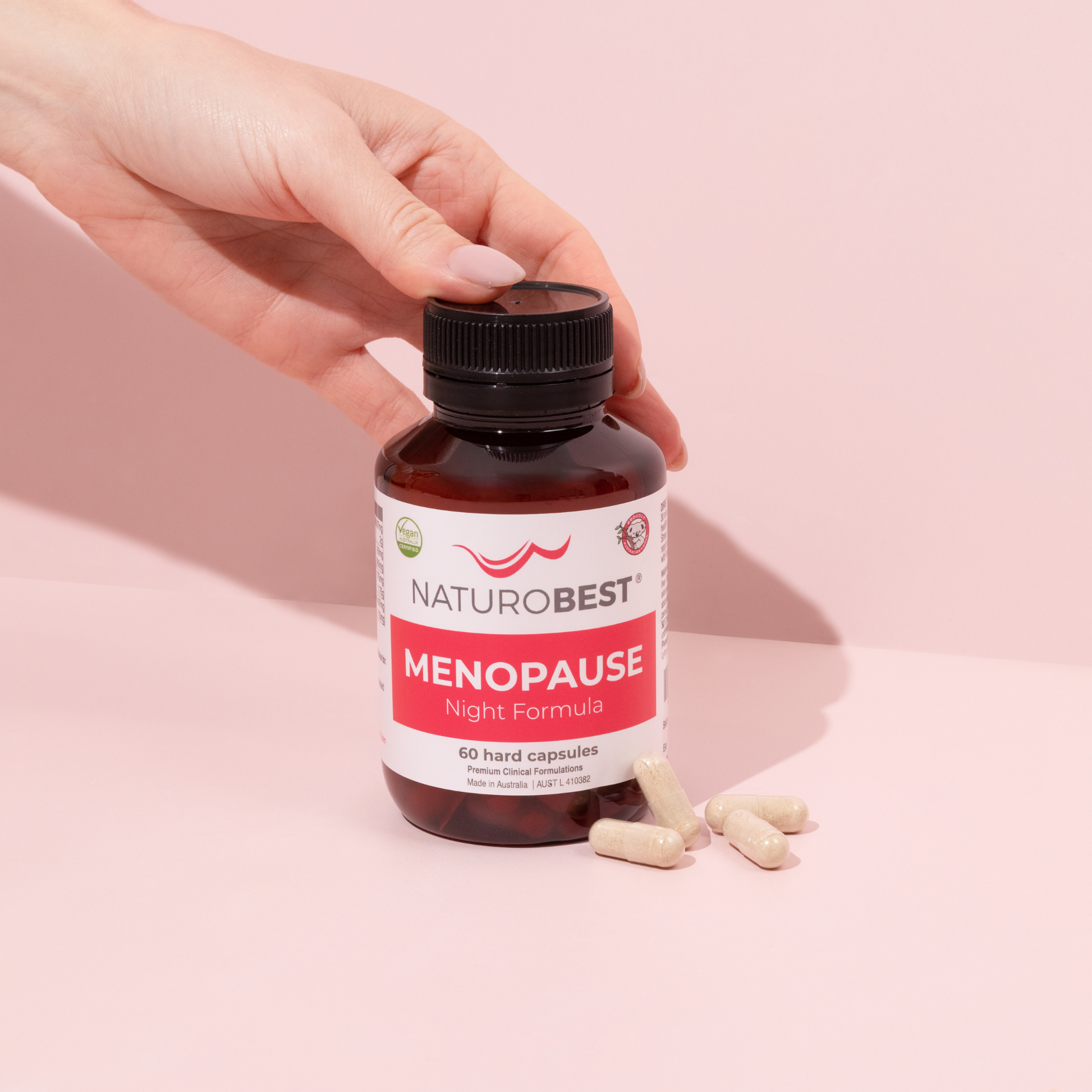 Regular price
$32.60 AUD
excl GST
Sale price
$32.60 AUD
Regular price
New!
Formulated by a fertility naturopath and herbalist, NaturoBest's Menopause Night Formula offers benefits for women who have issues sleeping and is able to be combined with Stress & Sleep PM Formula.
It is also beneficial for women who may be suffering from night sweats associated with menopause and should be taken at night alongside Menopause Day Formula during the day.
The herbs in this formula are used in traditional Western herbal medicine to:
Decreases time to fall asleep and induces sleep.
Promotes healthy sleep patterns and relieves disturbed sleep.
Supports oestrogen hormone levels.
Reduces night sweats associated with menopause.

Hops is oestrogenic, therefore this formula should only be taken short-term by women with high oestrogen levels to re-establish healthy sleeping patterns.
Always read the label and follow the directions for use.
EXPIRY: SEPT 2025; AUST L: 410382
NaturoBest Menopause Night Formula is specifically formulated to support menopausal women who are experiencing difficulty getting to sleep and/or night sweats. It may be used in combination with Stress & Sleep PM Formula.
Hops is used in this formulation, a herb often used in sleep formulas, that is also oestrogenic. This makes it ideal for women who are going through menopause.
If you are a woman who has low oestrogen levels or are suffering sleep issues and night sweats associated with menopause, we recommend taking this formula at night in combination with Menopause Day Formula, which is taken during the day.
This formulation contains Valerian, Hops and Zizyphus, traditionally used in Western herbal medicine to induce sleep and relieve restless sleep. In addition, Zizyphus helps to relieve night sweats associated with menopause alongside Sage.
For women who have high oestrogen levels, we recommend using this formula for short-term use only until sleep patterns are re-established.
Daily dose of 2 capsules contains:
| | |
| --- | --- |
| Ingredient | Quantity |
| Valeriana officinalis (Valerian) extract | 350mg |
| equivalent root dry | 3.5g |
| Humulus lupulus (Hops) extract | 189.34mg |
| equivalent flower dry | 1.42g |
| Salvia officinalis (Sage) extract | 180mg |
| equivalent leaf dry | 1.8g |
| Zizyphus jujuba (Zizyphus) extract | 133.34mg |
| equivalent seed dry | 4g |
Other ingredients: calcium hydrogen phosphate dihydrate, ascorbyl palmitate, microcrystalline cellulose, colloidal anhydrous silica and maltodextrin.
If symptoms persist, talk to your healthcare professional.
Menopause Night Formula
Regular price
$32.60 AUD
excl GST
Sale price
$32.60 AUD
Regular price
Free of hot flushes and sleeping through the night again!
I started having hot flushes out of the blue – throughout the day and night. I had been using a different product for about 3-4 weeks with no improvement. I took Stress & OestroSupport AM Formula during the day and Sleep & OestroSupport PM Formula at night along with magnesium and taurine. Completely free of any hot flushes and now sleeping through the night again. Awesome products!!!!
Amazing for sleep and reducing night sweats
I started taking this about 3 months ago alongside the AM formula and what a relief for night sweats! It took a while to work for sleep but I continued to take it every night and added in the Stress & Sleep PM Formula an hour before bed. The combination works really well for me and I feel far less stressed and irritable.