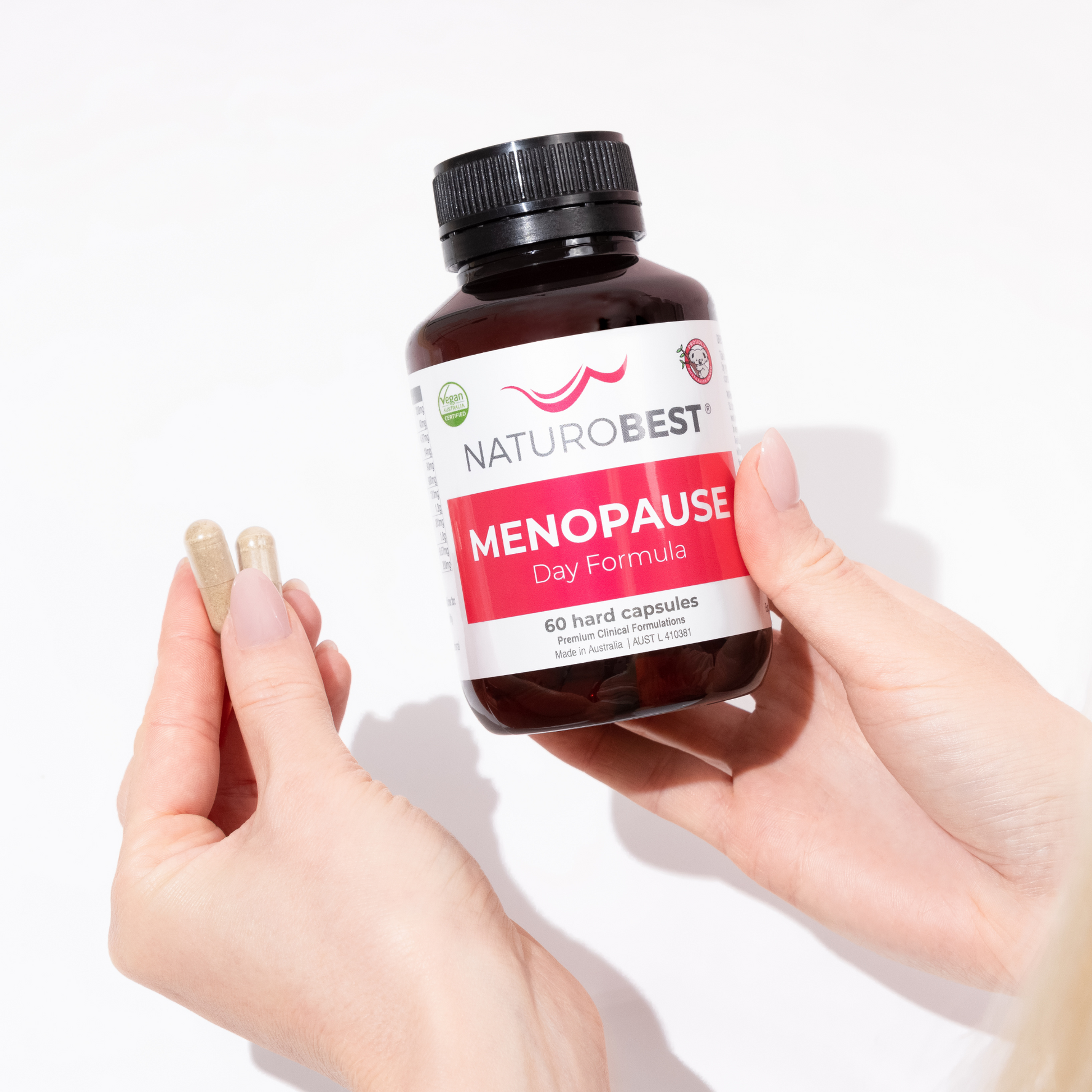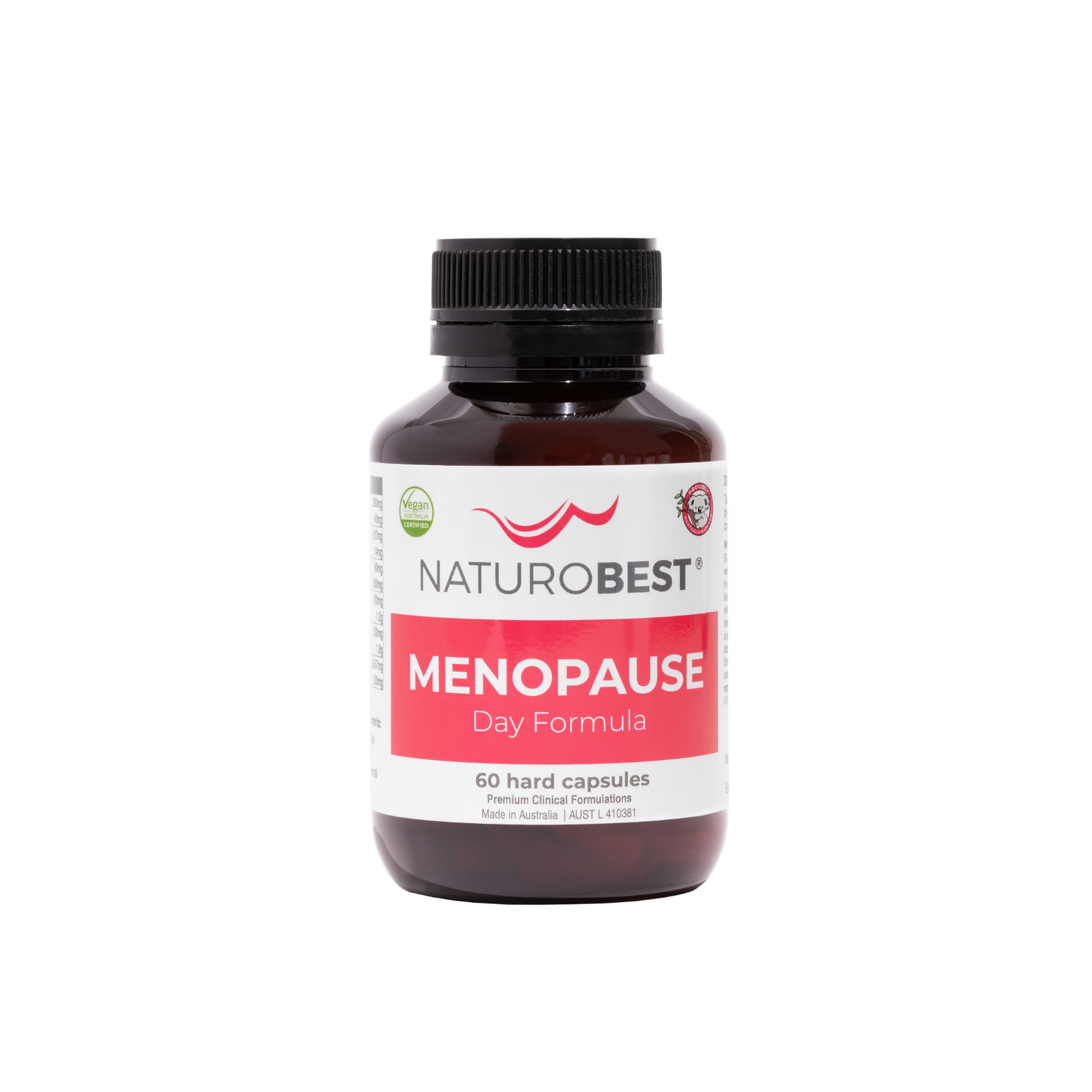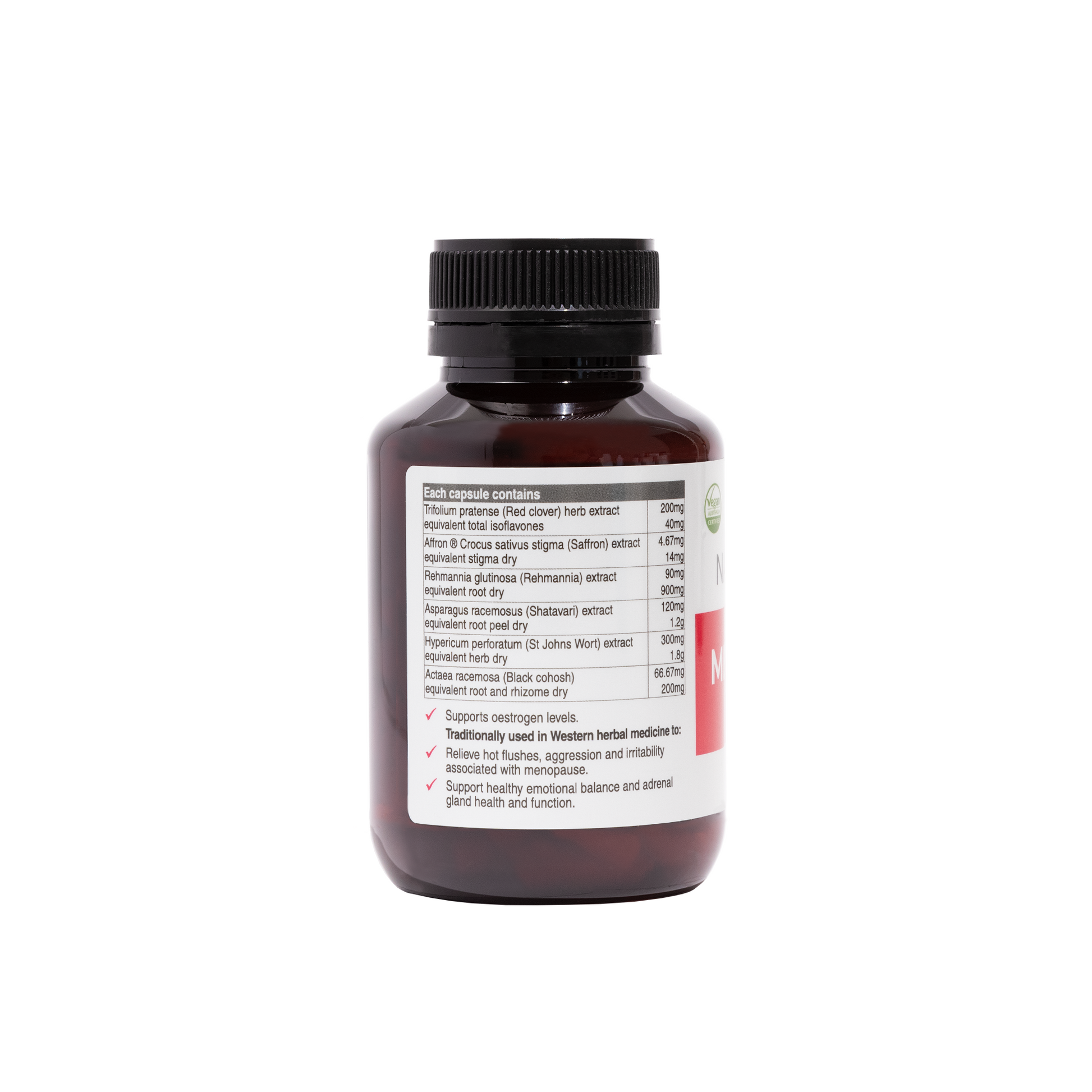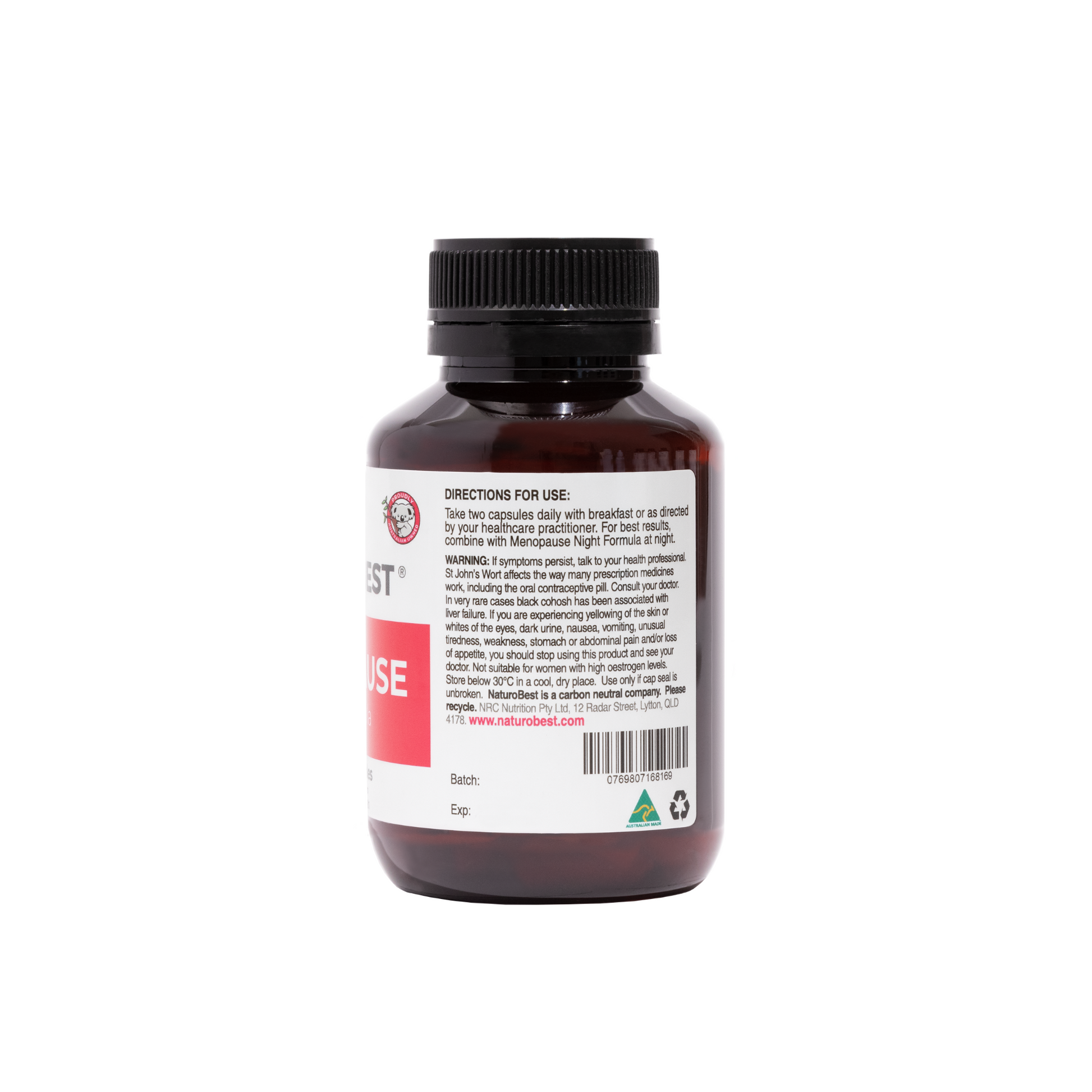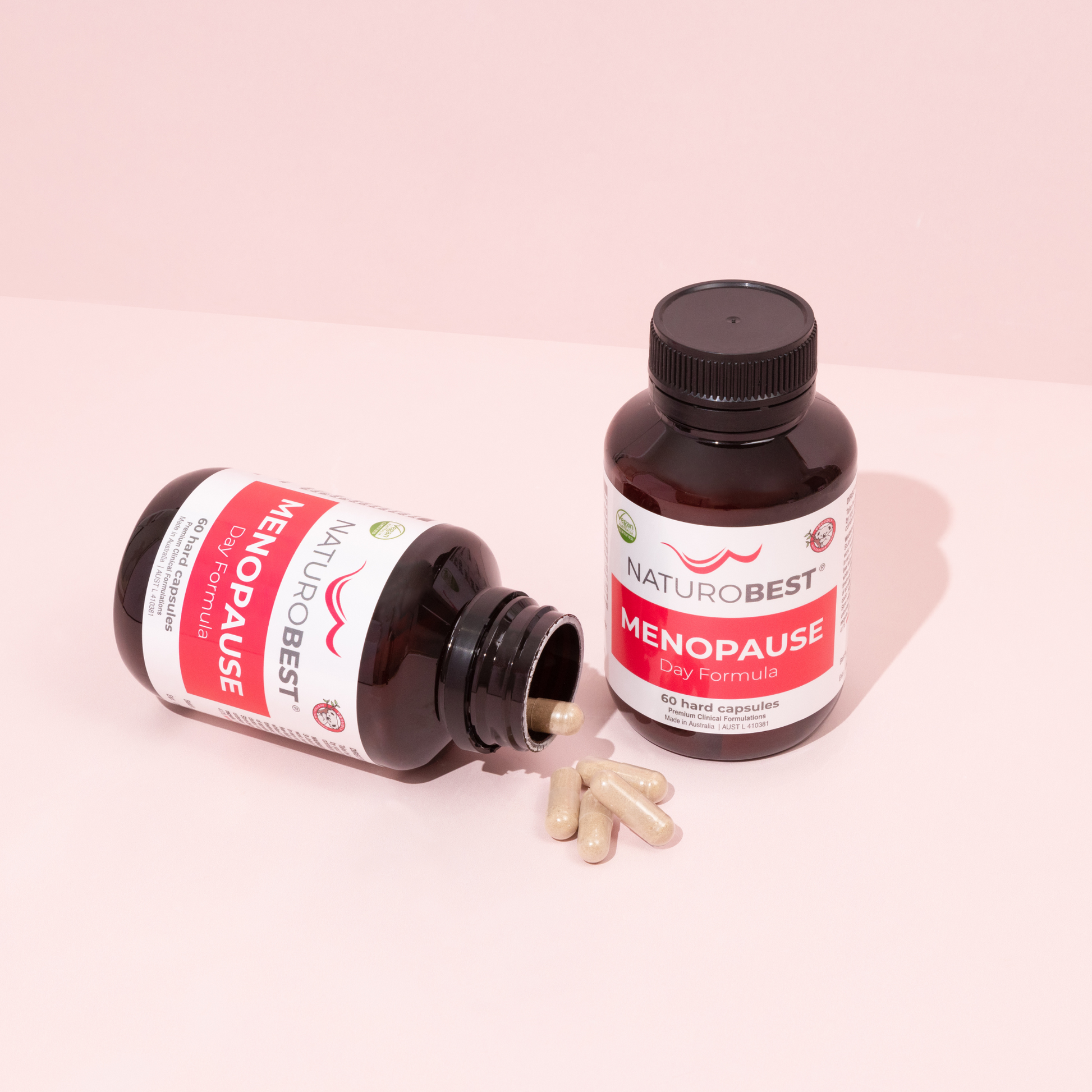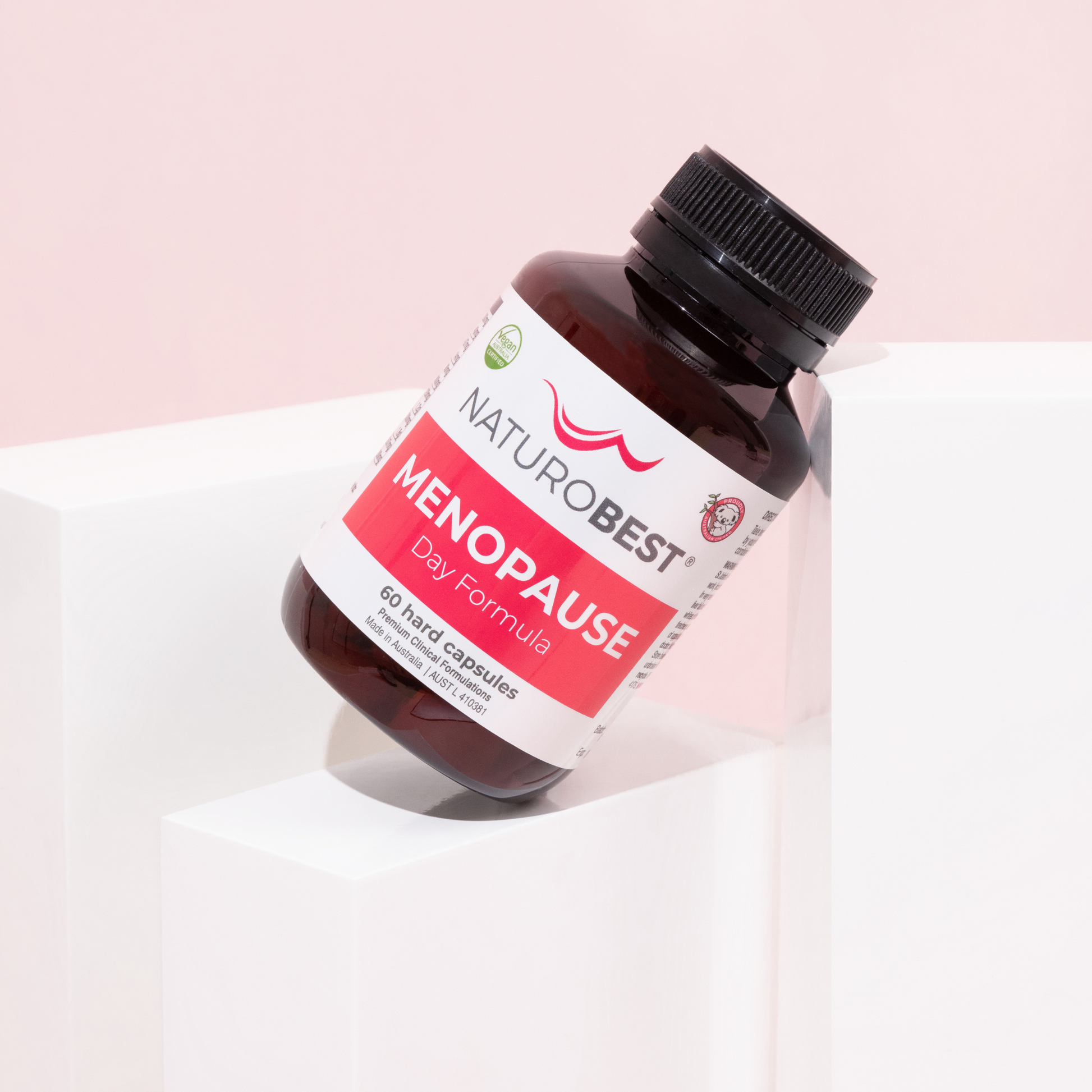 Regular price
$41.19 AUD
excl GST
Sale price
$41.19 AUD
Regular price
New!
Formulated by a fertility naturopath and herbalist, NaturoBest's Menopause Day Formula offers benefits for women who are going through perimenopause or menopause. This formula should be taken during the day alongside Menopause Night Formula at night.
The herbs in this formula are used in traditional Western herbal medicine to:
Supports oestrogen hormone levels.
Relieve hot flushes, aggression and irritability associated with menopause.

Supports healthy emotional balance and adrenal gland health and function.
Supports the nervous system and helps the body adapt to stress.
Always read the label and follow the directions for use.
EXPIRY: SEPT 2025; AUST L: 410381
NaturoBest's Menopause Day Formula has been formulated to provide support to women who are suffering symptoms of menopause. It is designed to be taken in the morning and in combination with NaturoBest Menopause Night Formula at night.
This formula contains herbs traditionally used in Western herbal medicine to support oestrogen levels, reduce hot flushes and irritability associated with perimenopause and menopause.
Red clover is a herb commonly prescribed to women to support healthy oestrogen levels and reduce hot flushes during menopause.
Menopause can be a stressful time for many women and their partners. Our formulation includes ingredients traditionally used in Western herbal medicine to support nervous system and adrenal gland health such as St John's Wort and Rehmannia.
Black cohosh is used traditionally in Western herbal medicine for both hot flushes during menopause and as a selective oestrogen receptor modulator.
Saffron as the patented Affron® has shown positive results in many clinical trials, helping to relieve the symptoms of stress, tension and irritability while improving sleep quality.
Daily dose (2 capsules) contains:
Ingredient
Quantity
Affron® Crocus sativus (Saffron) extract


9.34mg
equivalent stigma dry
28mg
Actaea racemosa (Black cohosh) extract

133.34mg
equivalent rhizome dry
400mg
Trifolium pratense (Red clover) extract
400mg
equivalent total isoflavones
80mg
Rehmannia glutinosa (Rehmannia) extract

180mg
equivalent root dry
1.8g

Asparagus racemosus (Shatavari) extract

240mg
equivalent peeled root dry
2.4g
Hypericum perforatum (St John's Wort) extract
600mg
equivalent herb dry
3.6g
Other ingredients: ascorbyl palmitate, calcium hydrogen phosphate dihydrate, colloidal anhydrous silica, maltodextrin, microcrystalline cellulose.
If symptoms persist, talk to your health professional. St John's Wort affects the way many prescription medicines work, including the oral contraceptive pill. Consult your doctor. In very rare cases black cohosh has been associated with liver failure. If you are experiencing yellowing of the skin or whites of the eyes, dark urine, nausea, vomiting, unusual tiredness, weakness, stomach or abdominal pain and/or loss of appetite, you should stop using this product and see your doctor. Not suitable for women with high oestrogen levels.
Menopause Day Formula
Regular price
$41.19 AUD
excl GST
Sale price
$41.19 AUD
Regular price
Definite improvement
Got this for my mum. She is very careful to make sure she's not imaging effects- placebo like. Not in this case! She is very sure her sleep has really improved and itchiness is gone. Great product. Will continue to buy
Relief for menopause!
I started taking this about 3 months ago alongside the PM formula. I feel less stressed, less irritable and best of all my hot flushes have gone from 5 a day to only an occasional one! This is a godsend for menopause.
Menopause Day Formula
Good quality product. Been on it for a couple of weeks and feeling better.
I started having hot flushes out of the blue – throughout the day and night. I had been using a product for about 3-4 weeks with no improvement.
I took Stress & OestroSupport AM Formula during the day and Sleep & OestroSupport PM Formula at night along with magnesium and taurine.
Completely free of any hot flushes and now sleeping through the night again. Awesome products!!!!