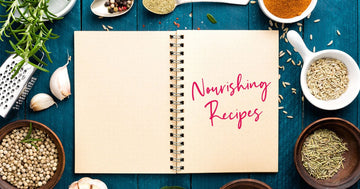 Low Energy? Make This Raw Energy Salad!
We hope you enjoy the following raw beetroot salad, one of the team's favourites! It is very popular as a standalone salad or goes perfectly with your choice of protein.
When preparing fresh salads, we recommend using organic fresh fruit and vegetables wherever possible. Eating organic foods will help to reduce the amount of pesticides and toxins in your diet!
Pesticides and herbicides are chemicals. They are used to help keep pests away from growing produce when farming. However, pesticides are very harmful to our health and wellbeing!
Pesticides are endocrine-disrupting chemicals. This means that they can disrupt and negatively impact our hormone production! This can impair our hormone balance which can contribute to various hormonal conditions such as PCOS, period pain, endometriosis and infertility.
Beetroot is great for energy production. It is known as a blood building food. Beetroot also contains a high amount of fibre and polyphenols (make it red). This is great for detoxifying toxins from the liver and gut.
Carrots are high in fibre which helps to bind up to excess oestrogen in the gut. This is great for people that have high oestrogen or PMS. Sunflower and pumpkin seeds are a source of many minerals such as zinc. Zinc is needed for energy production in the body.
Pomegrante molasses is high in minerals and vitamins that are needed for energy production. Pomegrante itself contains many antioxidants and vitamins.
Raw Energy Salad
Ingredients
500g beetroot, raw, peeled and grated
700g carrots, peeled and grated
1 cup mint leaves, roughly chopped
½ cup raisins
½ cup sunflower seeds, toasted
¼ cup pumpkin seeds, toasted
½ tsp salt
Dressing
2 tbsp balsamic vinegar
2 tbsp pomegranate molasses
¼ cup orange juice
¼ cup extra-virgin olive oil
1 tbsp honey
Method
To prepare the dressing: place all the dressing ingredients in a jar with a tight fitting lid. Shake well to combine.
To prepare the salad: in a large serving bowl, combine the beetroot, carrot, mint, raisins, seeds and salt and mix.
Pour over the dressing – toss again when ready to serve.
Note: This salad pairs really well with lamb over the festive season!