Breastfeeding
How to Increase Breast Milk Supply & Quality
by Nikki Warren on May 26, 2022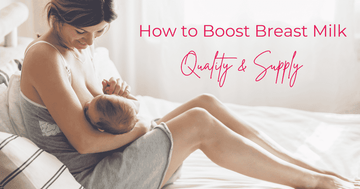 Without a doubt, breastfeeding your bub is one of the most cherished experiences you have as a mama. But for some women, it's not an easy ride.
Here are my top tips to increase breast milk supply and quality.
Increase water intake
A breastfeeding mama needs to drink plenty of water throughout the day to keep up her milk supply. Aim for 2 to 3 liters of filtered water daily.
Eat plenty of protein and fats
To make good quality breast milk you need plenty of protein and healthy fats in your diet. If you're vegetarian or vegan, try protein shakes for breakfast and/or snacks during the day. Nuts and seeds are also a healthy snack. Throw avocado into salads for lunch or dinner and add some flaxseed oil to salad dressings or smoothies.
Nettle leaf
This herb not only boosts your nutrient intake, it also boosts your milk supply too. Especially in combination with other galactagogues (herbs that increase milk production). Nettle leaf is a great source of vitamins A and C, calcium, quercetin, iron, magnesium and potassium. As a side note, nettle leaf is also great for hayfever and other allergies.
Goat's rue
This herb boosts milk supply while also helping to stabilise blood sugar levels. It can help support weight loss after birth. Although you should never try to lose weight too quickly after giving birth as this will affect your milk supply. For your body to be able to make quality breast milk, you need healthy fat stores in your hips, thighs and abdomen.
If you are an insulin-dependent diabetic or you are taking medication to regulate your blood sugar such as Metformin, you need to be cautious when taking goat's rue. If you are taking NaturoBest's Lactation Support, monitor your blood sugar carefully and start with one capsule daily rather than two. Also, keep your healthcare practitioner informed of any supplements you are taking.
Fenugreek
Fenugreek and fennel are two aromatic herbs commonly used to support a healthy milk supply. In addition, fenugreek is another herb that helps to stabilise blood sugar levels. It is also used traditionally to lower blood fats and cholesterol.
As a demulcent (a substance that has a soothing effect on mucus membranes). This herb can also help with digestive issues such as dyspepsia. Dyspepsia is an upset stomach that causes symptoms such as bloating, nausea, gas and feeling too full.
Fennel has the added bonus of helping to reduce infant colic and is helpful for women with irritable bowel syndrome. There are numerous breastfeeding teas on the market that contain fennel. Drinking herbal teas and eating fennel are the best ways to consume it. Roast fennel is so yummy with roast chicken!
Vervain
Taking care of yourself and keeping stress levels low is essential for a successful breastfeeding journey. Vervain is a nervine tonic which nourishes the nervous system while also boosting milk supply. As a thymoleptic (a substance that elevates mood). Vervain is often prescribed by herbalists to help soothe mild anxiety, depression and irritability.
Breastfeeding Multivitamin
Eating a diet loaded with fruit, veggies, protein and healthy fats is key to quality breast milk. Taking a breastfeeding vitamin can help to ensure you are meeting the recommended daily intake of nutrients. Especially at this physically demanding time. NaturoBest's Prenatal Trimester 2 & 3 Plus Breastfeeding is the perfect breastfeeding vitamin for exhausted and depleted breastfeeding mama's.
Probiotics
Talk to your naturopath or nutritionist about probiotics that are particularly helpful during breastfeeding. Taking a probiotic can help reduce the incidence of allergies for your baby now.
As well as later on in life and if you are prone to mastitis. There are effective probiotics on the market such as Qiara, derived from human breast milk. It's best to take probiotics after dinner.
Get plenty of rest
If you're unable to sleep when the baby sleeps (who can!). Try to lie down and meditate for at least 15 minutes during the day (even if bubs if also taking a nap on your chest). Resting is a great way to keep stress levels low and boost milk supply.
Homeopathic remedies
If there is not immediate relief with homeopathic remedies you should discontinue use.
Pulsatilla is helpful if poor supply is due to stress and anxiety. Lac defloratum is helpful if your milk dries up altogether. It's always best to consult a homeopath about the best remedy for you.
See a lactation consultant
If you are struggling with poor latch or poor milk supply despite your best efforts. A lactation consultant can offer you support along with tips and tricks to establish a successful breastfeeding journey.