Find out the answers to our most frequently asked questions below.
Question still not answered?  Feel free to contact us, we would love to hear from you!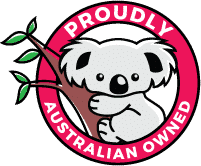 Where do you ship from and when will my order arrive?
We ship from our warehouse is in Brisbane, Queensland.
You should've received a tracking notification from Australia Post. If you haven't received one, please check your spam/junk folder.
If you have tracked your order and it is taking longer than expected, please contact Australia Post directly to find out what's happening.
If it has been lost, we will send a replacement. Please send us an email through the contact form with your correspondence between Australia Post and yourself and we will organise to send your order as soon as possible.
South-East Queensland – Next day to 2 business days
Sydney – 2-3 business days
Melbourne – up to 5 business days
Regional areas and WA – up to 7 business days
International orders vary between 1-2 weeks
For next day service, please choose express post.  However, please note this is not necessary for customers who reside in South East Queensland.
Alternatively, for fast, free delivery as a Prime member, you can order from our Australian Amazon Store.
I'm having issues with the password reset function
Just email us at [email protected] and we will reset your password for you.  Once you log in, you can change it.
My order arrived but a bottle is broken. Can you send me a replacement?
Absolutely!  Please email us a photo of the broken bottle and we will send you a replacement immediately.
My order arrived but the seal is broken. Can you send me a replacement?
Absolutely!  Please email us a photo of the broken seal and let us know your best pick up address so you can return the bottle to us.
Once we receive the returned bottle, we will send your replacement to you.
I can't place an order on the site, it's doing strange things!
We often upgrade our website so that it is more user friendly and offers a better shopping experience for you.  However, this means strange things can sometimes happen if you are a returning visitor.
Try clearing the cache on your browser (e.g. Google Chrome, Edge, Safari) and you will visit the latest version of our website.
If you are not sure how to clear your browser, Google "clear cache on browser"
I placed an order but I haven't received it yet. Can I cancel my order?
When you place an order on our site you tick a box agreeing to our terms and conditions which includes a no cancellation, no refund policy.
My coupon is saying it's invalid but I haven't used it yet
Coupons are not able to be combined with orders where there is another deal in place, e.g. buy 4, get 1 free offer.  In this instance, if you added 3 to your cart, you would be able to use the coupon.
I'm trying to find a stockist in my area, can you help?
Sure!  Please head to our stockists page and enter your suburb or postcode in the search bar to bring up a list of stockists near you.
If there aren't any stockists near you, here's a tip – go to your nearest pharmacy or health food shop and ask them to stock it for you.  It's as easy as that 🙂
I have a health condition and i'm not sure if these supplements are suitable for me?
It is best to speak to your practitioner about whether or not these supplements are suitable for you.
If you would like to ask Nikki a question about your health, you can do so by purchasing an online course at www.nikkiwarrennaturopath.com
After completing the course you will have access to Nikki's private Facebook group where you can ask questions for free.
Alternatively, after completing a course, you can book a follow up consultation
Are these products vegan-friendly?
Prenatal Trimester One with Ginger is our only vegan-friendly product.  The rest of the range contain dunaliella salina which is a microalgae bound in a gelatin matrix so it contains a barely detectable level of gelatin.
Are these products free from allergens?
Supplements in the range are ultra-low in excipients and are free from artificial colours, flavours, sweeteners, preservatives, yeast, gluten, wheat, dairy, titanium dioxide and magnesium stearate and are non-GMO in a vegan capsule.
Can I take Preconception Multi for Women during pregnancy?
How long should I take the preconception multi before trying to conceive?
How long should I take Prenatal Trimester One?
It is best to take this formula as soon as you find out you're pregnant and keep taking it until your morning sickness subsides (usually around week 14-16).
Most women will need a 2 month supply of Prenatal Trimester One with Ginger (2 bottles of 60 capsules).
Can I take 2 capsules at once or should I split up the dose?
It is best to take one capsule twice daily – one with breakfast, one with lunch.  This will help to reduce nausea throughout the day when taking Prenatal Trimester One with Ginger.
With the other formula's, splitting up the dose can enhance nutrient absorption.
Some people find that B vitamins can keep them awake at night.  This is why we recommend taking your supplements with breakfast and lunch.
I'm currently breastfeeding and preparing for my next pregnancy, should I continue to take Prenatal Trimester 2 & 3 Plus Breastfeeding or switch to Preconception Multi for Women?
You can take either formula during breastfeeding.
I'm currently breastfeeding and have just found out i'm pregnant, can I take Prenatal Trimester One?
Yes, you can take Prenatal Trimester One with Ginger throughout the entire pregnancy and breastfeeding period.  In fact, this may be recommended by your healthcare practitioner if you have certain health conditions such as haemochromatosis or hyperthyroidism.
Why isn't there any vitamin K in the prenatal formula's?
Vitamin K has very poor placental transfer which is why vitamin K is given to babies at birth.
Vitamin K1 (phytomenadione) promotes blood clotting which is not usually something we want to do during pregnancy.  When vitamin K2 (menaquinone) is an ingredient in a calcium supplement then that would be fine to take during pregnancy.  It is best to take calcium supplements at least 2 hours away iron and zinc supplements.  These minerals antagonise calcium and may interfere with absorption.
As long as a woman is eating plenty of green, leafy veggies she should meet her daily requirement of vitamin K1 (phytomenadione).
Why isn't there any vitamin A in these formula's?
The industry regulator requires all products containing vitamin A to have the following warnings on the label:
WARNING: If you are pregnant – or considering becoming pregnant – do not take vitamin A supplements without consulting your doctor or pharmacist.  When taken in excess of 3000 micrograms retinol equivalents – vitamin A can cause birth defects.  The recommended daily amount of vitamin A from all sources is 700 micrograms retinol equivalents for women and 900 micrograms retinol equivalents for men.
NaturoBest likes to err on the side of caution.  Also, a warning like this is this is likely to deter pregnant women from taking the product.    Vitamin A is easily obtained from the diet but if she is vegan she may need to take a vitamin A supplement and should seek advice from a health practitioner.
Why do they contain mixed carotenoids and not betacarotene?
Betacarotene is just one isolated carotenoid and taking this on its own may inhibit the absorption of lutein (another carotenoid) by up to 50%.  We have chosen mixed carotenoids as Dunaliella Salina.  This contains betacarotene as well as other carotenoids which is how it occurs in nature.